Carlton Shearwater Hotel and Spa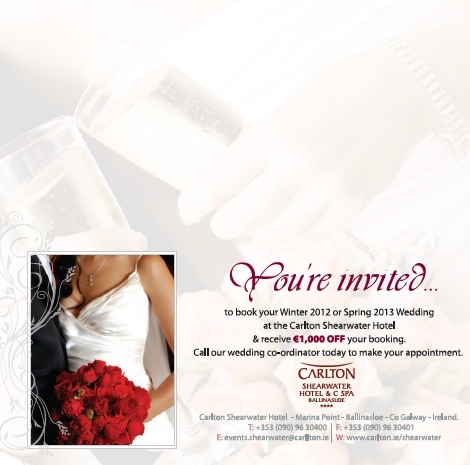 Supplier Details
Carlton Shearwater Hotel ... CLICK HERE for 360 degree Panoramic Tours of the hotel
At the Carlton Shearwater Hotel and Spa we take great pride in the attention to detail we provide for our wedding guests. We operate a strict "One wedding a day" policy so your special day will never be compromised. Our experienced wedding co-coordinators are dedicated to making your wedding dreams a reality. We will take care of your every last wish to ensure that your wedding celebrations are as relaxed and memorable for you as they are for your guests.
Our personal wedding co-coordinators offer expert advice and support, ensuring that your wedding day is everything you dreamed and more. We pride ourselves on our attention to detail and your wedding coordinator will ensure perfection in even the smallest detail. We will work with you to customise our menus, wine list, music and table plans to your taste and style.
It is now possible to book your civil ceremony marriage at the Carlton Shearwater Hotel. This will allow to you with our experienced wedding co-coordinators to making your wedding dreams a reality to couples who will prefer an appealing alternative.
For wedding enquiries contact Sinead Dolan at 09096 30 400.