The French Touch - Florists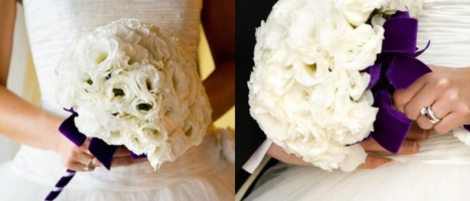 Supplier Details
At the French Touch we understand how important your wedding day is, and we can help make it even more memorable with our unique approach and beautiful displays that will reflect your personal tastes and dreams.

We offer elegant custom made solutions for weddings all over Ireland. We guarantee to have for your special day the finest flowers, flown in directly from Holland, bringing the very best in style, beauty and colour to all aspects of your wedding.
We take the hassle out of the entire process, working with you from the moment you start planning your arrangements. You can be assured that you will have that individual touch of elegance, glamour and splendour throughout your wedding day.
We also have available to hire a selection of glass vases, urns and pillars and all types of candelabras's and candle stands for the church reception.
We look forward to working closely with you in realising what you requite to make that special day unforgettable.
Testimonials
Cannot speak highly enough of Stephanie & Justin at the French Touch. I met Stephanie a while before the wedding day, we discussed the look I had in mind for our arrangements and I gave her one or two lil pics. We discussed budget and she was happy to work within our means.
On the day, the floral displays and bouquets they produced were just as I had hoped, if not better. All our guests commented on how beautiful the flowers were.
The price for what you get back is so so reasonable. These florists have a real eye, real experience and really elegant taste. They know how to take one or two flowers and make them look even more stunning. Good job and Thank you!

We had found the venue for our wedding but knew that it would be the flowers and the way the room was dressed which would really make it perfect. Things were difficult as we were based in the UK and so we really needed someone we could trust and who understood exactly what we wanted.
From the first moment we met Stephanie and Justin at The French Touch we knew that they were the right people. We had worried about being able to achieve what we had in mind but we left our first meeting with Stephanie so excited and happy that we had someone helping us who knew exactly what to do. She knew the venue and painted such a vivid picture of what she was suggesting that we knew from that moment that what she was going to achieve would be quite extraordinary. Everything we said and discussed was taken on board. Nothing was forced on us. Stephanie was incredibly easy to talk to and when she emailed her proposal she'd hit the nail bang on the head.On the wedding day it all went like clockwork. The room was dressed and looked stunning. The guests could not believe what had been achieved and some were even checking the displays to see if they were real or not. Every detail was flawless, from the displays on the wall to the sweetpea flowers on the dinner tables to the flowers Stephanie dressed the wedding cake with. We would not hesitate for a second in recommending the French Touch. Stephanie's flowers and ideas made the venue perfect and set the tone for the day and we will always be thankful to her and The French Touch for that.

We had the most beautiful flowers on the most beautiful day of our lives. The French Touch team were extremely professional and supportive leading up to, and on our big day.

When it came to flowers for our wedding I wanted something simple yet something different. After looking through many websites and pictures I still wasn't quite sure what exactly I was looking for but after a few short minutes with Stephanie I soon realised she knew exactly what I was looking for even if I didn't! Once I knew she was on the same wave length as me I let her take total control and what she suggested and produced far exceeded my expectations. She was so good that I naturally thought that she was going to be much more expensive than other suppliers but I was pleasantly surprised to find that this is not the case and she even suggests flowers in season yet in keeping with your ideas so as to keep the cost down. I would highly recommend Stephanie and The French Touch, they are so easy to work with, extremely professional, so so creative yet value for money, what more could you ask for, brilliant!

Stephanie and Justin were fantastic. All the flowers were amazing, the smell, the look, it was all just perfect. Everyone commented on how beautiful the flowers were, and indeed now when I see my friends photos there are an unusually large amount of photos of the flowers and the table decorations (also done by French Touch)!! On the morning of the wedding, Stephanie and Justin set up the church so all the flowers were fresh and perfect, then they called up to me with all my flowers, it is important to Stephanie that the bride loves her bouquets, and indeed she confirmed with me on the morning that I was happy with them. I can't say enough about how beautiful the flowers were. Stephanie and Justin are perfectionists and you can tell by looking at their flowers. I can't thank them enough for what they did for my wedding, and would recommend them to everyone

Stephanie was a true professional to deal with. I met her once only before the wedding as i left things quite late.However she took so much time discussing the different styles of floral arrangements and bouquets with me. She has brillant taste and advised me so well.I was absolutely thrilled with the flowers. I could not believe how many people commented on the amazing flowers as they were coming out of the church.The church looked wonderful as did the venue room.We held a barbeque the next day in the hotel and i got all the flowers from tables brought down. I also gave bouquets to people as they left the next day which was lovely. I have no hesitaion recommending The French Touch. The flowers arrangements and bouqets are really unique and really look amazing.

Stephanie and Justin - Thank you both so much for doing the flowers for my wedding day. When I met you I was not even 100% sure what I wanted myself but you took the very vague idea I had and managed to turn it into exactly what I was looking for and the flowers on the day were amazing. Thank you both so much - It meant the World to me that I loved the flowers on the day - I really appreciate the work you put into them and also for understanding exactly what I wanted.

Stephanie and Justin are by far the best in the business. There is no end to their creativity . Everyone complimented on how beautiful the flowers were on the day and commented on how unusual they were. I have recently got the proofs back from my photographer and the flowers light up every photo. I cant recommend the French Touch highly enough.

We were so delighted with the flowers from The French Touch Flowers for our wedding. We had so many guests admire our beautiful bespoke bouquets and pew ends and floral arrangements. There is a reason they have won Florist of the year for the last few years and we wish them all the best for the future. We have no hesitation in recommending them to anyone for their wedding.

The French Touch offer an amazing service. I thought deciding on what flowers I wanted would be difficult but they made the whole process very simple and the advice they offered was brilliant. The flowers on the day looked amazing and everyone commented on whole beautiful they were. Thank you

Book the French Touch, you will not be sorry. Stephanie is so professional and got exactly what I was looking for and added some really nice touches.Our flowers were amazing the church looked beautiful, Stephanie was there from early making sure everything was perfect.As I said book the Frnch Touch you will not be sorry. An extremely professional, classy service at a very reasonable price.Thank you Stephanie for all your help.

From the first moment we met Stephanie I knew we were going to capture the style we were looking for. She immediately understood our ideas even though I am clueless when it comes to flowers. In the end the bouquets were a very unusual flower that was perfect for my vintage style dress (many girlfriends commented on the bouquet) and the table and ceremony arrangements were perfectly tasteful and exactly the look I was going for.Along with great communication, understanding and expertise, the most impressive aspect of the French Touch was the meticulous attention to detail and added little extra's that brought life to the luxurious displays around the whole venue.

I have to say, what a fantastic service. Stephanie was just so professional and a real pleasure to work with. She spent a lot of time with me at our first meeting and really knew her stuff - put it this way - I felt 100% confident in my florist in the run up to the day and on the day itself. Something I simply could not say about all my suppliers! Stephanie is very talented and has a beautiful manner, I highly recommend her.

The French Touch offer the most bespoke and creative service for great value. My wedding flowers were stunning and I really enjoyed sitting with Stephanie to work out the style of my bouquet and flowers for the ceremony. We also had beautiful vintage birdcages filled with candles and flowers as our centrepieces, they really made a difference to the mood of our reception and I would highly recommend getting in touch to organise your flowers... you wont regret it!Thanks to the French Touch for making my wedding flowers extra special.

Thank you so much for the amazing flowers! The centre pieces were everything we imagined and more. The bouquets and church decoration were also beautiful, not to mention the seamless service on the day. We just got back from our honeymoon yesterday and seeing the photos reminded us how amazing the flowers were and how they added to the day. We're still getting compliments on the flowers weeks later! We'd definitely recommend you to any other engaged couples.

The french touch are artists and masters of floral design. Stephanie's floral bouquets, pin holes and center pieces were fantastic. We have had loads of family and friends enquire about them and have had no problem recommending her.Choosing French Touch is a no brainer.
Hope you have a great 2011

I first met Stephanie at a wedding fair and spoke to her about what flowers I was thinking about for my wedding. Stephanie seemed really knowledgeable and creative so I felt confident that she would do a great job. The bouquets were perfect – elegant yet in a loose style with a gorgeous satin ribbon hand tied into a bow. Stephanie used a variety of beautiful flowers which all fitted perfectly together. All the other flowers were fabulous too – from the buttonholes, to the pew ends, to the altar arrangements. They really made an impact in the church and looked beautiful in the photographs. I would have no hesitation in recommending The French Touch to anyone planning their wedding.

The French Touch are simply the best floral designers; no doubt about it!
Stephanie has an innate ability to understand your vision and transfer your thoughts, no matter how vague, into the language of flowers. Her work is truly magnificent to behold. She brings each floral arrangement to life in a way that I have never seen before.
I shed tears throughout my wedding service ... or at least until I was officially "Mrs" ! I thought I was all cried out but, when I took a step back to take in all of the decor, I was brought to tears again, as the flowers were just so beautiful.
Our function room scintillated with candle light and the theme was offset with the most stunning flowers, colour combinations and originality, all thanks to The French Touch. You could almost feel the love and care that was put into our floral decor. Our guests were full of praise for the flowers, both on the day and for weeks to follow. Their comments may cease as the months pass by but we have memories to treasure forever. A million thank you's.

I cannot recommend Stephanie and the French Touch highly enough. I met Stephanie at a wedding show and her flowers just stood out a mile. From the first meeting she was just fantastic, very easy to get on with and full of brilliant ideas. The bouquets were even more beautiful than I had imagined and they lasted for days. They were packed full of flowers, every time I looked at mine I seemed to see a new flower! They received lots of compliments from the guests too. The French Touch were very professional on the day, and perfectly organised. From beginning to end a real pleasure to deal with.

Stephanie was wonderful to deal with. I had a very definite idea about what I wanted - daisies and more daisies! I had spoken to a number of florists who seemed to try and dissuade me from my theme and I was starting to get anxious that I would have to compromise and have less than my perfect vision. I researched and researched and read lots of great testimonials about The French Touch, so I decided to contact them and see could they help me. Stephanie could not have been more different from the florists I had spoken to before! She replied to my initial email with such enthusiasm for my daisy theme, suggesting that chamomiles could work as an alternative to garden daisies. When the wedding day came, I was over the moon with Stephanie's creations - from bride and BM bouquets and buttonholes, to fabulous pew bouquets, altar arrangement and giant urns, to gorgeous table centrepieces. Everyone commented on the pretty flowers and it is still a talking point for guests, 5 months on! Thank you Stephanie - you listened to me and created my perfect Daisy Day!

Our wedding would simply not have been the same without Stephanie and the stunning arrangements she created for us. When we got engaged I knew I wanted a spring wedding with lots of colourful scented flowers and Stephanie brought the ideas to life. All our guests commented on them and their perfume filled the reception room for the night. Thank you so much.

I first came across The French Touch, through a wedding magazine site, after spending hours looking for Wedding Designer/Florist to suit my wedding theme look. I was looking for a shabby chic/french country look for our wedding. When I met with stephaine for a consultation she knew exactly what i wanted. She was very helpful and patient and made planning for our flowers very easy. On the day, the French Touch exceeded our expectations, our church and venue had that wow factor, its amazing how much of an effect that flowers can make to a room. I would highly recommend the French Touch to anyone who is planning on getting married!

Im am going to be honest here! When planning our wedding I did say, that I could not remember any flowers weddings I have been to over the years so whats the point keep it basic, no one will notice. How wrong I was! I was under pressure from so many sides & all I wanted was one tick off the list, flowers; done and dusted. When I met Stephanie, through Sandra our wedding planner I was so relieved. She delighted my mother, met all my needs & knew my vision within minuets. One response I never expected was on the flowers & there were many comments over the two days; most notably from a guest who has been arranging flowers for 30 years. Stephanie is the best without a doubt, one of the easiest & most subtly impact full part of the wedding. Thank you so much :-)

Stephanie and Justin came highly recommended to us by a friend who got married last year. From the first meeting to the 'Big Day' we received outstanding service. The precision in presentation and organisational ability, technique and professionalism was evident throughout the weeks leading up to the wedding. Stephanie listened very attentively to our ideas while leaving us open to her suggestions and design so that we felt comfortable and confidant in our final choice.
The quality,timing of transportaton, and condition of blooms was absolutely outstanding. The elegance of the arrangements is captured perfectly in our photographs. The next day the flowers were as fresh and wonderful as the day before and we were able to use them for a party the next day. Thank you Stephanie and Justin for creating the 'wow' factor that we wanted so much for our special day,for your enthusiasm and for your personalised service throughout.

Stephanie,
Thank you so much for doing the flowers at our wedding in August – it was an absolute pleasure to deal with you. From your patience at our first meeting when we had no idea where to begin! Thanks for taking the time to give us lots of great ideas. And when we were making final decisions, you gave us great guidance and advice. I knew just from dealing with you that your flowers would be stylish and elegant, and on the day the bouquets, buttonholes, ceremony decorations and table arrangements still managed to exceed our expectations! The flowers were perfect and added so much to our day. I cannot recommend The French Touch highly enough. Thanks again Stephanie.

To Stephanie and Justin,
Just wanted to say thank you so much for doing such a wonderful job with flowers for our wedding. The flowers were exactly what I had in mind and I totally knew from our first consultation that Stephanie fully understood the look and theme that we wanted but the flowers turned out even nicer than I had imagined! We were both delighted with them.Thanks again.

I met Stephanie a few months before our wedding in Borris House in September, and from that one meeting she knew exactly what I wanted, what would suit me and went above and beyond that. Our flowers were absolutely stunning and our guests are still raving about them. Stephanie's a true genius. Thank you so much to The French Touch.

Stephanie in the French Touch is great. She is so creative and has so many unusual and outstanding ideas. Our wedding guests are still talking about the fantastic flower arrangements on the tables... and the bouquets were just fabulous!

Within 5 minutes of meeting Stephanie she had interpreted exactly what I had in my head for our flowers and what they delivered on the day was even better!
As far as I'm concerned she is in a league of her own compared to any other florist we had seen. The flowers were so fresh, delicate and arranged so beautifully that they really helped make both the day and the photographs.

The French Touch did an amazing job of the flowers at my Wedding in April. My bouquet was a little ray of sunshine in what was a cloudy day!! Also the flowers in the church really stood apart from the norm, and so many people commented on them. Also Stephanie gave me great advice on the best use of my budget, which was great - and even ordered beautiful Orchids for my hair at the last minute, lifesaver!!!
Would wholeheartedly recommend The French Touch!!!!

Stephanie was absolutely wonderful to work with. She really understood my ideas and my vision and helped me bring it to life. She is a true artist and everyone commented on how beautiful the flowers were on my wedding day.

I would 110% recommend Stephanie & The French Touch....they were amazing! Stephanie did our flowers for our wedding in Brooklodge at the begining of July and they were exactly what I wanted and more. Just beautiful. Stephanie was so great to deal with and is clearly a talanted lady!
Thanks so much again to the team!!


Stephanie did the flowers for our wedding in June 2010. They were absolutely glorious. I didn't get to see any of the bouquets or buttonholes or decorations at our venue until I walked up the aisle of the room we were getting married in. The flowers were everything we'd discussed and more - they were stunning and a talking point throughout the day. As well as producing magnificent flowers, Stephanie was a delight to deal with - efficient and responsive, she made the whole process easy. A very definite recommendation!


Hi Stephanie - thank you so much for our wonderful flowers. They were everything I hoped for and much more. It was an absolute pleasure to deal with you. You gave me some wonderful ideas and they really worked well on the day. I would recommend the French Touch to anyone that is getting married and looking for inspiration and perfection.
Thanks again.


Stephanie,
We would just like to say a big thank you, for all the hard work you put into the flowers on our wedding day. They were absolutly fabulous. We received loads of compliments about every aspect of your work.
We really appreciated everything you did.
Thanks a million


Hi Stephanie, well all we can say is that the flowers were fantastic they were exactly what we wanted. Your help and advice was greatly appreciated. It was refreshing and great to consult with someone who put our needs and wishes first. Thank you so much we had a wonderful day just wish we could do it again in slow motion!
Thanks


well Stephanie, what can i say??? the flowers were absolutely fantastic!! they could not of been more beautiful, to deal with you was a dream and the two of you were so helpful. thanks for creating a romantic dreamy atmosphere for our day. i cannot reccomend you enough. thanks