Stella Bass - Church Singer & Jazz Trio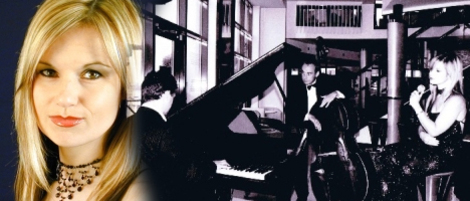 Supplier Details
A church singer/pianist for over 10 years now, Stella's repertoire crosses over classical, jazz and popular songs. A fulltime, trained musician and vocal coach, she has performed all over Ireland, Europe and the Middle East, amassing TV/radio credits on RTE & BBC. She is the resident jazz singer in Dublin's trendiest café bar Café en Seine, singing every Sunday from 2-4pm.
Please visit www.stellabass.com to listen to audio/video clips, and details of pricing packages.
Check out the promo video of my recent concert (above)
Recent Testimonials:
Hi Stella, just back from the honeymoon and coming back down to earth. Can't believe it is all over! Just want to say a HUGE thank you from both of us for your amazing performance at our wedding ceremony and later back at the reception in Tulfarris House. I know I was a bundle of nerves arriving at the church but when I heard you play I felt so much more at ease. Your organ playing was fabulous especially as it was probably your first time seeing the organ (lucky you are so slender as it is a tight squeeze to say the least!) let alone playing it. I watched our wedding video last night, sat back and took it all in, your voice had the hairs on the back of my neck stand up. Ave Maria and Songbird were just super, think I started welling up. We have had so many compliments about you and how beautiful you sounded during the mass, it really made it for us. I'm really sorry I did not get to thank you in person before you left but just want to say you were such a pleasure to deal with leading up to the big day and so helpful, made our lives (well mine!) so much easier. I spent a lot of time researching musicians for the wedding but I knew once I heard your voice on your website you were the one for us! We will be recommending you to all and wish you continued success in the future. Once again thank you and best wishes.
Louisa & Senan, August 2011
Hi Stella, just a quick message from both of us to thank you so so much for singing on Friday. You were brilliant and have gotten loads of compliments! Thanks a million again.
Eimear & Paul, August 2011
Hi Stella, thank you so much for the wonderful job you did on 10th June. I'm sorry I never got a chance to speak to you on the day, it was a little hectic. The music was amazing, it made our marriage ceremony so special. A number of our relations and friends are still talking about how beautiful the church music was. I completely agree, it made the whole ceremony perfect. I would have no problem recommending you to any of my friends. Please pass on our thanks to the other two musicians. Thanks again for making our special day a little more special.
Rose & Michael, June 2011
Hi Stella, I hope you are keeping well. I just wanted to send you a message to say thanks a million for making the trip to Castlebar on June 3rd. The music in the church was amazing so many people are talking about it and I have had more enquiries from brides-to-be about you so hopefully a lot more calls will be coming your way. You were a joy to deal with and made everything so effortless. Sorry that I never even got to meet with you that day it was just a whirlwind. Thanks again.
Deirdre & Bryan, June 2011
Hi Stella, just want to say a huge thank you for doing the music at the church and Tulfarris on the 20th May. You did an amazing job, thank you so much. Talk to you soon.
Fiona & Niall, May 2011
Stella, you guys rule! Thanks from myself and Caroline and all of our guests-we loved what you did for us on Friday night. The feedback from our guests was incredibly positive too-you were a real highlight of our perfect day! That's one hell of a voice: hope to hear it again sometime!
Caroline & Bruce, May 2011
Hi Stella, just back from honeymoon and wanted to say a huge thanks for the church and hotel music and singing. It was absolutely super and everyone commented on how brilliant you were, so thanks so much. You were a joy to deal with from start to finish and it is much appreciated!
Deirdre & Niall, April 2011
.
Testimonials
Hi Stella,
We just want to say a big thank you for making our wedding day so special last month. We're just back from honeymoon and couldn't wait to see our DVD, and watching back on the Church ceremony brought tears to our eyes. You sang our song choices beautifully and so many of our family and friends have complimented our "church singer" and have asked for your details. We're sorry we didn't get a chance to chat with you, the day just flew!! Wishing you all the best, and maybe we'll see you at some of our friends weddings in the near future, who knows :-)