Martin Devaney Wedding DVDs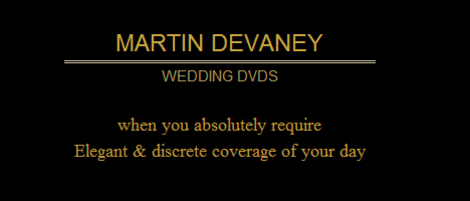 Supplier Details
We offer a nationwide service (We've covered weddings from Cavan to Cork) although nominal fuel charges & budget hotel charges may apply (based on nearest base Glasson or Laytown)
Martin Devaney Wedding DVDs has just moved into the Athlone area, although we still maintain a presence in Laytown, North County Dublin. We use the latest High Definition camcorders, combined with wireless and other specialised sound sources to capture your day in high quality video and audio. However, it's the post production that we feel we really come into our own - we can create highlights, slideshows plus sequences on mobile phones, ipods and let's not forget the DVDs.
We currently offer a unique referral system- we send out €75 to a bride whose recommendation has led to a booking. Ah sure our mammies think we're great, but most importantly- so do our brides! This is our first time on weddings-online so this is a directory under construction. Please call back as we start to upload testimonials. So for a wedding dvd with a difference contact us. Why not check out our website also?
Testimonials
Choosing Martin as our videographer was one of the best decisions we made regarding our wedding.
We decided on having both Martin & Pat on the day and it was another great decision. They were very discrete so everyone felt at ease and this meant they captured some very special moments. Their attention to detail was also amazing and that is just something you can't request.
We wanted something a little different so we chose the entertainment package and it didn't disappoint. This really created a fun atmosphere for our guests on the night and Martin put his heart and soul into producing this into the funnist end to our dvd ever.
Thank you so much for making a fantastic dvd that is so personal to us and makes us enjoy reliving our day over and over again. We would have no hesitation in recommending you to anyone in the future.
Thanks & Best Wishes.

We decided to use Martin Devaney for our wedding in Spiddal Church and the Radisson Galway as we were so impressed with Martin's sample DVD that it was a really easy decision for us to choose him as our videographer. It was one of the best decisions we made when planning our wedding. From the beginning he was such a friendly, warm and professional to deal with. On the day he was so discreet that you would hardly believe he was there. He captured so many special moments of the day that we would otherwise have missed due to the travelling distance from the church to the hotel. The DVD is perfect-High quality- he managed to capture all the flavours of the day for us. His amazing attention to detail meant he spotted things I wasn't even expecting to see in it along with this he went even further and translated the chapter selections to "Irish" for us as our mass was bilingual, which this attention to detail was very fitting, on which our families commented on afterwards and greatly appreciated. I would have no hesitation in recommending Martin to anyone organising a wedding or special event. If you choose him you will be in very great hands and will be delighted with the end result!

From the time I first rang Martin to the day we received our wedding dvd he was just brilliant to deal with. He called to our house for a meeting to get a clear picture of what we wanted. He took all our suggestions on board and offered his professional opinion too. We mentioned doing something a little different on the day and Martin really worked hard to make sure our idea came to life. It was so comforting to have had that meeting as it meant we didn't have to spend time during our wedding day giving him direction as to what we wanted and didn't want. Pat worked alongside Martin on the day and at first I thought the idea of two camera men being around would be a little off putting. But I have to say they were both so discrete and professional that most of the time we just forgot they were there. They made everyone involved feel at ease. We absolutely love our DVD as do all of our family and friends. We would definitely recommend Martin to anyone.


Martin and Stephen are the two most amazing, invisable, reassuring and professional people i have ever met. WE would highly recommened them to any couple wishing to book a videographer for their speical day. Martin came to visit us in our house a while before the wedding to give us a brief outline of what he would do. On the day he wizzed around both our houses without been noticed. I was told he had a cup of tea in my house. I didn't think he had the time to sit down when I seen what he produced. In case he ever refers to his bride with the racing driver driving her to the chruch, yeap that's me. With his continous professionalism he didn't miss anything of our amazing day. We love sitting down to watch our wedding Day over and over again. All of our family and friends have commented on how well produced and professional the dvd is. They even say they didn't know they were been videoed. This is only possible because of Martin and Stpephen and their amazing skills to produce somthing to give us visual memories that we will cherish forever. We highly recommed Martin and Stephen to anyone. Many many thanks to you both.