Solis Lough Eske Castle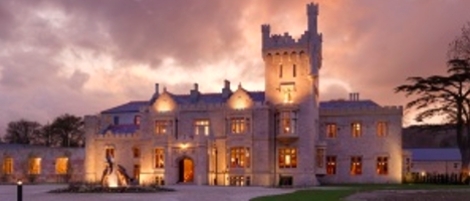 Supplier Details
Solis Lough Eske Castle is redefining luxury in the North West. Modern and elegant, it is the perfect place to hold your wedding ceremony and reception. The elegant ballroom extends into your own exclusive tranquil gardens which offer fantastic picture opportunities. There's also a number of specially commissioned pieces of artwork throughout the grounds for more unique and memorable backdrops to your photographs.
Click here to view our Wedding Package for 2011 / 2012
Solis Lough Eske Castle prides itself on its accomplished staff and tailor made approach to weddings and civil partnerships. A dedicated wedding planner is assigned to work with you on every aspect of your special event from your first consultation right through to the big day itself. With a wealth of experience and a fantastic team of staff, Solis can look after all the details of your day if required. The focus is on providing excellent, personalized service so that you can concentrate on enjoying yourself.  Solis Lough Eske Castle is available as a licensed venue for civil weddings. You can exchange vows in the Ballroom, the perfect setting for between 50 and 200 guests, with the option to host 250 for drinks and dancing. Traditional, with a contemporary twist, the ballroom is versatile enough to accommodate everything from the simplest to the most elaborate theme.
To get some much needed leisure time before or after your big day, the Spa Solis is your answer. Situated in the castle garden, the setting is as peaceful as you can find. Its sandstone and wood floors reflect the natural beauty of the sylvan surroundings. The relaxation area is equipped with six designer beds that face into the courtyard, making it the perfect spot to get some much needed R & R with your bridesmaids!  Or your guests can avail of the use of the swimming pool or fitness centre or treat themselves to a relaxing Aromatherapy Associates treatment.
If you're thinking of getting married, please contact Noreen Lyons to discuss how  Lough Eske Castle can help. Telephone 00353 (0)7497 25100 or email [email protected]
Testimonials
Hi Noreen & Marleen, Thank you so much for all your help in making our big day so fabulous! Everything really was so perfect, the room was beautiful, everyone enjoyed their meal and we have heard nothing but great comments back about the friendly attitude of your staff. I have a feeling a lot of our guests will be treating themselves to a return visit! I know we will! We certainly will recommend your hotel to others for their wedding. Thanks again.

Noreen, Just a quick email before we fly off on our honeymoon to say thanks for the absolutely outstanding day lough eske gave us! From the venue to the meal to the rooms and the staff we have no complaints, only praise and that is also on behalf of all of our guests. We were both sad having to leave yesterday, despite the fact we're going on honeymoon today. Will be in touch when we return but had to let you know how brilliant our day was before leaving!! Thanks Noreen and please send our sincere gratitude to all at lough eske!

Good morning Noreen and Marleen,
 
We really can't thank you enough for our wedding on Wednesday 21st September. It was the most truly perfect day! The run up to the wedding was more stressful that I could possibly have imagined, and because of that I was just waiting to see what else would go wrong on the day itself. But I can honestly say everything was so perfect it blew us and all of our guests away! Tomorrow will be 4 weeks since our big day and people are still absolutely raving about everything. I really can't even put into words how thrilled we are that we choose Solis Lough Eske Castle as our wedding venue.

Each and every member of staff was super, so attentive and helpful but also it was fantastic that they all took a genuine interest in us a people, they went above and beyond to ensure everything was perfect.
 
The help and support that you both provided was fantastic. Bernie from the spa did a super job with my make-up, especially seeing as I don't wear any, she had quite a challenge! The ladies on reception were fabulous, as was the man that was on reception late the night before the wedding, I'm sure he was glad when I finally went to bed as I was back and forward for various items! On the wedding day itself, the Australian man (I think his name was Mark) that looked after us during the meal was exceptional, nothing at all was a problem - we felt like royalty. Also, I must mention Michael the Porter! He made quite an impression on lots of our guests - he was really super!
 
The food... what can I say?!? Each breakfast, lunch, dinner and the wedding meal itself was perfection! People just couldn't get over how amazing everything was!
 
We were so thrilled that we really can't wait to come back again! 
We really can't thank you enough - without meaning to sound cheesy, we had our dream wedding day.
Thank you both for everything!

Noreen, Thank you so much for all your help, support (and patience) in the run up to our wedding. We had an absolutely amazing day – it couldn't have been better. Our guests have not stopped raving about the castle, food and excellent staff. See you again in November for Karen's big day, Thanks Again

Hi Noreen, Thanks for everything we had a fantastic day and everything was just so perfect thanks to you and all the team. Our guests were just amazed with the place and we are getting thank you cards from them thanking us for the great day, venue, food and accommodation. Ye really did go the extra mile! No doubt we will see you in lough Eske at some stage. Many thanks

Hi Noreen, We are back from our honeymoon in Bali and just wanted to thank you so much for making our wedding day as smooth and successful as it was. We had a blast as did all of our guests. The food was excellent as always. Thanks again,

Dear Noreen, I want to thank you so much for your hospitality, help and advice in the build up to our wedding and for such a brilliant day. We had such a great day. The reception we received on arrival was superb, the hospitality throughout the day was remarkable and the service to ourselves and our guests was brilliant.
What can I say about the food, ... fantastic. We were so happy with the meal and several of our guests commented on their fantastic day and great food they received. Having received some of our wedding photographs the surroundings of the castle were gorgeous despite the rainy day. I just want to thank you again and all the staff at Solis Lough Eske for all your help and for making our day so special. Kind Regards

Hi Marleen, I hope you are keeping well, I back to work and back to reality again now but I would like to say a big thank you for all you have done for us on the months running upto and on our wedding day, We will forward you a proper thank you once we get sorted out but I just wanted to drop you a line beforehand. Your help and assistance was very much appreciated and we look forward to many many more visits to the hotel over the years to come! I hope we weren't too hard to deal with lol
 
 

Dear Noreen, A big THANK YOU to you for all your help and support with our wedding planning.  
We were delighted with the wedding reception, thank you. All of our guests thoroughly enjoyed the weekend. The venue was quite simply stunning and the staffing was both relaxed yet attentive throughout the day. A special thanks to you Noreen for your efforts over the last six months or so in helping us to bring everything together.  We really appreciate your support.  It was a fantastic day which we will treasure in our memories for a long time to come. Once again, thanks again for your help in making the day so special.  We are very grateful to you and to all the staff at Solis Lough Eske Castle.
 
Best wishes,

Hi Marleen, I hope you are keeping well. This email is long over due! Judith and I just wanted to say a BIG 'Thank You' to you and your team for making our wedding on 16th March this year so memorable. We felt at home in Lough Eske and funny enough we didn't want to leave! Our guests, on the day, are still talking about the fantastic staff welcome, service and your attention to detail. We have very fond memories thinking about our wedding day and we wanted to share our gratitude with you and the staff at Lough Eske. We are planning to return to Lough Eske for our first wedding anniversary and we hope to see you there if you are around. Again, a genuine appreciation for all you did to make our big day so memorable. Kind regards,