Bridal Hair By Marie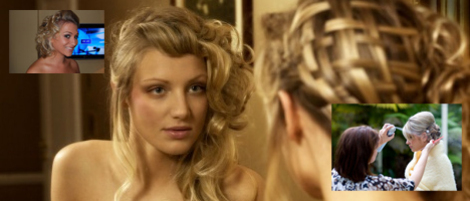 Supplier Details
Marie was the featured hair stylist for the Autumn and Winter issues of B Magazine, click here to see her amazing work.
Marie specialises in Bridal Hair and will call to you on the morning of your wedding to prepare your Bridal Party for your special day in the comfort of your own home. Whether it's short, long, thick or fine hair Marie will find a style to suit and help make your day a memorable one.
Testimonials
I would like to thank you from the bottom of my heart Marie for all your work on the day. Eamon and I are just about done with the final selection for the photo album and I can honestly say, every time I see a picture of myself, whether candid or posed, I don't think I have ever looked better. Never did I imagine that after two sets of hair and makeup people canceled did I think I would strike gold on attempt number three.

Yvonne the make up was fantastic so beautiful and natural, top notch professional down to the last detail. Everyone on the day was asking me who did the make up for the bridesmaids and I. All four of us felt like royalty.

Marie absolutely amazing. To conceive those upstyles on the day was a huge ask but the outcome was pure artistry. Your ability to simply know from a glance at a dress whether it needs an injection of drama or alternatively how sometimes the simplest curl can make the most poignant statement , still amazes me.

I cannot write this and not mention how much of a joy it was just having both your company on the morning. How seamlessly the two of you work together just added to the whole experience.

For most girls the perfect wedding look is about the dress, for me it always about the hair and makeup and girls if brides to be travelled to the four corners of Ireland I KNOW they couldn't trump the two amazing ladies I had on my big day.

Marie's creativity was just amazing. With a broad (and sometimes vague!) descriptions from myself and my bridal party, Marie made some suggestions to suit the style of our dresses and created some amazing individual masterpieces! From perfectly styling my mum's cropped hair to creating a beautiful Sarah Jessica Parker-esque boufant for my friend, Marie's fingertips are genius. When friends and family are looking through our wedding photos the most common compliment is always 'Your hair is amazing' - and this wasn't just from the ladies. If you're looking for someone that is going to be able to create an individual, beautiful style who is a true professional (No need for us to keep time, Marie was on the ball rotating through all 6 of us with rollers and upstyling and hair spraying) and great fun to have around - Marie is your lady!

I really want to say a hugh thank you for given me the most amazing hair style that fitted in with my wedding dress for my wedding. I felt most amazing on the day of our wedding. All the wedding guest said that the hair styles you provided us with were out of this world magnificent. I heard some people say that I looked like "a young princess Grace" with my hair style. I really felt honoured to have you do the hair styles for the wedding. I felt most amazing I actually felt better that a superstar on the red carpet in Hollywood, and so to did my sisters the bridesmaids and my Mother. I have a cousin who is a hair dresser and she was so amazed by your work she kept coming up examing how you did each style. I had friends who are not married yet taking pictures of the hair styles and asking for your details.

Maire you helped in make every moment of my day a truly amazing day, you are so professional, creative, easy to work with and you have a great ability to identify and understand peoples personality and taste. I was over whelmed on the day I first meet with you at your home.You instantly knew what style would suit both me, my dress and wedding theme. It was the wow factor for Judy and I from that moment on. Marie I can not thank you enough. My family really enjoyed chating to you on the day they though you were really really lovely, easy to get on with and you helped in making the most amazing day of my life. Thank you.

Where do you start with the compliments for Marie. After booking the venue, she was the first person I rang to make sure she was free. She was a constant advisor throughout all stages of planning, from the make-up artist to suggesting the photographer for me. She worked wonders on my hair in the lead-up to the wedding, ensuring it was in the best condition possible and then on the day of the wedding itself created the perfect "do" that matched my overall look to perfection. Her bright and bubbly personality is infections and just what every bride needs on the morning of her wedding, in short she just brilliant!!

marie,
Thank you so much for my beautiful hairstyle, the 4 bridesmaids incredible individually beautiful hairstyles and my mums gorgeous hair style also. Your warmth, professional, easy going no problem attitude meant out morning with hair styling was super relaxed, great fun and chatty which lead to us all being relaxed and feeling wonderful leaving for the church. I would say to any bride to be reading this book Marie as quick ad you can you won't regret it! Also Marie thanks for travelling to carrigaline and fixing my veil perfectly before you left.
Best wishes & every continued success,

To all you brides to be...I had an intimate family wedding on 27th of August 2010 at Leap Castle, Co. Offaly. Was unbelievably fortunate to have linked up with Marie Hickey! She came highly recommended by other professionals in the business and I can see why! I knew I had nothing to worry about in the hair department when I saw the pictures on the internet. One of my friends described one of the hairstyles in the gallery as being 'the belleek china of hair' because it was so intricate and delicately woven. Many thanks again, Marie- You are truely gifted at what you do. Have a hunch my mum was looking out for me as i couldn't have asked for a better and lovelier girl to look after myself and my sisters the morning of my wedding. Hope you will be as fortunate to find Marie available on the date you have chosen. Warm wishes,

Marie was an absolute true gem!! I found Marie after much trawling through weddings online forums. She was great for keeping in touch during the lead up to the wedding, she did a hair trial for me and my mum and really listened to what we wanted and not give us a "standard" style.
Marie arrived to my room at 8.10am full of smiles on the wedding morning and did hairstyles for me, my three bridesmaids, a friend, my mum and the flowergirl and I have to say each style was amazing and really suited everyone. I was thrilled to bits with my hairstyle. Marie not only did our hair, she also whipped out her professional camera and took fab photos of us during the morning, my photographer did not come til 12.30pm so they were fab shots to have got. She fixed my zip which was jammed and also helped fit me into the dress (like the girls who know what they are doing in bridal shops). She has a lovely amicable personality and really added to the morning preparations. I would have absolute no hessitation in recommending Marie. My wedding was in Adare on 27th March 2010, so I assume she travels some distance to weddings. Please feel free to contact me should you have any questions.


We got married on the 5th of September 2008, weather is generally good when school starts back... not this day, it poured but thankfully it stopped at all the right times. Marie was a god sent the morning of our wedding, let me tell you she is a lady of many talents, our hair was done to perfection, she had the perfect vision for each individual hair. Everybody was thrilled with her professionalism, her kind words and her style. But it didnt end there, she helps you get into your dress, pop the champers and even snap a few photos, she even cleaned the heals of our shoes after a photo shoot on the lawn !! Marie you were amazing in every possible way and we cannot thank you enough for all your help that morning. The compliments were flying all day about our hair. Thank you again Marie, I would highly recommend you to all brides. Yours truly


I had Marie for our wedding in December. I really can't recommend her highly enough. She really listened to what I did and didn't want at the trial and on the day she was great, had loads of ideas for the bridesmaids and did an amazing job on me and my mum. I got so many compliments on my hair, everyone wanted to know who had done it!


I recently got married in October 2008 and Marie was the hairdresser I choose. I can not speak highly enough about Marie. She did my hair, even put in extentsions, my two bridesmaids and my mum's hair too. We all looked fab and were delighted with the results so much so that people were commenting on the hair as much as the dresses!! It was very relaxing having Marie come to the house and not have to worry about getting to a hairdresser in town. Marie is very professional, friendly and has loads of ideas and nothing is a problem for her,even taking a few photos!! I would highly recommend Marie to make your day extra special.


I got married in April 07 and used Marie. I was thrilled with the results. Marie came to my house and did my hair, 2 bridesmaids and also 1 other. Everyones hair turned out fab, and each style was different.I also loved the fact that we didnt have to go out to someone to get our hair done. Marie is extremely friendly , helpful and has lots of ideas if you are stuck for a style.I would recommend her to anyone for a stress free hair apointment!