Bandido Originals - Bespoke Handmade Stationery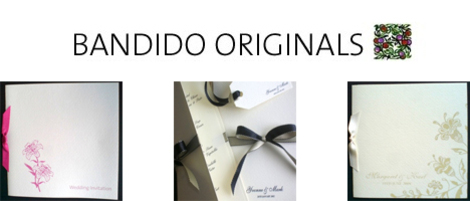 Supplier Details
Facebook: http://www.facebook.com/bandidooriginals
Bandido Originals is a member of Wedding Circle
Julie Quinn designs many ranges of wedding stationery including day invitations, evening invitations, reply cards, full Massbooklets, thank you cards and table name cards. All stationery is completed on superior quality card with hand tied satin or organza ribbon. There are over 150 designs in studio and a fully bespoke service is on offer.
Julie has a purpose built studio at her home in Kilcoole. The business has been up and running since 1996. Dealing on an appointment basis, she offers her clients an exclusive and personal service. During an initial consultation the couple can discuss the type of stationery that they would like to create. Stationery can be easily customised to match a particular colour theme that you may have. Julie's aim is to gain information from you of what you like and then be the tool in designing, printing and hand finishing the final perfect stationery for you. Nothing is too much trouble or impossible to design.
Julie has been working with WOL for the past ten years and has completed stationery for hundreds of WOL couples.
For more information and images of Bandido Designs visit www.bandidooriginals.com or contact Julie to arrange an appointment to visit her studio.
"Bandido Originals is a member of Wedding Circle"
We-Do Promotion: 50% off the price or reply cards or 50% off Massbooklet inserts.
Testimonials
In May 2011, we got engaged and set our date for November 12th 2011. For me arranging and sorting the wedding was easy until I started looking for invites. I believe your invitation is so important to have right, as it's the first confirmation your guest get from you to let them know they are going to your wedding, remember your invite sets the tone of your wedding.
I rang Bandidoorignal (Julie Quinn) and explained to her that I really didn't know what I wanted however my invites had to be what I would call a touch of class. With that Julie arranged to meet me. Within in one hour of meeting me, she had given me idea's and I picked what I wanted straight away. Since ordering my invites, I've got Julie to completed my thank you cards, menu's & mass booklets etcI set my invites 8 weeks to our wedding and I received so many calls and text messages from my friends and family telling me how fabulous our invites were. So a big thank you to Julie. If you are planning a wedding or an event that you need stationary I would highly recommend Bandidooriginals (Julie)

I see loads of posts about invitations so I just wanted to say that the service I got from Julie has been amazing. I ordered loads of samples from different suppliers and these were by far the nicest (imagine one of the samples I got had the card upside down in the invite!!). And at €3.50 for the ones I ordered, they're not a bad price either. She has been so professional sending me proofs until I was 100% happy with the invites. Anyway, I needed to get the abroad invites early so she prepared them for me in just a day and as I work in Dublin city centre, left them in her husbands shop for me to collect, all packaged nicely and wrapped in cellophane in case it rained. I couldn't recommend her more.


I used Julie too as I couldn't be bothered making my own but I wanted something personal. Her service has been amazing, especially as we only went to her 10 weeks beforehand. She's making the mass booklets as we speak and only has 2 weeks to do them. And I couldn't believe the brilliant way she packaged the invites. Absolutely fantastic service so well worth the money.


I wanna third Julie! I have been meaning to post this the past couple of weeks but just never got round to it. Julie has been FAB through out the whole process and posted me out lots of samples. I would 100% recommend her to any one. As the girls said she also left mine in her husbands shop for me which was great and they were perfectly packaged. Cant wait to write them now!


I got my invitations made by Bandido Designs and they were great value, excellent service too.