Perfect Day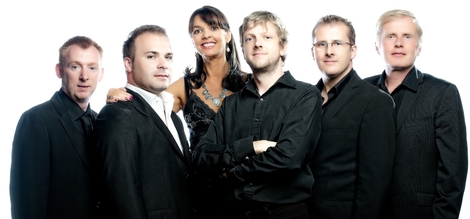 Supplier Details
Perfect Day are a live six piece band with two lead vocalists.  Alan Fitzsimons, former lead singer of 90s Boyband OTT is lead male vocalist. With 5 top ten hits in the UK and a platinum selling album in South East Asia under his belt, Alan is an outstanding vocalist and performer.
Catherine Murray has performed at such weddings as Shane Filan (Westlife), Michael O'Leary (Ryanair), Cathy Reynolds (Albert Reynolds' daughter), to name but a few, prior to setting up Perfect Day.
Catherine and Alan are a dynamic and energetic duo, moving seamlessly from one song to the next and dancing and interacting with the audience.  This, along with top class musicianship ensures that Perfect Day deliver high quality entertainment ALWAYS
Testimonials
We got married on the 30th December 2010 in Darver Castle Co. Louth. The Perfect Day really lived up to their name, they were perfect :), and embellished our big day with a fabulous performance. In the afterglow of our big day we have since been inundated with enquires about the band, our guests were blown away by their ageless appeal and engaging style. They set a great vibe and captured the imagination of all with timeless hits. The floor was electric from the moment they began. They also learned and mastered our first dance beautifully 'true friends lost in time' . We wholeheartedly endorse and recommend The Perfect Day as the magic ingredient in your wedding day reception. Thank you for making our day the Perfect Day.

You will not regret picking Perfect day. They were amazing at my wedding back in November and everyone still talks about how good they are. Plus church music was amazing too.

Hi Catherine, I'm quite embarrassed that it's taken us this long to write to thank you for all you did to make our "Big Day" perfect! I was back at work 3 days after the wedding and haven't stopped since and then between the weather and Christmas we really are only getting around to our "thank you's" now! Three months after our wedding, family and friends are still talking about the band and the church music and the general consensus among our guests was that it was the best wedding they'd ever been at! Thank you so much for all the time and trouble you took to help us get the music right and you definitely "made a party"! The rock set was absolutely brilliant and between various air guitar solo's and my husband and I up on stage dancing, I think you really had us all rocking! My special request for the sax player in the church really set the party tone for me and you helped us to have a magical day which we will never forget. Our only regret is that we didn't have a video to capture the priests sermon and the music and dancing.... next time!! We hope that Perfect Day continue to prosper and if I have any corporate events where we need a band I'll definitely be in touch! Best wishes

I just want to extend our thanks and appreciation to you all for a fantastic performance on our Big Day... Alan did an amazing job in the church, and the band and DJ were both great on the night... It went really well, particularly for a crowd of non-dancer types! We got lots of compliments on your behalf and friends of ours who are due to wed next year took you contact details.

I hope this email finds you well and not too busy? We just wanted to say thank you so much for a great night on Saturday the 9th of October in the Bloomfield in Mullingar. Both you and the band were fantastic and we certainly couldn't have asked for better!! The next day everyone was saying how good you were and how much they enjoyed the night. Anyway thank you so much for making our special day a 'Perfect Day'.

Hi Catherine and Alan, We had a great night your band Was just brilliant. Had the crowd going all night I hope I get to see you again at a wedding thanks for all.

Hi Catherine, I hope you are keeping well. I just wanted to thank yourself, the band and the DJ for creating such a great atmosphere at our wedding (on 18th September) for the different generations. It was brilliant that everybody was up dancing and the dancefloor was full for the whole night. Everyone really enjoyed the night. Thanks Again.

Hi Catherine, Mairead here just wanted to thank yourself, Alan, the band and the Dj again for an absolutely fantastic night at our wedding on the 11th of Sep. Everyone was raving about you all they said you where brilliant, so don't worry I will recommend you to everyone I here about looking for a band. You made our day so special and memorable. It will never me forgotten. I wish you all the best for the future.

Catherine, thank you for helping to make our day a 'Perfect Day'. Everyone loved the band and your flexibility to learn Hang on Sloopy was great.

We just wanted to Thank You for helping to make our wedding the best day of our lives. Yourself, the rest of the band and the DJ were excellent. The dance floor was full all night. We are still hearing back from people who were very impressed with all of you. We've just got back from an amazing honeymoon and are trying to get ourselves back to some kind of normality (not at all easy!). Again, thank you so much and we wish you all the best with your future weddings. Take care. Love from

Hi Catherine and Alan, Sorry for the delay , just getting back to reality now! Thank you very much for a brilliant show at our wedding in the Westgrove, Clane on 25th June 2010. The floor was packed all night and our guests had a great time and are still talking about the band. Thanks again,

Hi Catherine,
Elaine here from the Dunboyne Castle 19th September 09 wedding. Just wanted to mail you to thank you so much for your outstanding performance at our wedding, it was fantastic how the floor was packed all night. I knew you guys would be good but you completely exceeded all our expectations and myself and Ciaran are still blown away by the fact that you did our first dance song so well. Everyone was talking about how great the band was to us up until we flew out on Tuesday for our honeymoon. Both our parents were seriously impressed with our choice too which is always good. Also please pass on my gratitude to Alan for putting up with our crazy OTT ladies! Once again and I really can't express just how happy we were, THANK YOU PERFECT DAY. (first dance was 'God only knows' – Beach Boys)


I just wanted to leave some feedback for this wedding band because we found it hard to get feedback on them ourselves before we booked them. I just wanted to say that they were just FANTASTIC! They played at our wedding on 21 August 09 and I really can't say enough about them.

They were fantastic to deal with in the lead up to the wedding (especially Catherine who was just wonderful) and just brilliant on the day. They had the dance floor packed from beginning to end and people never stopped asking us who the band was because they enjoyed them so much. H2b also plays guitar and they even had him up singing. The DJ was also just brilliant and played every song that we asked them to play. The band also learned "you got it" by Roy Orbison for our first dance and they did a brilliant job...they started it off slowly and then kicked in really fast. I have to say h2b and I really had the time of our lives and we just didn't want the night to end. Perfect Day esp alan and catherine - A job well done I have to say! Thanks for making our day so special!

Hi Catherine. I just wanted to thank Perfect Day so much. We thought the band and yourself were fantastic and really got everyone up (even people who don't dance!!) on the floor as soon as you started playing!! I have got some fantastic feed back from our friends and family about what a fab band you were and how they really enjoyed the music (especially my brother Paddy who just adored you!!). It was so easy to deal with you from the start and will definitely be recommending to you people who are looking for bands in the future!


Hi Guys,
Just wanted to let you know that I've worked with Perfect Day and they are fantastic. Really easy to work with, listen to what the Bride &Groom want and most importantly keep the dance floor packed all night.
Catherine, Alan and the Guys get everyone, even the non dancers involved and on the floor. They create a brilliant atmosphere and know how to bounce off each other and the crowd. I would highly recommend them to anyone looking for an wedding night of brilliant music and fun.
I've worked with lots of wedding bands and can honestly say Perfect Day are one of the best wedding bands around.


Hi Guys,
Perfect Day played at our Wedding on August 22nd and they were absolutely fantastic. Everybody at the wedding hasn't stopped talking about them. The floor was constantly full! I highly highly recommend them, they are excellent


Hi Catherine,
I just wanted to shoot you a quick email to say thanks again for performing at our wedding. Everyone commented on how good the music was and we had a great day.


Hi Catherine,
I just wanted to say thank you for all the music at our wedding from the pre dinner drinks, your fab band and the DJ. It was all perfect. Everyone really enjoyed themselves and I have received loads of compliments on the music.


Our band was www.perfectday.ie and they were just fantastic. I can't speak highly enough about them. Catherine is fantastic to deal with and they kept the floor full all night. We had the theme tune from Officer and a Gentleman "Love lifts us up where we belong" as our first dance and when I hear that song now I could cry (with happiness). I asked them for the second song to be "My girl" and Dad and I danced to that which was great and meant the world to him. The band played until 12.30 and everyone was on the dance floor for the night.


Hi, just want to say thanks for a brilliant gig last night. Perfect Day were just fantastic. Bet you're all tired today!!


I had the pleasure of doing 6 or 7 gigs with Perfect Day on my relocation back to Ireland. I really enjoyed playing with the guys and Catherine, particularly the weddings, where the dance floors were never empty and the atmosphere was electric. The band were great to work with and I look forward to working with them again.


Steve Walters (bass player 'George Michael', 'Amy Winehouse', 'M People', 'Eric Clapton'…. To name but a few

Just a quick thank you, Alan & the rest of the band for Saturday night, you's were great and kept to your promise of getting everyone up dancing…


We had Perfect Day at our wedding last July in Co. Mayo and they were FANTASTIC! They brought the dance floor to life from beginning to end and everyone loved them. They have an amazing sound and they really engage with the crowd - true professionals. We had an absolute ball.


Hi Catherine - It's all over now, but I just wanted to send a special thank you to Perfect Day, and in particular to you for all the help you gave us in choosing our first tune and for meeting with us on that rainy evening to go through your whole set list with us. We had absolutely no worries leading up to the day and you guys really delivered with a punch. We didn't think we'd be dancing on stage with you and Alan, but it was amazing fun. All our friends are still commenting on ye. I really hope to be a guest at a wedding you're playing at and I'm happy to talk to any bride out there that's thinking of booking you. All the best for the future of Perfect Day.


Everybody donned their dancing shoes for 'Perfect Day' and the dancing continued well into the night...