The Ratzingers Wedding Band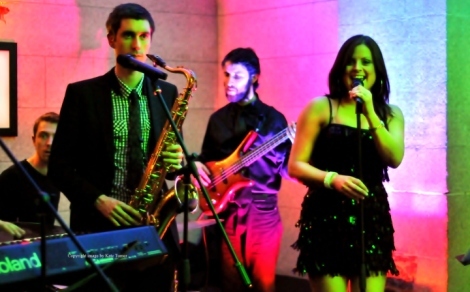 Supplier Details
The Ratzingers are one of Ireland's most professional and well-known bands, and were deemed one of the top 5 bands of 2009 by www.weddingsonline.ie

Our services include:
Ceremony Music
Jazz Trio
Interactive Samba Drumming Workshop
Party Band
DJ
The Ratzingers are an experienced, funky, fun, and energetic band. We provide a professional show that is interactive and entertaining, and full of personality and banter - our saxophonist may join you on the dance floor while he plays; our singer may walk among the guests; our drummer may stand up out of his chair (WHILE STILL PLAYING)...you get the idea! We have adapted our set list over the last 6 years, with each song carefully placed to ensure there is SOMETHING FOR EVERYONE, to encourage maximum dancing!! Our set encompasses DISCO, SOUL, JAZZ, SWING, POP, ROCK, BALLADS, ROCK & ROLL, AND WALTZES. We pride ourselves on our high standard of musicianship, and our ability to entertain a wide selection of guests at your event. 

Depending on budget and venue size, we can offer from a 4 to an 8-piece band, with full brass section. Please contact us for more information on [email protected]. Check us out on our website (www.theratzingers.com), and on facebook (www.facebook.com/theratzingers)

Sample Set list:
First Dance: Your Choice
Can't take my eyes off you (Andy Williams)
Love is in the Air (John Paul Young)
I Want you Back (Jackson 5)
Valerie (Amy Winehouse)
9-5 (Dolly Parton)
Shout (Lulu)
Proud Mary (Ike & Tina Turner)
RESPECT (Aretha Franklin)
Think (Aretha Franklin)
Superstition (Stevie Wonder)
Streetlife (Randy Crawford)
Everybody Needs Somebody (The Blues Brothers)
I Wish (Stevie Wonder)
Higher & Higher (Jackie Wilson)
Sex Machine (James Brown)
Son of a Preacher (Dusty Springfield)
King of the Swingers (Jungle Book)
Sway (Dean Martin/Michael Buble)
Moondance (Van Morrison)
Fly me to the moon (Julie London)
The Lady is a Tramp (Ella Fitzgerald)
Beyond the Sea (Bobby Darin)
Straighten up and fly right (Nat King Cole)
Please don't talk about me when I'm gone (Billie Holiday)
My Baby Just Cares for Me (Nina Simone)
The Way You Look Tonight (Frank Sinatra)
Just a Gigolo (Louis Prima)
It Must be Love (Madness)
When I'm 64 (The Beatles)
Let's Stay Together (Al Green)
Nobody Does it Better (Carly Simon)
Home (Michael Buble)
Everything (Michael Buble)
Just the Two of us (Bill Withers)
Rolling in the Deep (Adele)
To Make you feel my Love (Adele)
God Only Knows (The Beach Boys)
At Last (Etta James)
Can't Help Lovin' That Man
Tennessee Waltz (Patsy Cline)
That's Amore (Dean Martin) 
Delilah (Tom Jones) 
Jailhouse Rock (Elvis)
Rock around the Clock (Bill Haley)
Saw her standing there (The Beatles)
Whole Lotta Shaking (Jerry Lee Lewis)
Great Balls of Fire (Jerry Lee Lewis)
Irish Traditional Jigs & Reels
7 Drunken Nights (The Dubliners)
The Wild Rover (The Dubliners)
Whiskey in the Jar (Thin Lizzy)
The Lovecats (The Cure)
National Express (Divine Comedy)
I Wanna Dance with somebody (Whitney Houston)
Mamma Mia (Abba)
Video Killed the Radio Star (Buggles)
Holding out for a hero (Bonnie Tyler)
I Think we're alone now (Tiffany)
I Will Survive (Gloria Gaynor)
Sing it Back (Moloko)
Bad Romance (Lady Gaga)
Bad Boys (Alexandra Burke)
Firework (Katy Perry)
Inside Out (Imelda May)
You Got the Love (Candi Station)
Ain't got no (I got life) (Nina Simone)
Pokerface (Lady Gaga)
Praise You (Fatboy Slim)
Sex on Fire (Kings of Leon)
Don't Stop Believing (Journey)
Don't Look Back in Anger (Oasis)
Suspicious Minds (Elvis)
Compared to What (Les McCann)
Hit The Road Jack (Ray Charles)
....plus requests
Testimonials
We were so pleased with the Ratzingers, they played at our wedding at the end of April this year. The music throughout the day was really great and contributed massively to the fantastic atmosphere at our wedding. We all had such a great time dancing and I've had so many comments since about how great the music was. It was a delight to be greeted before the reception by the jazz trio and the band were so inclusive getting some of our family members involved. Katie in particular made us us feel comfortable with the tricky first dance and throwing the bouquet etc...

The Ratzingers played at our wedding in Faithlegg House Hotel, Waterford on 16th April 2011. From the moment we first contacted Katie she was an absolute pleasure to deal with, no email went unanswered and all my worries about song choices etc were put to rest. The night itself went absolutely amazing, the floor was full from the moment the band started playing until the last song. The quality of the singing and the music coupled with the enthusiasm of the the lads meant that the place was rocking all night long! Every age group was catered for and there was really a party mood created which is exactly what we had hoped for. Katie has an amazing voice and the lads are all superb musicians, we've had so many enquires about the Ratzingers from our guests since the wedding!
Thanks a million for a brilliant night!

Elaine & Peter April 2011

We had the Ratzingers play out our wedding and they were absolutely superb. The crowd loved it and danced all night. The atmosphere was wonderful. The quality of the music and the interaction with the crowd were second to none. The Ratzingers are extremely talented and professional. I would totally recommend them for your wedding - trust me, you won't regret it. The range of songs they sing is superb. They are lovely people as well, and it seems as if they are enjoying the day as much as you, which gave it a special feel. They sang during our wedding ceremony as well as after the dinner. A great band is essential for a successful wedding and we really could not have hoped for more.

We cant recommend Katie and The Ratzingers highly enough. They are so professional, such good fun and have an amazing sound. We never once left the dance floor and all our guests commented on how amazing the band was. Dont hestiate - book them today. We promise you will dance the night away!

The Ratzingers took care of all our musical needs for the whole day, from the church to DJ at the end. We're still getting great comments from guests about the great singer at the church, the brilliant sax player at the reception, the amazing band and DJ, and the great variety of musical talent. Thanks for learning songs for the ceremony for us, for doing a great first dance, followed by such a great selection of music (the beatbox set on the dancefloor was a brilliant surprise) the whole day was made extra special thanks to you guys!
Thanks


I couldn't recommend the Ratzingers highly enough…

From the outset, Katie was a complete pleasure to deal with.
We've received so many compliments from friends and family regarding the band. The dance floor was packed all night… we had a fantastic night!

There is not one bad thing I can say about the Ratzingers band, they were extremely a pleasure to deal with. My self and my husband and all my guests have lots of fabulous memories of our wedding because of them. Everyone had positive things to say to myself and my husband about them. Although people were slow to get up at the beginning of the set which is natural due to nerves, Katie soon got them all up, and once up they stayed dancing the whole night away!!
We also requested a song for our first dance that is not part of their normal set, actually they had never even played it before, and wow what a job they did of it! The band are excellent musicians but what a voice Katie has, she can do any song in our eyes!
I would definately reccommend the band! They even got some of our guests enquiring about having them play at functions and weddings!
Thanks for everything Katie and the Ratzingers!


Hi Katie and the Guys,
Just wanted to say a huge thank you for playing at
our Wedding in the Nuremore Hotel on June 5th 09. I've lost count of
the amount of people that have come up to us to say how great the band
were. The one request we had of you was that you would have everyone up dancing both young and old and you certainly delivered.
Thanks again


The Ratzingers played at our wedding in July 2009, and we can highly recommend them. From our first enquiry to the last song of the night, Katie and the band were a pleasure to deal with. Every email was answered promptly and positively. Katie was so helpful and professional. The band learned our first dance, and performed it to perfection. Our dancefloor filled immediately, and was never empty for the rest of the night. The performance was brilliant, and Katie is so glamorous, talented and full of energy. The playlist catered for every age group, and the atmosphere the band created was fun, sophisticated and relaxed. We also booked the DJ and found him brilliant. He played all our requests and kept everyone on their feet. So many of our guests commented on how great the band was – our parents, families and friends all enjoyed them, and we loved every minute! Many people told us that this was the best wedding band they'd experienced, and we totally agree. We wanted a wedding band that would deliver on our perfect day – and we found it in the Ratzingers!!


Dear Katie & co,
Thank you all so much for an absolutely fantastic performance at our wedding. Everyone went home talking about the band-the mix of music was great, everyone was up dancing at some stage of the night, most for the whole night! Thanks for all your support on the run up to the day, it was great knowing I could leave it all in your hands and not have to worry about a thing regarding the music. We would highly recommend both the band and the Samba workshop-again everyone was speaking about it, it set a great mood for the rest of the night.
Thanks again,


I simply cannot describe just how amazing Katie and the Ratzingers were at our wedding on 23 May 2009. Katie sang in the church and the music was one of our favourite parts of the ceremony. Her voice is so beautiful, soulful and meaningful. You could hear a pin drop when she started singing, it was quite magical. We had a combination of music from instrumentals (they can pretty much play any song you want), Amazing Grace, Ave Maria and more modern jazz classics which Katie just excels at (we had Fields of Gold and At Last by Ella Fitzgerald at the signing of the register). However they also played a classical song for the recessional so they can do anything you want. Then for our drinks reception we had the Ratzingers jazz trio and they were awesome, dressed all in black and totally funky. It got the party started much earlier than normal at weddings and people were even dancing! We didn't have the Ratzingers play as the band only because we had booked our band ages ago when we heard them at our friend's wedding. If you haven't got your music sorted yet I can hand on my heart tell you to look no further, you will not get better. Plus Katie is a pleasure to deal with and knows exactly how the wedding mass works and was invaluable in helping plan what would go where. Good luck and have a great wedding day.


The Ratzingers blew away our expectations. They were absolutely fabulous! I don't know how they did it but they were fun, hot and sophisticated - all at the same time. Our guests had a blast and everyone was dancing to various genres of music (from swing to pop to rock and roll) throughout the night. Truly talented band. Furthermore, both Katie and the DJ (also part of the band) were extremely helpful throughout the planning process. Can't rave enough about this group!


Everyone should have this band at their wedding, they were absoloutely fantastic, everyone raved about them and we had numerous calls about them asking for names and contact details.

At one point in the night my new husband and I finally caught up and we were just standing on the dance floor staring up at the band with pure delight!

Everyone had such a good time, and never stopped dancing for the whole night. Katie was so organised and helpful in the run up to the event and they were so hands on and personable during the whole event, all of the band congratulated me personally too when they left at the evening, The Ratzingers made our wedding! Truly fantastic!

I was so nervous about the music as I'm very fussy about my music, I knew what I wanted and they delivered 100% on the night, I cannot rate them highly enough!

Aoife O'Connell