Kilronan Castle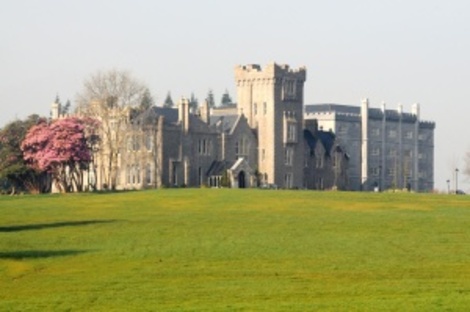 Supplier Details
Let our wedding coordinator assist you in creating the perfect wedding affair that no one will ever forget. Our professional team can cater to all your desires. We work hand in hand with you on all aspects of your day.
Kilronan Castle Hotel offers the following:
Red Carpet Welcome
Champagne on arrival to the Castle for the Bride and Groom
Complimentary Tea and Coffee on arrival
Luxurious surroundings with a magnificent lake for your photographs
A Fabulous Complimentary Banqueting Suite for your Reception
Microphones for your Speeches
Choice of Cake Stands and Knife
Personalised souvenir menu cards for you and your guests as a keepsake of your special day
Our commitment to one wedding party per day
Our Magnificent Bridal Suite complimentary with Full Traditional Irish Breakfast for the Bride and Groom
A dedicated Banqueting Manager Ensuring Perfection Throughout your Day
Menu tasting for the bride and groom prior to the big day
Complimentary Make Up Trial for the Bride to be
A discount of 10% for a midweek wedding excluding Bank Holidays
A BRIEF OVERVIEW OF THE HISTORY OF KILRONAN
Kilronan comes from the Gaelic 'Cill Ronain', which means Ronan's Abbey, the ruins of which are close by, as well as St Ronan's Holy well & the hollow stone he used for the baptisim of his followers. The original Castle was built in the early 1800's and belonged to Colonel King Tenison. It was extended by the 12th Earl ok Kingston in 1876 with a five storey over basement, baronial tower and battlements. During the Edwardian period, the earl & Countess of Kingston enjoyed the estate until political & social change saw the closure and sale of Kilronan & other country estates both in Ireland & abroad.
The Tenision family originated in Oxfordshire in the era of Edward 1st but fought with the Irish Brigade in France and on behalf of The Pretender, Bonnie Prince Charlie. Their colourful history continued through involvement in the Peninsula Wars in Spain & Portugal. They were represented at The Battle of Waterloo where Napoleon was finally defeated and served as members of The Irish Guards in the Boer War. One was a close friend of the poet John Milton.
Most generations tended to squander their inheritances but then again they or their sons would marry an heiress and their fortunes would bloom again. When Lord Brookborough was Governor General of Ireland it was reckoned that Kilronan Demense was the best shoot in Ireland. In one four day shoot it is said that they shot almost three thousand pheasants. Nearby Lough Allen is the first lake on the Shannon system and one which the Norsemen used to access the rich heritage of Ireland.
This is the region from which the artists, poets and musicians emerged, including Kavanagh, Yeats, McGahern, O'Carolan and Percy French. Roscommon was famous for music in ancient times and Irelands greatest harpist, Turlough O'Carolan, is buried nearby. He was welcomd into the castles of Irish Chieftains like the O'Rourkes of Breifne and his music will live on in special events planned for Kilronan. Kilronan will be offering the hospitality and traditional welcome that has made its sister estate, Lough Rynn so popular.
THE GARDEN MENU
ARRIVAL DRINKS
Freshly Brewed Tea & Coffee Served with a Selection of Biscuits
STARTER
Duo of Cantaloupe & Galia Melon with Forest Berry Compote
Organic Plum Tomato & Buffalo Mozzarella 'Caprese' with Balsamic Dressing
Grappa Marinated Avocado Tossed with Grapefruit Segments & Sakura Sprouts
Classic Caesar Salad, Crispy Bacon, Garlic Croutons & Parmesan Shavings (€2 supplement pp)
SOUP OR SORBET COURSE
SOUP
Carrot & Coriander
Roasted Butternut Squash with Hazelnut Oil Double Beef Consommé with Vegetable Julienne
Cream of Leek & Potato Orange
Cream of Vegetable
SORBET
Mango Granite with Sweet White Wine
Apple and Pepper Sorbet
Coconut and Malibu Sorbet
and Thyme Sorbet
Passion Fruit & Galliano
MAIN COURSES
Roasted Striploin of Beef, Selection of Vegetables, Roasted Potatoes, Red Wine Jus
Pan Fried Breast of Chicken filled with Goat's Cheese & Apricot accompanied by Lemon
and Black Pepper Crushed New Potatoes and Sherry Infused Jus
Seared Cod Fillet sprinkled with a Herb Crust on Crushed Baby Potatoes with Scampi Veloute
Spicy Couscous Crusted Salmon Fillet on a Rustic Ratatouille and Basil Cream Sauce
Fillet of Beef with Fondant Potato, Mushroom Duxelle, Green Asparagus & Morel Sauce (€5 supplement pp)
DESSERT
Orange Crème Brûlée with Herb Tuille and Citrus Ice Cream
Chocolate Marquise with Fresh Berry Compote
Frangipane Peach Tartlets with Raspberry Sauce
Baked Cheese Cake with Toffee Ice Cream
Granny Smith Apple Crumble with Rum and Raisin Ice Cream
Symphony of Desserts (€3 supplement pp)
Served with Tea or Freshly Brewed Coffee
EVENING RECEPTION
Two Selections from our Evening Buffet Menu served with Tea & Coffee
€65.00 per person
Choose one dish from each course to form your menu
The following supplements apply if you require choices on any of your courses :
€5 per person Starter, Soup, Dessert and €6 per person for Main Course
---
Click to download our full set of menu options or go to our website to view some of these options.
Also click to download our wedding album.
---
Fairytale Winter Wedding at Kilronan Castle Estate & Spa
Your Dream Wedding can now become a reality with our Superb All Inclusive Winter Packages
Kilronan Castle is the most splendid wedding venue in Ireland and offers the perfect ambience for an intimate winter wedding as recently voted by tripadvisor as one of the top 15 most romantic venues in Europe. Standing majestically over 49 acres of its own private demesne on the shores of Lough Meelagh it is the perfect backdrop for a winter wedding portrait.
On your arrival to the Castle you will be greeted with roaring open fires, candle light and the gentle scent of Mulled Wine.The warm and intimate atmosphere is matched with creative menus and impeccable service. The Grand Ballroom in Kilronan Castle can cater for 320 people while providing exquisite decor that sets a tone of opulence underneath magnificent chandeliers.
All-inclusive winter wedding package
   Tea coffee, mince pies and mulled wine on arrival for all guests
    Hearty 5 course meal to be selected from the Lake Menu
    Half a bottle of specially selected wine per person with meal
    Sparkling wine toast drink
    Choice of two dishes for the evening buffet
    The Tenison Bridal Suite complimentary the night of the wedding
    Two additional suites complimentary for the night of the wedding
    Superb accommodation rates of €149 B&B per room
    Complimentary overnight stay the night of your menu tasting and complimentary use of Thermal Suite
    10% discount of all pre -booked spa treatments for your guests 
*November, December & January only on selected dates
€75 per person (weekend)
€65 per person (mid-week)
Testimonials
Hi Ciara, I know its long overdue but we wanted to thank you to you, Tyroon and all the staff (too many to mention!) at Kilronan Castle so much for making our wedding such a fantastic day. Shane and I are still going through the day, remembering the little things that really made the day amazing. The food was outstanding, the presentation and the service was faultless, we cannot wait to go visit Kilronan Castle again! We have been to two weddings since ours and nothing can compared to Kilronan Castle. Please pass on our thanks to everyone involved who made our day so special. We really felt like King and Queen of the Castle on the 14th May! Kindest Regards and hopefully we'll visit soon,

The best service, food, and location. We couldnt have been happier with the team, Olivia, David Taroon and the rest. Thank you all so much.

To all the future Kilronan Brides... Do not worry. This hotel and all of their staff are fantastic. We got married in Kilronan Castle on the 18th March 2011, and I cannot express how good of time we and all of our guests had. We arrived on St Patrick's Day, had dinner in the restaurant the night before with approx 40 of our guests.... down to the Dungeon Bar, live music and some craic and ceol was a wonderful way to start off the weekend. Up early, and I had family breakfast in the restaurant - was lovely to have everyone together, the hotel staff made us feel like it was a home from home.. no request was too much. The day itself passed without a hitch.. we had the piper as we arrived, champagne reception - Samantha our wedding co-ordinator had saved some canapes and drinks for the bridal party while the guests got seated.. and much to our surprise had added pictures to all of our table names which was 80's tv programmes. It was such a wonderful touch. Our guests are still talking about how good the food, staff and hotel in general was. Our day was wonderful, I wouldnt change a thing.. so glad we picked Kilronan Castle as the venue for our reception - would have no hesitation in recomending...Thanks to all once again, especially Samantha.. we look forward to returning very soon

We had our wedding reception in Kilronan Castle on 17th September 2010. I cannot recommend it enough. To Samantha and all the staff at Kilronan a massive thank you. Everyone who attended our wedding is still talking about the food, the atmosphere, how spectacular the castle is and how professional and friendly the staff were. Cant wait to go back for our first anniversary... If i can hold out that long..

To Olivia & Ciara,

Thank you so much for all your help and support with our wedding arrangements. You both have been absolutely fantastic and deserve a medal for putting up with us

The castle is beautiful and the staff are superb.

We look forward to spending our first anniversary with you.

To Samantha,

Thank you so much for everything you have done for us. You have made the whole experience a very relaxed one and Barry and I are indebted to you.

We hope to continue to visit the hotel.

To Samantha,

Thanks a million for all your help over the past few month. It has been a pleasure, we couldn't have asked for more. You made our wedding day exceptional.

Thanks once again

Dear Ciara,

I can't believe it's all over!

And we would do every single second of it all over again, thank you for everything – for your professionalism, attention to detail, care and support. In short you were amazing as was all the staff in Kilronan Castle.

We will definitely be in Kilronan again.

To Samantha,

Thank you so much for everything you did for us to make our special day so perfect.
It couldn't have gone any better. We had the most amazing day of our lives.

All of our guests commented on how great the hotel is and how amazing the food and service was. We could not get over the attention to detail and all of the personal touches, for example when the lighting in the ballroom was changed to fit in with our colour scheme.

Thank you Samantha for being so amazing, we really appreciate everything you did for us.

We will definitely be back to spend our wedding anniversary at Kilronan Castle, the castle has a very special place in our hearts now because of you and your fabulous staff.

Many of our guests plan to come back too, some to renew their wedding vows, some to get married and some for a weekend away.

Everyone was blown away by the castle and its staff

Thanks a million

Dear Ciara,

Thank you so much for making our wedding so effortless and for putting up with all our emails and requests.

You're a pleasure to deal with and we cant thank you enough.

Best wishes now & always

Dear Samantha & all the staff at Kilronan,

Thank you so much for making our wedding day so special, you did an amazing job and all our guests were 'wowed' by the service and friendliness of all the staff.

Everything was perfect

Thank you

Dear Olivia,

Just a short note to thank you for making the whole experience a very enjoyable one, we are so pleased you looked after our day with such enthusiasm and professionalism.

With love and thanks – here's to having a party we will all remember!


xxx

Thank you so much for all your help and assistance throughout the preparation of our wedding. It was a pleasure to deal with you and hopefully we will be regular visitors at Kilronan Castle.

To all staff at Kilronan Castle,

I would like to say a massive thank you to all staff at Kilronan Castle.

We had a splendid day at the wedding and everything was perfect from the minute we arrived until we left. Nothing could be faulted.

The venue is 'out of this world' even the young lads (who are usually more interested in the bar) are still talking about how fantastic the setting is at Kilronan Castle.

Many thanks once again- you all did a fantastic job and made the wedding so special.

Dear Ciara,

Thank you for all your hard work, patience and support in organising our wedding in the beautiful surroundings of Kilronan Castle. You have especially been a wonderful support & presence for me as the date approached and I became more nervous and frantic.

Thank you for your professionalism, efficiency and encouragement.

My husband and I had our wedding reception at kilronan castle in November 2009, the service was second to none, it was the little touches that they did that made our day so special like at the champagne toast each bottle was popped at the same time at the tables which was really special and something i hadnt expected. no matter what we asked for they were there to offer advice and help. i would definitely recommend kilronan!!


To all the staff at Kilronan Castle,

We would like to thank you all for helping to make our wedding day everything we could have hoped for. Everyone commented on how fabulous the hotel, staff and food was... without a doubt 5* treatment!

Looking forward to celebrating our first anniversary with you.

To Olivia and all the staff at Kilronan Castle,

Thank you so much for such a wonderful weekend, for your hard work, enthusiasm and patience. You helped to make this the perfect weekend and the perfect wedding day.

We really appreciate it and look forward to seeing you all again soon!

Thanks

Eimear & Darren

This is an amazing venue, the website isn't up-to-date so you have to see it to get the full picture. I have booked my wedding for here and all the staff are lovely 100% of the time. I have no concerns whatsoever, I know Kilronan won't let us down.
Contact Details
Ballyfarnon,
Roscommon
Contact name: Olivia O Regan
Phone: 071 9647771
Fax: 0719647772
www.kilronancastle.ie

Interact