The Elastic Band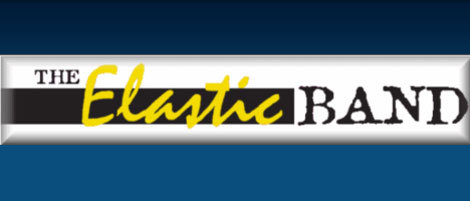 Supplier Details
If you are looking for a unique blend of energy, experience, variety, professionalism and enthusiasm, then we are the band for your big day!
With a great range of music to suit all tastes and age groups, relax and leave the entertainment to us - you won't regret it!
Testimonials
Hi Guys,
It's a while since our wedding but wanted to reiterate how grateful we both were for the brilliant job ye did. We couldn't have been more pleased. Ye read our crowd perfectly....our guests could not stop talking about how great ye were for weeks after!!! - the proof is in the number of videos taken by guests of the dancefloor showing everyone up dancing and no-one left sitting! My husband's friends even commented to me that they never dance at weddings but as is said - never say never! They admitted to getting up on the dancefloor because ye were so good and had a great time. The same is true of my husband so thank you!
There was a couple there to view ye that night who were amazed how ye got the crowd going and they stayed most of the night as they were so impressed. The DJ was excellent after too and was so good to try to play for as long as possible - disappointed that my day ran late thereby eating into the time left for ye to play - but ye certainly made up for it with the quality of music! Thank you for also facilitating my first dance song via iTunes.
We even managed to get my 91 year old Gran on the dancefloor in a wheelchair and she loved ye too!
So thank you again for creating a brilliant end to a wonderful day - ye were amazing, would recommend ye highly and we wish ye the best of luck for the future.

Wish to say the band were professional and played a variety of music to entertain all age group
Their entertainment on the night was amazing. Everyone enjoyed the excellent band.

Hi Glen, Jason, Gavin and final member whose name I don't know(sorry).
The Guys played for my wedding in February 2011 in the Salthill Hotel.
Oh my god you were brilliant, everyone is still talking about how good ye were.
The guys play a great mix of old and young stuff, so it kept all age groups happy and dancing all night.
Glen and Gavin are really interactive with the crowd, and it makes a huge difference.
Loved the Siege of Ennis, the train around the room, Hokey Pokey and 'Maniac 2000'.
From start to finish Glen and the boys were a pleasure to deal with, always really professional and helpful.I can not recommend them highly enough, when I renew my vows in 20 years time, I am going to book the guys again.!!
So Book them for your wedding now!

Just wanted to say a massive thank you to you and the guys for making our night such a success. Everyone was raving about ye, ye were just great, thanks so much. Thanks again, from start to finish you guys were professional, a pleasure to deal with and really talented musicians.
I will definitely recommend to every bride I meet!!!

Wising you all the best for the future.


Just wanted to say you did a great job at the wedding. Your song with Tom was brilliant as was the rest of the rest . Just to let you know Tom gave a you a great shout out on the show on the following Monday.


Just wanted to say a big thanks to the band and add to the already fab reviews, all our guest thought the band were amazing! Dance floor was full all night, great mix of music, listened to all our requests and were a pleasure to deal with. Go ahead & book them, you will not be disappointed!


Owen and myself would just like to say to yourself and the rest of The Elastic Band 'Thank You' so much for doing a fantastic job at doing the music at our wedding.
Everybody we met since the wedding have been raving about ye and saying ye were 'the best wedding band ever'! I think one of our guests even rang ye the next day to book ye for their wedding but ye were booked for their date! Thanks also for your professionalism throughout all our dealings with you, you were an absolute pleasure to deal with from start to finish and you made our day even more special.

We will certainly be highly recommending you!

We would like to wish you and the lads the best of luck in the future.

Thanks again


Siobhan & Owen

Now that I am back in Australia, I just wanted to send a thank you to yourself and the rest of the band. Truly you guys were brilliant – so many of our guests have made comment about how good the music was and how everyone was up and dancing. I'm so happy we booked you!

One piece of feedback and take what you will of it... I don't think your marketing DVD does you justice. The reviews of the band on Weddings Online are really positive and not being local that's what I based my booking! Thanks again, you really made the night.

We chose 'The Elastic Band' following positive feedback on 'Weddings on Line' for our wedding in the Castle Dargan, Sligo on May 2nd 2009.
We hadn't heard the band before as we were organising the wedding from England, but took a risk......boy, did it pay off!
Glen was brilliant - he sorted our first dance for us, played enough old time music to keep the older crowd happy and then launched into more modern music half way through the set, with the result the floor was packed all night.
In addition to a packed floor, 'The Elastic Band', played music that we love - hearing the first few cords of 'Thunderstruck' being (expertly) played was one of our personal highlights of our amazing day!!
We would recommend without question, 'The Elastic Band' to anyone considering booking them.


Thanks you very, very much for an excellent evening at the Rowing Club on May 16th. We had so much fun, everyone commented on how good you were and wished ye could have played for longer, we're so happy with how everything went, the songs you did were brilliant, you kept the dance floor filled and we've even had feedback that yours was by far was the longest dance train they'd ever been on! Thanks for letting me do the song with the 'Ruthe-ettes', Jonathan was both frightened and amused by the performance so it was well worth it!

Your one-liners between songs went down a storm, ("There'll be no favouritism here tonight" when I was obviously agreeing to throw the bouquet in the head bridesmaids direction!), your management of and interaction with the crowd was excellent ("Come back!" when the dance train migrated to the reception hall) and you sound brilliant on the DVD; we will send you a copy when we have it edited. It was a brilliant night, thank you so much.




Thank you too for your professionalism and easy-going manner when setting up on time proved difficult.
We would recommend you to everyone who needs a band to provide a fun atmosphere, as well as excellent music, for their wedding reception.

The Elastic Band played at our wedding in Killarney in November 2008. They were absolutely fantastic! The dance floor was packed all night and everyone was talking about them the next day. The mix of music was excellent and suited all ages. Since the wedding I have had three of my engaged friends ask for their number!
Thank you all so much x


We had Elastic Band for our wedding in galway bay on the 15 August 2022 and i have to say that they were brilliant. The floor was packed for the whole night and after the wedding people could not stop raving about how good they were. I could not recommend them enought as a band, and thanks for making our night great.


The Elastic Band were our wedding band in the Westwood Hotel, Galway on the 26th September 2008 and they were absolutely fabulous. The guys were great to deal with from the first time we contacted them to arrange to hear them to the day of our wedding. They played a huge range of songs and everyone from young to old were dancing all night - I didnt leave the dance floor once! The Elastic Band were a hugely memorable part of our day, not only for us, but our guests aswell and I wouldn't hesitate to recommend them.


We picked The Elastic Band for our wedding in Athenry on November 28th having seen them at a gig in Kearys in Loughrea. we couldn't have been happier with how the night turned out. We loved the music and I spent most of the night on the dance floor. We're not long home from honeymoon and everyone we have spoken too since has commented on how great the band was and what a great night they made it. They liked the fact that there was a good mix of music and that they weren't a typical country wedding band. Even people who handnt danced in years were on the dance floor. We will certainly be recommending The Elastic Band to anyone who asks


We had the Elastic Band as our Wedding band in Bunratty on September 5, 2008. I am very genuine in saying that these guys are absolutely top class. They had the entire wedding party up dancing from the first dance until the end of the night. They really made our day and we have been raving about them since as have all our guests.

I cannot recommend them highly enough. So if you are looking for a band then look no further than these guys. I stand by that 100%. Thanks guys.