Marquee Weddings in Ireland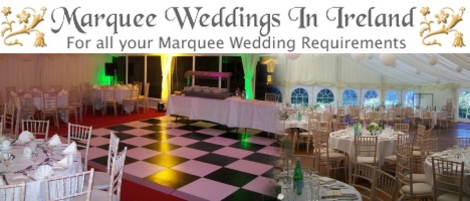 Supplier Details
WHATS NEW AT NORTH EAST MARQUEES AND MARQUEE WEDDINGS IN IRELAND
Having successfully served the Wedding and Event Industry for the last 12 years, North East Marquees and Marquee Weddings in Ireland would like to let you know about the recent additions to our already extensive product range.
As Ireland's largest suppliers of marquees to the Wedding Industry, we would like to let you know that we have just taken stock of the very latest 2010 Hardwall Marquee Systems (we will of course continue to supply the ever popular soft sided marquees) for your proposed event.
We have also just taken stock of the very latest 2010 ceiling starcloth, lining wall uplighters and our spectacular 12 bulb brass chandeliers.
For Ireland's most competitive quotation with an exceptional service, why not call Ciaran at 087 2361905, 041 9804401 or 01 8404269.
Why not ask about Marquee Weddings in Ireland's All Inclusive Wedding Package or log onto www.marqueeweddingsinireland.com or www.northeastmarquees.com.

Our wedding marquees come with heating, aluminium doors to prevent draughts and window walls to highlight exterior aspects i.e. The backdrop of an illuminated house, a river, lake, mountain range or your favourite landscaped garden area.  West facing windows capture the setting sun streaming through the marquee windows (an experience to behold).
A red carpet leads you through the marquee doors to a fully lined marquee with pelmets in red, blue, green to match the bridesmaids'colours or perhaps ivory to match the bride.
Power for the event is normally provided by our generator.
The tables are dressed with white linen tablecloths and come with king's pattern cutlery, wine glasses and water jugs.  They also come dressed with floral displays as centrepieces, candles and mirror bases.
The sumptuous meal comes with complimentary red and white wine.  Padded chairs ensure comfort throughout the event while high bar tables ensure instant rapport amongst guests.
Pre reception champagne or wine drinks are served on the lawn or in the marquee where we provide room if the weather is inclement i.e. 15 sq. Ft. Per person.
A top rated DJ takes you through the evening and well into the early hours to a choice of your favourite music.
If you require a venue in a particular area of Ireland please let us help you find it or recommend one just right for you.