Filmme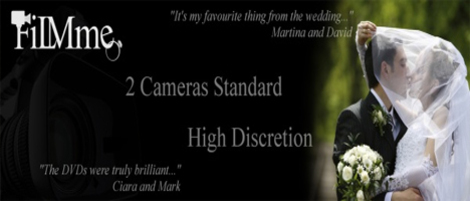 Supplier Details
At Filmme, we pride ourselves as being as one of the most discreet and professional videographers in the business. We offer 2 cameras as standard, which ensures a more professional and enjoyable end product.  Please review our testimonials section on our website for past couples experiences with Filmme.
Testimonials
Anita and Colm of Filmme are an absolute pleasure to deal with. We met them at the Silversprings Wedding Fair in Cork and they were the first supplier we booked. They also respond to querys so quickly- and to be fair, i was a slight Bridezilla :)Colm was great on the day, he was so discreet and worked really well with out photographer. He took some beautiful footage and we really enjoyed watching it. I think i watched the "Dance off" of our wedding 20 times now, its edited really well and it is so funny. I would definately reccomend Filmme, and definately recommend the full package, there was so much fun on the dancefloor that we missed as we were talking to guests etc. Thank you to Colm and Anita.

I normally don't feel compelled to leave testimonials but absolutely do in the case of FilmMe. What an outstanding supplier! I was unsure about even having a videographer until I met Colm & Anita at a wedding fair in Silversprings. Their sample DVD was by far the most professional and creative and we booked there and then. My hubby & I now have a fantastic memento from the day which captured so many moments we missed. I cannot recommend this company enough. The filming on the day was so discreet that my mum rang me on honeymoon to complain that "the videographer never turned up on the day" ha ha - she had been unaware he was there the whole day long - testament to how unobtrusive the process really is. I got the full day & night package & it was well worth the money - the danceoff is priceless. In fact, my photographer really felt like a rip-off compared to what I got from the videographer.
Thank you both so much, will be recommending you to all my friends.

Hi Anita and Colm. Thank ye soo much for all the work ye put into our wedding videos which we received recently. We are soo delighted with the final result and will definitely be recommending filmme to all our friends. Best of luck to ye both.

Hi Anita & Colm, we received our dvd's last week and are absolutly thrilled with the result.We can not recommend you highly enough and will have no hesitation in telling our fiends who are getting married about your work.
Wishing you all the best for the future.

Wow! wow! wow! We received our wedding video last week and I can only say to all you brides and grooms out there thinking of getting the best value for money that the quality of the DVD is outsatnding and more than what we had hoped for! I had met Anita at the Silverpsrings Wedding Fair in Cork and by far they have the best quality product compared to three other suppliers that I had reviewed! They are so professional and take their work very seriously! We received two DVDs and not only was the filming of the wedding and the reception phenomenal we also got a second DVD with highlights and also the dance off which is like watching yourself and your friends on MTV! The video is class and we are so thrilled with it! Colm and Anita both made us look so good on video! We have it for life and we are so happy! Thank you!

Hi Anita and Colm, just wanted to say how thrilled we were with our dvds.You were so kind to meet me in limerick on Christmas eve so we could watch them over the xmas period with our family and friends.I had goosebumps watching the day and reliving all the fabulous moments which ye captured so well.You captured some very special moments with older relations including Joe's grandmother and this meant the world to him. The music and set up was outstanding.I would and have highly recommended your company to anyone in the mid west region and wish ye continued good luck and success with FilmMe.Thanks again for letting us relive our special day.


We got our DVD's yesterday and they were everything we hoped for and more! It was an amazing professional production and one we are proud to share with our family and friends. They were so lovely and patient on the day and not one bit intrusive...they totally blended in!We did not want a DVD when we first booked the wedding because we were afraid we'd be conscious of them being there all day...we are so glad we changed our minds and especially glad that we chose FilmMe as they totally understood what we wanted.


We can't tell you enough how happy we are with the DVD's of our wedding we received from Colm and Anita of FilmMe. It was way beyond what we had ever expected from the DVD's and we are absolutely delighted that we asked FilmMe to do the job. We were both nervous thinking about the DVD as we hate video cameras and stuff like that but after watching it, i have to say it was the best money we spent!
Colm and Anita were so friendly and professional and have given us some beautiful memories to treasure. Both the quality of filming, editing and choice of music are fantastic and we just loved the way they captured the days best bits without intruding on people, and kept the DVD's to the point.
It brought a smile to our faces reliving our big day. We are so proud to show this to everyone we know and will definitely be recommending them to anyone we know who is getting married in the future.
Thanks so much.


I received the dvds yesterday, we watched them last night we were delighted with the outcome. I have to say you exceeded my expectations the dvds are fantastic I can see the thought and hard work that went into it. Both of you were so professional, discreet and friendly, a big thank you from both of us. We will be recommending Filmme to all our friends and family. Thanks to you and Colm our wedding day and memories will never be forgotten.....

Contact Details
Annacotty, Co. Limerick
Limerick
Contact name: Anita & Colm Heffernan
Phone: 061 507852
Mobile: 087 6874570
[email protected]
www.filmme.net

Interact