Superstition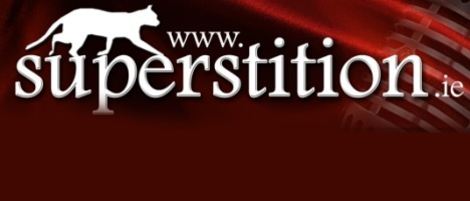 Supplier Details
SUPERSTITION, arguably one of the most exciting live outfits on the entertainment circuit today. They deliver a very professional and electrifying performance every time they take to the stage.
For their pub, club, and niteclub venues the band go out as five piece, its the usual line-up of lead, rhythm and bass guitars, keyboards, and drums, but with the added spice up of live brass in the form of alto and tenor saxophones, giving the whole performance that extra punch. Listen on YouTube.
In their wedding and corporate mode the band take it to another level, with the addition of a female vocalist. In total the SUPERSTITION experience now has four powerful voices that lend themselves to beautiful soulful harmonies, and gives the band an absolutely enormous set list to choose from, which guarantees to suit and please every occasion.
What more can be said about SUPERSTITION but PARTY PARTY PARTY....
Listen on YouTube
Conact: Jay D'arcy on 087 298 7734
Email: i[email protected]
Web: www.superstition.ie
We-Do Promotion: 10% discount from Sunday to Thursday (Bank Holidays excluded).
Testimonials
Superstition played for our wedding in Tipperary last May and I can't recommend them highly enough!!! They were so accommodating, going out of their way to make sure the day ran smoothly. They played a wide variety of songs which had everyone up dancing for the whole evening, both young and old. My favorite part of the wedding dvd is watching everyone dancing their socks off to Superstition! We had so much fun with them and they really worked the crowd well playing all the right music to keep everyone going, they're true pro's. Thanks so much Superstition for a truly memorable and fun night.


I first saw Superstition in my local pub and taught they where great as I had been looking for a band for my wedding. I was worried as the music played in pubs and wedding are normally different but I was promised a good range of music for my day and that is what I was given. I was never left waiting for an answer when I had a question and would recommend them for any occasion. From the moment they started to play they had people on the dance floor and made my day one to remember. They are very professional in all that they do and how they perform. One of the best bands I have heard.


We first heard Superstition at a family wedding three years ago. When planning our own wedding we immediately thought of them as they were excellent on that occasion, playing a great mix of songs for ALL age-groups.

Superstition played at our wedding reception at Cabra Castle recently. They played a wide variety of songs old and new and our guests of all ages really enjoyed them. As the night progressed they picked up the pace to match the warmed up crowd. By the end of the night the WHOLE crowd were demanding more.

Every guest that we have spoken to since the wedding has commented on our excellent choice of band. We found Jay and his band to be extremely professional, easy to work with and very flexible and a good judge of age appropriate music required for the night. Thanks Superstition for helping create a perfect night and wonderful memories.

Hi Jay,Just wanted to say a big thank you, to you and all of superstition, for our wedding party last Friday night.Everyone thought you were brilliant. We had a ball, couldn't have asked for better. Thanks again.


Hi Jay, Just a quick one to say thank you so much for playing at our wedding in the Heritage last august, people are still telling us how much they enjoyed themselves. You did a brilliant job on the night and made it really enjoyable for us. Regards to all the band and hope to hear you again soon. Thanks again,