Gold Cars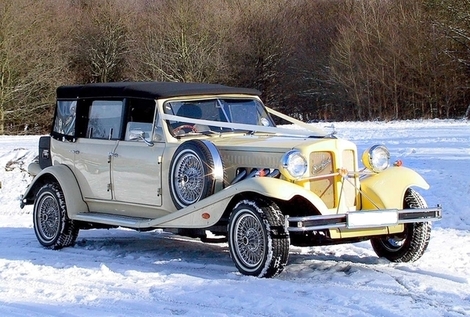 Supplier Details
'See our vintage style cars on display at the Springfield Hotel, Leixlip most Sunday's.
Mission Statement
To aspire to provide a personal level of service, such that Gold Cars, will contribute to making your wedding day as memorable and enjoyable as you could ever wish it to be'.
Welcome to Gold Cars, a family run Kildare based wedding chauffeur company whose distintive fleet of gold vintage, classic, and executive stretch limousines are to be seen at weddings across Leinster and beyond.
Gold / Ivory 1920's style Regent landaulette a spacious and very elegant touring car, finished with cream leather interior, while your chauffeur is "suited and booted" in his matching period uniform.
Metallic silver and blue Beauford, based on the iconic Duesenberg roadster...simply dashing car for the big day, and your chauffeur "suited and booted" in his matching period uniform.
Tuxedo Gold Lincoln Limousine,8 passenger luxury, the ideal bridal party car.
Gold / Brown Rolls Royce Shadow 2 cream Connolly hide interior, classic styling from the 60's
Mercedes Benz S Class cream leather interior, popular support car for bridal party seats 4 passengers
Remember.....For your treasured day...Only gold is good enough....
Testimonials
JUST WANT TO SAY A BIG THANKS TO TERRY SUCH A LOVELY MAN AND DOES SUCH A GREAT JOB, SO THANKS AGAIN FOR OUR WEDDING DAY ON THE 9TH JULY 2011 JACKIE AND STUART

Terry was great on the day, he had thought of everything. The litle details some of which we only noticed in photos afterwards just made it extra special. The car was spotless and Terry went above and beyond, even fixing my dress for me before I walked up the aisle. Thank you so much Terry.

Absolutely wonderful service at a great price. I can't fathom what other companies are charging for that wasn't supplied by Terry.
We got the friendly, punctual prefessional service, we got the champagne, we got unbrellas when it started raining. (We were getting a group photo done at this stage, and weren't anywhere particularly near the car - Terry came to us with the umbrellas.)We got the song played on the way to the church. Terry was a true gent, and very co-operative with the photographer and the other guests who wanted photos. He also put up a sign in the back saying "Just married" while we were in the church.
And of course, we got the beautiful car, that looked great!
I would most definitely recommend Gold Cars to anyone looking for transport. Thank you so much Terry!

just a big thank you to terry in gold cars for such a fab car had whole estate talking about it he was so nice and made my journey to church and hotel so comfortale he was very easy going and we really would recommend his car and his company 100%.thanks terry

We used Gold cars for our wedding on the 27th of March 2010. It was a wonderful experience to be driven around in the beautiful Gold and Ivory regent car.. we really enjoyed the 'going to the chapel' music playing on the way to the church!! The car made a lovely feature in our photos. We really enjoyed the whole experience. Thank you Terry.


We booked Terry for our wedding on the 18th December. With Gold Cars you are not just getting a beautiful and elegent car for your big day, but you are getting a wonderful service too. Terry is a complete gentleman and goes out of his way to help you. He played lovely wedding tunes on our way to the church, which myself and my dad happily sang along to:)
After the ceremony, we escaped into the warmth of the car, where Terry had some hot tea awaiting us, along with champagne (believe me on a winters day, the tea was more welcoming!:)
This was our only chance throughout the day, for myself & my new hubby to have some time to ourselves. Service like this is something you can't buy and we would like to say Thanks to Terry for that.

Anita & Omar.

Hi,
We got married in July and this testimonial is overdue by us as we were so happy with service.
Terry drove the main wedding car and use other gold colour Merc as secondary car which was driven by Brian. I have to say that both arrived on time, overall excellence was receive and couldn't have asked for anything more.
Both cars were certainly a talking point amongst the guests I heard - only seeing is beleiving how lovely cars are.
Would recommend them to anyone.


We used Gold Cars for our wedding 3 weeks ago and went with the Gold and Ivory regent car. The price was fantastic, even cheaper than the discount car the reception hotel could offer us, but in no way did that affect the service we received. Terry was an absolute pleasure to have as a driver and a gentleman aswell. Definitely one of the highlights of our day. The car was immaculately turned out and all our guests commented on it. Even our photographer stated that it was one of the nicest wedding cars he has ever seen. Thoroughly recommend Gold Cars and Terry for your wedding day.