WIMPHOTOGRAPHY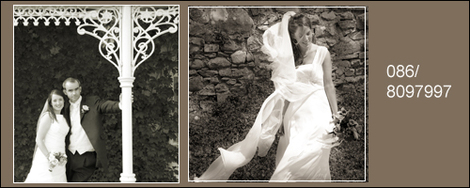 Associations
Supplier Details
WIM PHOTOGRAPHY from WeddingsOnline.ie on Vimeo.
WIMPHOTOGRAPHY from WeddingsOnline.ie on Vimeo.
Choose WIMPHOTOGRAPHY for a very personal service, we capture the unique emotions of your big day.
We-Do Promotion: 5% reduction on ALL our photography packages, starting from €495
Testimonials
We had Wim for our wedding in November 2009,in Kilkea Castle, he was an absolute gem, very profesional, courteous, mannerly, sincere and very friendly, and he also took great pics!!! He wasnt at all intrusive and he took all the pics that we wanted, we were thrilled with our Albums and we also got all our pics on CD.
We would have no hesitation in recommending Wim Photography for your wedding.