The Celtic Ross Hotel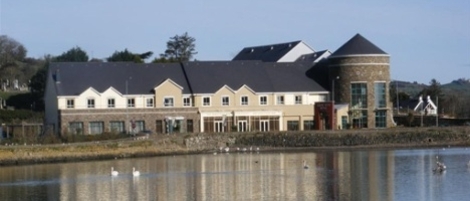 Supplier Details

Celtic Ross Hotel and Weddings Online
The Celtic Ross Hotel have a new wedding brochure and menus for 2012 and 2013
Please contact Christopher Byrnes, General Manager for further information and our full wedding pack.
Ideally situated overlooking Rosscarbery Bay, the Celtic Ross Hotel provides the perfect romantic setting for your wedding reception, where you and your guests can celebrate amidst the beautiful scenery of West Cork.
Our superior 3* hotel boasts our plush Bridal Suite, 66 guests rooms, Kingfisher Bar, Druids Restaurant, White Flag award winning Leisure Club and Holistic Suite. The reception rooms and many of the bedrooms enjoy sea views.
From the moment you choose the Celtic Ross Hotel, to champagne breakfast in bed the morning after your very special day, our management team is here for you and your guests. We specialise in only one wedding per day, so all our attention is devoted to making your wedding day "Simply Special".

The Ardagh Banqueting Suite is bright and fresh, with its light golden colour complimenting every wedding. From classic silver candelabra to personalised menus, every little detail is attended too by our wedding coordinator.
Choosing the menu for your wedding day can be difficult, but not at the Celtic Ross Hotel. Our dedicated team and pre sampling dinner will help you choose the perfect balance from appetising starters to homemade soups, from locally caught fish to prime cuts of Irish beef, from tasty desserts to freshly brewed coffee. Our extensive sample menus and special offer menus are designed to offer maximum choice and variety, all complimented by our selected fine wines from around the globe to finish off the perfect meal.
The Celtic Ross Hotel is also the ideal location for your Civil Wedding Reception which can be accommodated in the new Warren Suite, Tower Gallery, Abbey Room and also in our Ardagh Banqueting Suite.

The new Warren Suite boasts panoramic views over Rosscarbery Bay from its lofty location at the top of the hotel's distinctive Round Tower. It is the perfect setting for an intimate wedding celebration or a family get together the day after your wedding day.
Our Management team would be delighted to discuss your requirements and help you plan this most memorable day, which is unique to each Bride & Groom. For personal care and attention, contact Mary McCague.
We offer many services with our compliments when you choose your wedding with us. For full details please visit our website or contact Christopher Byrnes.
Wedding News:

The Honeymoon Testers, Mark and Denise, who stayed with us recently gave us the award for the best honeymoon/bridal suite in Ireland! Read about their stay with us on our Wedding News section on our website and also get tips on how to get best wedding day hair - www.celticrosshotel.com/wedding/wedding-news/
Keywords: Wedding Hotel West Cork. Wedding Venue Cork, Celtic Ross Hotel