Sneem Hotel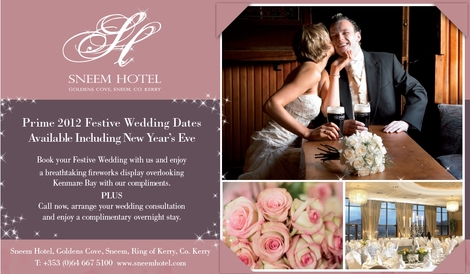 Supplier Details
The natural choice for your Wedding Day…
Sneem Hotel is located in the heart of the Ring of Kerry where romance is part of the scenery… Its tranquil setting, with spectacular mountain and sea views, makes it the natural choice for your special day and a magical place to celebrate with family and friends. The perfect setting for a day you'll never forget. 
The perfect place for the perfect beginning…
The picturesque village of Sneem will be enjoyed by all your guests. With a selection of pubs, cafes, galleries and museums, there is something to occupy all. Enjoy the idyllic scenery and charming personality the village offers - be it a tale or two from a local character, or the finest produce and craft sold by the village stores. From the early stages of planning to the big day itself, our team of dedicated staff are passionate about making your wedding day one to remember. Our local suppliers put an equal amount of pride into supplying us with the finest, fresh produce from the area. Every detail is meticulously cared for.
A place for ceremony and celebration…
Your special day means everything for us. Whether you wish for an intimate blessing ceremony or a lavish reception for 300 guests, we have a range of beautiful locations for you to choose from. Our sumptuous grand ballroom can host the reception of your dreams, It can be tailored to your needs down to every last petal or bow. With floor-to-ceiling windows opening onto the sun terrace overlooking the bay, it is also the perfect place for your drinks reception or some memorable photographs…
Every detail created with care and craft…
Whether you require a bespoke wedding tailored to your every desire, or an all-inclusive package you can be sure of the best traditions of food, service and style. Our menus are specially created by our head chef using the finest ingredients from Irish soil and sea. At the Sneem Hotel we take care of every last detail but most of all, we take care of you.
We hope you all enjoy your stay…
Each of our spacious perfectly appointed guest rooms and suites, with spectacular mountain or sea views, guarantee a luxurious stay for all wedding guests. Alternatively bring the family along and enjoy an extended visit in our Golden Cove Apartments situated beside the hotel. Enjoy our resort facilities during your stay, including complimentary bicycle and kayak hire, or escape for a reviving seaside walk the day after the celebrations. Wedding parties up to 300 can be accommodated and our wedding coordinator can assist with reservations for the bridal party and guests.
And the celebrations continue…
Continue the celebrations with your family and friends with our after-wedding celebration package. The Sun Terrace overlooking the bay is the perfect spot for your BBQ or buffet. Large terraces and open plan rooms offer you the space to enjoy the relaxed atmosphere and catch up with family and friends. 
If you can dream it, we can do it. Your wedding day is our pleasure at the Sneem Hotel.
Testimonials
Our wedding day in Sneem was a dream come through. Louise and Nicole were fantastic to deal with. There is a lovely friendly atmosphere in the Sneem hotel. All the staff were so friendly and made a huge effort to make our wedding day very personal and special. All our guest were hugely impressed with the hotel and the staff.The rooms and apartments are beautiful. The Bridal suite was so elegantly decorated. The food was out of this world. It is very hard to put into words just how great this hotel is. The personal touches Louise and Nicole did for our wedding day and their attention to detail went above and beyond our expectations. I could not find any fault with The Sneem Hotel and would recommend any couple to book this hotel for their wedding. We have wonderful memories of our wedding day in Sneem that we will cherish forever.

Myself and my wife got married in Sneem hotel in July 2011. From day one when we arrived looking for a prospective wedding venue, up until the day we were leaving after our wedding, we were given the highest level of attention. Sneem hotel itself is a fantastic wedding location with beautiful scenery and a lovely quaint village close by. There's plenty of parking for guests, the rooms are spacious and have reasonable rates. They have the option of apartments adjacent to the hotel for families or those who wish to share. The village of Sneem itself is lovely with plenty to see and do, everywhere you go you always receive a warm welcome. Louise, Nicola and the hotel staff were extremely friendly, attentive and helpful. All hotel staff are happy to engage in friendly conversation and seem genuinely interested in chatting. All guests were well looked after on the wedding day and above all else, the food was outstanding!!, with the majority of our guests commenting on how "that was the nicest food they've ever had at a wedding". We can't wait to go back again.

You dream of your big day being the perfect wedding... Sneem hotel for us made it just that!! From the first day we went to visit the venue to going back there for our anniversary a year later we were treated like old friends. Louise & Nicola worked tirelessly to make the planning of our big day hassle free, the day itself flawless and the memories unforgettable. Add all of this to the stunning location and you really have the perfect wedding venue!

Mark and myself had our wedding reception at Sneem Hotel on 03rd Dec 2011. We stayed for the weekend as well as a lot of our guests. We can honestly say that we were treated so so well and every staff member was so friendly. All our guests praised the accommodation both in hotel and apartments as well as the food was perfection. Atmosphere was so relaxed, we honestly felt that we were treated like royalty.....I can't wait to go back very soon.....well done to all and thanks for making our weekend truly amazing. Honestly feel that this is our getaway hotel for a long time to come.

James and I met February 2007 in a night club in cork city, our eyes met across the dance floor and we just hit if off. Three years later in May just before my 28th birthday James dropped down onto one knee on Derrynane beach in south west kerry! There was no doubt in our mind where we would get married as I had spent the majorities of my summers holidaying in Waterville, and James loved it as much as i did! A Little piece of heaven. We had our church already picked! Loher Church, a beautiful white church on the ring of kerry road over looking the ocean! We didn't think twice about our hotel choice! We visited 6 hotels in the south west kerry region but there was no doubt in our mind when we met Nicola and all the staff the the sneem hotel! 11 months of planning began! the wedding weekend was planned for the may bank holiday 2011.

For the rehearsal mass i wore my mothers wedding dress, this was a complete surprise to everyone including James! It started off the wedding weekend with a bit of fun and mischief. A Sunny wedding morning started early with Pat o Nell the hairdresser arriving at 7:30. We got ready in my parents summer house on Lough Currane. Fiona Higgins a local beautician did our makeup. Hair and make up done, wedding dress fitted, veil on, first of the days photo calls began. The morning went in blink of the eye, but it was full of laughs with family and friends. The Waterville triathlon was taking place that morning, along with the vintage truck drive of the ring of kerry so getting to the church was an exciting adventure. Father Ryan was a priest for our wedding service, it was everything we could of asked for, a few laughs, beautiful singing by local Ryan sisters and most importantly we were married and it was sealed with a kiss!

We left the church and had photos taken on Derrynane beach. Onward then to Sneem hotel! Our red carpet entrance was topped off with rose petal confetti and champagne. All our guests were sitting out the back in sunshine with the stunning mountain views sipping on drinks and eating delicious canapes. Family photos and then fancy photos from the balcony and the bell was rung for dinner. When everyone was seated James and I made our grand entrance. The Amazing meal was served by a wonderfully professional and helpful staff. We had our speeches after the meal and a few tears were shed. The Aristocrats kicked off with our first dance, for once in my life by Stevie Wonder! We all danced the night away to the band and Dj till the early hours, in the residence bar a sing song began when a guest started playing the grand piano.

When we arrived up to the bedroom there was candles lighting on the balcony, dressing gowns with our names on them on the bed and the hotel had started a memory box which was found on the dresser. This was the best day of our lives and one we will never forget.

Natalie

We would like to say a big thank you to everyone in Sneem Hotel who made our Wedding a dream come true. We would recommend Sneem Hotel to any brides to be. Sneem Hotel is the ideal Venue for your wedding for its scenery and the special one on one you get.Thank you so much for our wedding and a huge thank you to Louise for everything she done for us on our special day and a thank you to the staff they were brilliant to and Nicola. Thank you
Contact Details
Sneem Hotel, Goldens Cove,
Sneem
Kerry
Contact name: Ms. Nicola Duggan
Phone: +353 64 6675100
Fax: +353 64 6675782
[email protected]
www.sneemhotel.com

Interact