Weddings On Line Church Singers of The Year 2011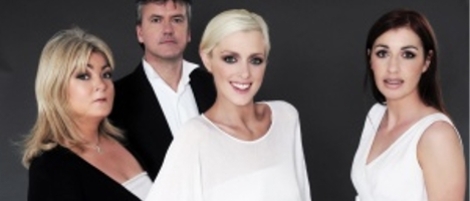 Supplier Details
Blush Wedding Music is Ireland's premier wedding music provider. They cater for all musical requirements for your wedding day, providing a 4 person gospel/contemporary choir (Blush Choir), pre reception music, a
5 piece pop/rock band (Mink), a DJ and a resident's bar piano player.
Combining stunning vocal arrangements, highest quality musicianship and best in class sound technology, Blush Choir and the band Mink provide an unforgettable church and reception musical experience for couples and guests. Make your day extra special with only the best in music at surprisingly good value prices.
We-Do Promotion: 10% OFF for all Monday-Wednesday bookings (excluding Bank Holidays) when presenting your We-Do card at time of booking.
Testimonials
Well from the first time we met Enda and the girls, we knew they were very professional and friendly but I did not expect what was coming next – then they started to sing! We were blown away by their most incredible and moving voices, together with the most beautiful song choices we didn't think possible. I just knew that they would be fantastic at our wedding and booked them straight away, even before cancelling another well known gospel choir that we had already booked! To say that we were not disappointed is an understatement – all of our guests were so in awe of them, they completely set the tone and atmosphere for our day and had everyone in such great spirits coming out of the church. I was nearly in tears listening to them as opposed to actually concentration on our ceremony! Claire was so brilliant in the run up to the day, helping me out with not only with song recommendations but also general wedding day advice. For a group that have such amazing talent, they are extremely down to earth and so easy to speak to. I'd urge every bride to go and see Blush, if you not only want the X-Factor, but the WOW-Factor for your wedding!

Thanks so much to Enda and the ladies for the fantastic music/singing at our wedding on the 3rd of June. Everyone is still talking about the beautiful singing in the church. We would have no hesitation in recommending Blush Wedding Choir to any engaged couple.
Thanks again to you all.

To enda and girls.
we cannot thank you enough for singing at our wedding on the 16th june in longford and distance was no object to you. your showcase was great to go and hear you sing and pick all our song choices and thank you for learning the few extra songs that we wanted. they were absolutely amazing on the day and all my guests are still talking about them and some of my friends have even booked them. i cannot recommend them enough and you wont be disapointed.i recommend you pick nella fantasia, there wont be a dry eye in the church. thanks again blush choir.

Dear Enda & Girls, Our sincere thanks to each of you for the amazing church singing for our wedding on 10th June. Our guests are still commenting how breathtaking your singing/music was, it was the highlight of the ceremony..never mind the bride!! You honestly were/are A-m-a-z-i-n-g, we cannot praise you highly enough. Not expensive and definitely money well spent.
Thanks so much, Enda you were a pleasure to deal with, and very accommodating, from booking right up to our wedding day. Best wishes for a very successful career. We would highly recommend Blush Wedding Music to everyone- book early to avoid disappointment!

Blush played at our wedding ceremony in May. Enda talked us through all the music choices and offered some great advice. The music was wonderful and many guests commented on it, two couples have asked for their number for their own weddings next year as they were so impressed.
A heartfelt thanks to all in Blush choir

Hi Enda...many thanks for all your help..I had mink as are wedding band and Nick as a dj as a package it was brilliant as Nick set up along with the band so he could play music on breaks etc and then when band finished..Mink kept the dancfloor going all night and everyone is still talking about how much fun they had music choice was excellent.Nick was brilliant also as you can set up an I Tunes folder on his website were you can download all the songs you would like him to play he has everysingle song listed and if not he will get it for u....amazing bank great package to book both highly recommened.

We had Mink playing at our weding and i have to thank them alot everyone is still talking about them all. thanks for giving our day the best with the music. i would recommend you getting mink if you need a band.I'm going to miss you all from going seeing you at the choir show cases with blush.

Hi Enda & Girls,
We had Blush Choir at our wedding, they were great the music in the church ws just fantastic. I would recommend them if you are looking for a choir for your wedding. They are very friendly and helpfull.

I would like to compliment Enda and the girls on their amazing talents. Blush Choir sang at our wedding in March and I can say without a doubt that they were brilliant. Their music was just fantastic. A number of our guests complimented the music in the church that day. Not only were we delighted with the music on the day but it was also great to hear a sample of their most popular songs at their showcases. I think we went to 3 because we enjoyed the music so much. :) I'd recommend them to anyone getting married and already have! Thank you once again for being there on our special day and making it even more memorable.

I cannot praise these guys enough very professional our guests are still talking bout them

Blush Choir played at our wedding in April. They were absolutely amazing not that I had any doubt in my mind they wouldn't be!. From the first time I saw them at the showcase I knew all our guests would like them. I wish I could of stayed in the church longer just to hear them more!!Everyone was asking us where we found them and how amazing they were. I would definitely recommend them. Can't thank Enda & the girls enough....

Blush choir performed at our wedding ceremony last month in Clare, distance being no object for them. We knew as soon as we heard the first bar of my entrance hymn that we had chosen the right musicians, this was confirmed by all the gorgeous compliments our guests paid. They were more than excellent on the day surpassing all of our expectations, even learning Ellie Goulding's version of Your Song as we had specifically requested it and performed it beautifully. Enda was very professional, efficient and organised on the run up to the wedding and I was very confident that the church music was the one area that I didn't need to worry or even think twice about. We cannot recommend Enda and the girls more highly and are very grateful to them for making our special day magic.

Blush played at our wedding in Mullingar Cathedral on New Years Day 2011 and they were fantastic. Our guests commented on them all day. They were also very accommodating in learning songs we requested and accompanying our soloists. I cannot recommend them enough. Book Blush - you won't be disappointed!

Mink played at our wedding on 1st October 2010 and were absolutly brilliant. From speaking with Enda a couple of weeks before the day, he knew exactly what we were looking for and the lads didnt disappoint. The music on the night was perfect for us considering we were looking for something a little bit more modern. The dance floor was packed from start to finish and people are still talking about them.Claire, one of the lead singers in the band actually had her baby a week before our wedding and still managed to be there on the night. I think that this speaks volumes about the band professionalism - we couldnt believe it.
We have no hesitation in recommending this band to anyone and think that they will definetly bring something special to your wedding reception.

We had Blush Choir sing at our wedding in Sept 2010 and they were absolutley brilliant would recommend them to everyone they were amazing.I could have stead in the church all day listening to them sing.Everyone complimented on them and they had the hole church clapping .Enda is great to deal with so helpful in helping pick songs and even done songs that were not on their list for us.Claire is brilliant what a voice.Everyone is still talking about them.Anyone looking for a choir i would look these up i can't recommend them enough.They have a site and you can listen to them on it so have a look on the site and i'm sure you'll end up booking them.
Thanks again to Enda and the girls :)

Blush played at our wedding in Ballintubber Abbey in Mayo. They filled the church with life and soul ... their voices were amazing and the acoutics were fantastic. Everyone at the ceremony complimented the choir. I loved the mix of traditional and contemporary. Amazing group we are really grateful.

blush wedding choir played at my wedding mass on aug 1st 2010 and they were just amazing!! Everyone commented on the fantastic singing and song choices. I initially heard blush on their website when browsing through wedding sites. I immediately fell in love with their vocals and songs. I went to hear them at one of their monthly showcases and booked them straight away!!
They were just perfect on the day and were the highlight of the ceremony. I walked up the aisle to "footprints in the sand"- it was just amazing.If you're looking for that special something to make your ceremony unique then I would definitely recommend blush!!

Blush sang at our wedding in April and it was fantastic, you could hear a pin drop in the church and it takes a special group to make 300 guests speechless, at the end we got a round of applause but blush got a bigger one. I cannot recommend them highly enough and am thrilled that to this day (6 months later) people are still talking about them.
Thank you Blush you really are exceptional, and a pleasue to deal with.

I cannot compliment Blush enough.
They were the highlight of our Wedding ceremony!
Our friends and family were absolutely blown away as soon as they all started to sing.
I can't describe how I felt when they sang, it was so emotional but their performance of 'Nella Fantasia' will always be my favourite memory of our wedding day.
Thank you Blush for being so wonderful xxx

Blush Choir sang at our wedding ceremony in August. They really made our service extra special and all our guests commented on the amazing music. We could not recommend Blush enough, they were definitely one of the highlights of the whole day.

blush played at our wedding in october,and were just amazing,they made our day so so special and added so much to the church,6 months later and people are still asking about them,they are so prfessional and worth every last penny,when they started singing i couldnt believe what i was heaing,just fab.thanks so much enda and gang.xx


Blush Choir sang at our wedding in December and they were amazing! The beautiful singing and music almost had me in tears! So many of our guests commented on how beautiful the music was too. They were very easy to deal with beforehand and it was great to go and hear them play a sample of their songs when they showcased their music. We cannot recommend them highly enough! We're so glad that they were there, as they made what was an already very special day even more special! Thank you so much Blush!


We were thrilled with how Blush performed for our wedding in November 2009. They were very professional and great to deal with. It was wonderful to get a full preview of all the songs before the day. Also we had our own music for a part of the ceremony which Enda and the girls arranged beautifully. Nothing was too much trouble and the music really made the church ceremony. We got loads of compliments on the day about the music.


Blush Choir played at our wedding ceremony . We got married on the 4th september 2009 in St Patricks Catheral Trim . Blush choir were fantastic . There was not a sound to be heard in the church when they started singing . Every single guest commented on the choir . I always knew what music i wanted at our wedding and could not of asked for more with blush . Enda and the girls thank you all so much you made our wedding ceremony perfect .


Blush played at my cousin's wedding and they were so amazing that when we got engaged a week later they were one of the first suppliers we booked. When they started sing at our wedding on 7th August the hair on the back of our necks stood up. Everyone commented how wonderful they were and how they added so much to the mass. Our only regret is that some of their singing is not on our DVD.
They were extremely professional to deal with and willing to accommodated any requests. I cannot recommend them enough.