Ryan Morgan - Church Singer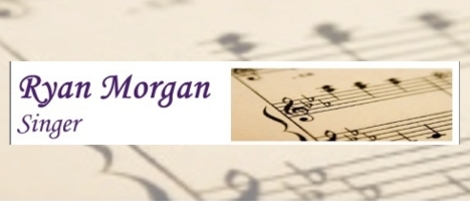 Supplier Details
Ryan is a trained Welsh classical singer, now based in Ireland. With a repertoire that encompasses the classical tenor range, as well as swing and contemporary music, Ryan's soaring voice never fails to thrill.
Ryan would help you choose the pieces for your ceremony. He will certainly accommodate special requests. Furthermore, he is able to adapt his voice to many musical styles, and can provide lighter entertainment (e.g. Rat Pack, broadway, jazz, pop) for drinks or dinner functions. Ryan also knows a number of high quality accompanists.
Ryan has sung at numerous venues, including the Royal Albert Hall, Massey Hall (Toronto), St. David's Hall (Cardiff), Cork Opera House, Cork City Hall, Fota House, Youghal Mall Theatre, Cobh Heritage Centre, St Finbarr's & St Colman's Cathedrals, and Basilica Santuario de la Vera Cruz (Caravaca, Spain). Ryan's vocal teachers are the exceptional Robert Alderson and Robert Beare.
He is available to sing nationwide, and is based in Cork. Have a look at Ryan's website for samples of his singing. If you contact Ryan he will provide a sample CD of his vocal talents, free of charge.
Testimonials
Hi Ryan,They say it's better late than never - just wanted to thank you again for singing at our wedding in Sept' 10.13 months later and all my guests still talk about you.

"Myself and my husband were blessed to have Ryan singing at our wedding. He was amazing and made our ceremony truly magical. He was definately the talking point amongst our guests, all asking us where did we find him? He was a genuinely nice and pleasant man to deal with in the run up to our big day. And too be honest we can't thank him enough for making our day so special, and i wouldn't have wanted to walk down the aisle listening to anybody else."
.

"Thanks for everything on saturday. It was the highlight of a lot of people's day. Can you thank the pianist as well for us. He was great too. Let us know when you are singing in Wales next as we'd like to see you sing again!"

"I just wanted to send you a very very quick email to say that you were absolutely fantastic on Friday..... a total superstar!!! I was blown away by your singing!I can't wait to see the video to hear you again!"

Ryan Morgan. What a man! I can honestly say with my hand on my heart that Ryan made our wedding cermony on August 25th better then we could have ever imagined. Walking up to Nella Fantasie I felt so magical and everyone has commented on how beautiful a singer he was. Since we returned from honeymoon the question that has been asked over and over again is "who was the amazing singer". and amazing is an understatement. Ryan put so much work into our wedding as we picked some different music to what is normally usd. He learnt songs and even had to make up the music to one as we couldnt get sheet music! He also sang at our drinks reception where some people did not want to leave and go to dinner. they wanted to listen to him all night. If you are booking a church singer for your wedding then I really feel you don't need to look much further then here. An absolute gentleman, extremely talented and someone will be forever thankful to.

"Ryan...thank you so much for your wonderful performance at our wedding. It was absolutely fantastic and really made the ceremony for us. We really knew we had made the perfect choice with you, right from the beginning the help and guidance you gave us regarding the choice of music was amazing...nothing was too much trouble and you were an absolute pleasure to deal with.Your voice is as big as your personality, and what a wonderful voice you have. You blew us, and all the guests at the Honan Chapel, away with your performance. Everyone still comments to us that they have never heard such an amazing voice at a wedding and we couldn't have been happier to have you there to sing on our big day! Thank you so much."

Hi Ryan, I just want to say ' Diolch yn fawr ' for helping to make our wedding ceremony so beautiful. Thank you for your time & patience and many emails and phonecalls. I had no clue about music for the ceremony and you helped me to put together the perfect selection. You have the patience of a saint!Thank you for sending the sample CD'S. All the guest raved about you & as my husband is welsh it meant a lot to us to hear some of the welsh music. You had his welsh granddad & most of the church moved to tears!Beautiful.

Thank you Ryan for the beautiful singing at our wedding in Ballincollig on July 2nd 2010. Your harmonies with Siobhan were amazing and our guests are still commenting on your voice. Many thanks also to the violinist David who has a great future also. We wish you every success for the future.


Hi Ryan wonderful singing in Our Lady Crowned Church Mayfield Cork on Saturday the 7th at 6pm Mass.Hope you will return soon can't wait to hear u.
Jenny
ps.I was the girl in the wheelchair I met u after mass.


Hi Ryan,

I just want to give you a quick e-mail to thank you for making myself and Colm's wedding ceremony so perfect. I can only remember bits and pieces of the day as it just went so fast but what i do remember is your voice it was amazing and i am just so so happy i chose you. Every song you sung was perfect and the Il Divo songs were so good, i can remember looking up at you to thank you, as both colm and i were so happy with you. Also the amount of guest that came up to me that evening asking your name and they spoke so highly of you. Finally i want to thank you for all your time and putting up with me, you are a fantastic person and have a fantastic voice and i am so happy you were a part of myself and colms wedding day. Thank you so so much Ryan x.


Both Martin & I would like to say a big Thank You again to you for the fantastic singing at our wedding on the 10th – everyone was raving about your singing and I must say that you brought tears to my eyes on a number of occasions during the ceremony, just knew though that I couldn't cry!!!!
It was a brilliant start to a brilliant day and you played a major part in this.
You were also so easy to deal with and had such a great knowledge of many songs & you even went away and learnt an Irish one for us which I know must have been difficult enough.Please also pass my thank you on to Mary who played wonderfully and she complimented you so well


Ryan sang at our July wedding in Cork and he was amazing. Singing "Panis Angelicus" as I walked up the aisle, his voice added to the drama of the day, and I felt goosebumps on my arms! He really blew everyone away with his performance. Beautiful voice, easy to deal with, and a great knowledge of music, Ryan really made the day special.


I can't recommend Siobhan highly enough. She sang at our wedding in Fossa Co.Kerry along with a tenor Ryan whom she recommended and they both absolutely blew us away. So many of the guests commented on how much they enjoyed the ceremony and how they felt as if it was on a par as being in the National Concert Hall..."


Ryan sang at my wedding in Kinsale co.Cork in July 2000. I couldn't believe my luck when I found him - Its like having 'il Divo' at your wedding! When the music started ,all heads turned to see who it was creating this amazing sound - People came in from the street to listen. Everybody wanted to know who he was and where I found him, and many of my wedding guests had him sing at their weddings afterwards - the ultimate compliment! He was also a pleasure to deal with, very helpful, and made the whole thing easy. Nothing was too much trouble. now helping a friend with their wedding, so had to comment when I found Ryan on this site. He is a must!!!


Everyone was astounded by your brilliant voice. People who heard you are still talking about it, about both your power and your lyricism as a singer. You bring honour to Wales and to an unbroken Welsh tradition. You will go from strength to well-deserved fame in the coming years, a brilliant new voice from a deep song tradition. ...Again, Ryan, your voice is a wonder. We'll be hearing a lot more of it in the years to come." Thomas McCarthy (for a classical recital at Cork City Library, 2nd February 2009)


I wish to thank you most sincerely for making my wedding so special.
Your performance is still being spoken about by my guests.

Your singing on the day was absolutely delightful..one of my guests
remarked that they would stand barefooted in the snow to listen to
you.

I hope you will continue to give such wonderful enjoyment to to
listening audiences for the future.

Thanks again and all the very best...

Just to say thanks for all your hard work and for helping us make our day so special.


Ryan sang at our wedding ceremony at Glounthaune Church and then at the reception at Acton's Hotel in Kinsale in July 2008. The music at the church was lovely and made the ceremony, and everyone one enjoyed his performance at the reception he was very entertaining and people kept asking me where I found him. Ryan was a pleasure to work with and very helpful as he had a list of songs to choose from for the church. I have no problem in recommending Ryan as he helped make our day so special.


I would highly recommend Ryan as a wedding singer! He gave everyone at our wedding goose bumps and we were all completely 'wowed' by his performance. My friends are still talking about him 3 years on!
Ryan was so helpful during the preparations and gave great advice and recommendations on music to include. His knowledge of music is extensive, and you can even choose which versions of particular songs he'll sing. He is very personable and easy to deal with.
I've also heard him perform at a drinks reception, and really get the crowd in a party mood with swing and party favourites.