Carlton Castletroy Park Hotel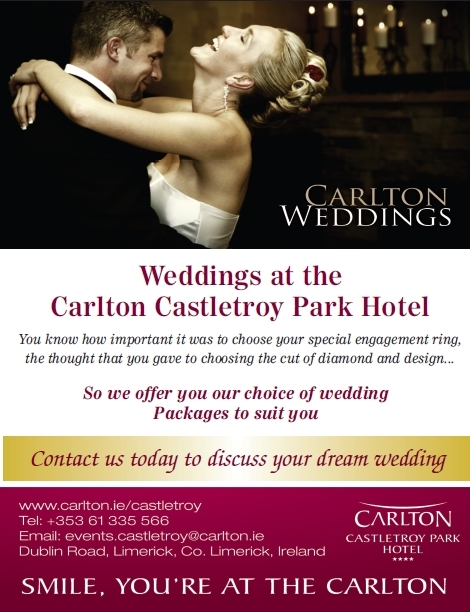 Supplier Details
CARLTON WEDDINGS

We have been 20 Years planning your wedding……….. 

One of Limerick's leading Hotels, The Carlton Castletroy Park Hotel is the first Hotel in Limerick to launch an on-line wedding service. 

The four star Carlton Castletroy Park is delighted to be launching an exciting new online wedding technology called Moposa which enables couples to create a unique wedding experience for themselves and their guests and can save couples up to €700 from the outset. The award winning Moposa software is being offered by the hotel free of charge. 
Click here to view our all inclusive package

" It helps couples share more of the experience with friends and family, simplify the wedding planning process and saves time and money along the way" says Nicola Fagan, the Hotels Wedding co-ordinator. 
We at the Carlton Castletroy Park Hotel know how important your wedding day is to you. The secret of our success is that we bring you the best of all worlds…professional perfection, combined with a rich warm personal touch to create for you and your guests something that is very special. http://www.castletroy-park.ie/wedding-package
The Carlton Castletroy, one of the leading Limerick Hotels, is ideally located in the heart of the mid west of Ireland. The hotel is just 2.5 miles from Limerick City, surrounded by superb amenities and is easily accessible via Shannon International Airport, just 25 minutes drive away. The Internationally acclaimed University Sports Arena and UL Concert Hall are adjacent to the hotel.
Nearby Limerick - "the proud home of Munster Rugby" - offers you a wonderfully wide range of activities and facilities which include: Sightseeing, culture activities, horse racing, fishing, horse-riding, golf, river cruising and so much more.
An elegant swan sculptured in ice sets the perfect scene for your champagne reception. Allow our chefs to help you customize your own delectable menu complete with our exclusive pre tasting wedding experience. Simple yet elegant table settings and décor, perfect wedding pictures in the courtyard gardens beneath the Wedding Gazebo …to create for you…an unforgettable experience of joy and happiness that will linger a lifetime. http://www.castletroy-park.ie/wedding-samplemenu
Having your Wedding Abroad? Hold you're "After Wedding" Celebrations At the Carlton Castletroy Park Hotel
We can offer an array of options for you
Exceptional Dining Options in McLaughlin's award winning Restaurant with menus to suit all budgets.

Get together's the night before or day after in the Merry Pedlar Bar (complimentary finger food for groups - minimum numbers 20 persons)

Not looking for a traditional wedding? Private use of our Ballroom Suite with Full Bar - here we have hosted everything from sit down meals to finger food & live music to karaoke - the possibilities are endless

Receptions from €20 per guest! *
Our Happily Ever After Wedding Package offers you:

Tea/Coffee & Biscuits on arrival for guests

Champagne on arrival for the Bride & Groom

Car Parking

Personalised menus

Reception party food

Resident DJ

Bar Extension

Luxurious Suite on your Wedding Night complete with Champagne Breakfast

Preferred accommodation rates for Friends & Family

Complimentary 1-Year Anniversary Dinner in McLaughlin's Restaurant.

3 Months Membership in Leisure Club for the Bride & Groom prior to the big day
(*Minimum numbers 60 persons)
We have a wonderful record of success to share with you & we are all looking forward to making your wedding day a truly memorable experience
---
Words from our couples…
"A big thank you to Nicola and Fiona and all at the Carlton Castletroy Park. Every detail of our day was perfect, from the exceptionally styled banqueting room (the candles were just gorgeous), the excellent personal service, the fantastic food and the overall general quality of the hotel. The entire day was fantastic from the minute we arrived at the door to when we checked out. The hotel and it's staff really made a great day wonderful. We can't thank you enough and would recommend the Carlton Castletroy Park to anyone. Thanks so much for making a magical day all the more special for us." Annette Daly
''Our day from start to finish was a complete dream, the staff could not have been more professional and the whole day exceeded our expectations by a mile!'' Greg & Natalie Foley
''Thank you for the care and attention given to both David and I on our Wedding day. Our guests had an amazing day and everything from the champagne reception to the food was fantastic. We will always cherish the memories and thank you once again" David & Suzanne White
Testimonials
To Denis, Fiona and all the staff at the Carlton Castletroy Park Hotel, Limerick. Thank you all so much for helping to make our Wedding day a very memorable one. Your professionalism and courtesy to Brian, myself and all our guests was evident throughout the day. Apart from the Hotel's competitive wedding packages, Brian and I found that any additional reasonable requests were met by the Hotel without hesitation. I would absolutely recommend the Carlton Castletroy Park Hotel, Limerick as a wedding destination.

Fiona, thanks a million for the room and the drink last night! Another great success!! Everyone really enjoyed the day and night (and early morning!!). Unfortunately there are no more sisters so no more Forde Weddings! We might start holding Christening parties in the future! I hear you've another wedding today, good luck, enjoy the day, Thanks again

Nicola I would just like to say a big thanks to you and Fiona for all your help and making our wedding day such a fantastic and memorable day.


Nicola I would just like to say a big thanks to you and Fiona for all your help and making our wedding day such a fantastic and memorable day.