Harmonie - Ceremony/ Reception /Wedding Band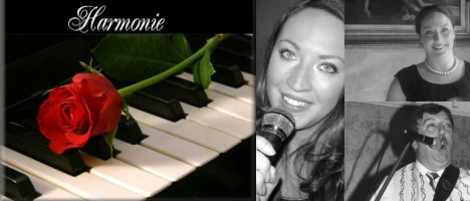 Supplier Details
Harmonie comprises of professional musician duo, Karen (Bmus) and Bob whom have over 15 years experience of singing and playing with each other in various groups and bands.
They offer a beautiful blend of male and female vocals and harmonies accompanied by organ / keyboard / Guitar / violin and Irish Whistle.
Their expansive repertoire of music includes classical, contemporary and traditional.
Harmonie specialise in ceremony music (church & civil), pre-dinner drinks and weddings receptions that need a small lively and energetic band to get the party going.
Check out their website for more information and musical samples.
We-Do Promotion: 10% discount to any holder of a we do card from Monday to Thursday upon booking Harmonie.
Testimonials
Karen & Bob, Thanks you so much for the fantastic music on our wedding day. It was truly amazing and really added to the ceremony. Everyone commented on how fantastic it was.

Karen & Bob,thank you both so much very much for making our Wedding ceremony.our guests are still talking about you.they really and truly enjoyed you..i wish I could give you all of their compliememts but I would be a while.everything was just perfect.our breath was taken especially when you both sung con te partio.there were people in tears it really was so moving.all I can say is thank you both,i said to you before it was a pleasure having you play at our wedding,it really was thabjs again,

We just want to say a big thank you to Karen and Bob, we were thrilled with the church music.Karen was very helpful from the start, sending us a sample cd and suggestions for songs and music. The entrance music and all the songs on the day were perfect, everyone still says how fantastic ye were. We can not recommend you highly enough

Karen and Bob played at our wedding in Mulranny last year, Karen was an absolute gem to deal with from the moment we met her. The music was beautiful and uplifting at our ceremony and Karen even went to the effort of learning an unconventional song that was not in their repetoire. Our guests commented on the ceremony music and said how good it was. We wish Karen and Bob every success for the future, and we can highly recommend them. Thanks again Karen and Bob

Karen and Bob played at our Wedding last August in Galway. From the moment I booked the church music with Karen, she made me feel at ease, gave me ideas of what music to play. Karen & Bob had no problem having my friend play the flute for a few instrumental pieces to which Karen & Bob helped out with. Bob sang one of my late Dads favourite hymns, which I so proud to hear on our Wedding Day and it also meant a lot to the rest of my family. So many people commented on the church music on the day. Thank you Karen & Bob, keep up the good work, you helped making our Wedding very special.

I would just like to thank both Karen and Bob for having made our wedding day really special. They played at both the church and the reception and performed a brilliant job at both. My guests are still asking me where did I manage to get such a wonderful band!! A special thanks for having sung such a fabulous version of "Time to say goodbye" in the church, I still get emotional any time I hear this song since our wedding day.


Karen and Bob played at our wedding on Friday and they were, in a word, fantastic. Such a beautiful atmosphere was created in the church and when I got to the door and heard my song of choice for walking up the aisle being sung so beautifully by Karen, I relaxed immediately. For the duration of the ceremony I was listening to their every note, such was the quality of the service they provided. They work so well together. Karen was fantastic at making suggestions and helping to choose what song goes where for the ceremony. She came up with some great ideas and they were so perfect for us, I felt she knew us!!! She is such a pleasure to do business with. Her lovely personality shines through into her singing. I wouldn't hesitate to recommend them to anyone. What a fabulous duo. Thanks to Karen and Bob for helping to make our day so so special.


Dear Bob & Karen
I have been meaning to do this testimonial for such a long time so I am delighted to finally be able to add some feedback for you on weddingsonline.
All I can say to anyone who is considering booking these two, don't hesitate, just do it.They made my ceremony! Karen has such a beautilful and versatile voice, moving from classical to contempory music with such ease. The group also add such diversity with the range of instruments they play. You just can't go wrong. Plus on a personal level, you will not meet such professional people. They made me feel that my wedding was the only wedding they would ever play at and as a result nothing was too much trouble.
Thanks again guys for all your efforts.


Hi Karen
You were really great at our wedding on Saturday. Your voice and musical arrangements added so much to the ceremony. Love the 'Love Actually' moment...all you need is love. Perfect!


Bob & Karen
You played at my wedding last February and you were amazing. You advise on our song choice was fantastic. We had such a variety of musical genres, classical, modern, traditional etc. You made our church by creating such a unique atmosphere. Just wanted to add my comments here for you and to say I would have no hesitation in recommending you.