Bestwishes.ie - Video Booths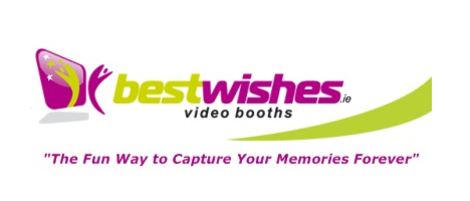 Supplier Details
A unique guest book on DVD. Video Booths are now in Ireland, the latest 'Must Have' on your wedding day or celebration.
Bestwishes Video Booths are a fun and wonderful way to capture forever all your friends and families' live video messages in the easiest way imaginable.
Replace the traditional wedding guest book with a high quality DVD containing all the best wishes, laughter and craic of your special day.
Fun for the guests, great memories for you! Everyone can make a speech, sing a song or tell a joke!
Ideal for any special occasion - wedding, 21st celebration, anniversaries etc.
Nationwide service.
Book online now or contact us for further enquiries.
The Boring But Very Important Bit !
Our video Booths have been used since 2001 in the, UK, USA, Canada, Spain and now most recently with Bestwishes Video Booths in Ireland.
As a premier video booth service provider, we use PAL Broadcast quality Digital Video Cameras in our booths (not Webcams).
This is extremely important when viewing your DVD afterwards at home, as it provides for a high resolution DVD of TV broadcast quality and not a grainy webcam image!
Most people have a Rolls Royce to bring them to the Church, so why not have the Rolls Royce of Video Booths now available nationwide!
Bestwishes received award at 'Bride of the Year'. Bestwishes were presented with the, 'Award for the Most Innovative New Wedding Product' at the Bride of the Year show.
Just some great reasons to book a Bestwishes Video Booth for your wedding day:
Assured, hassle-free delivery and collection.
So easy to use - guests feel comfortable recording their personal messages.
Customised screen prompts and screen-savers draw guests attention.
Novelty factor - make yours the wedding to talk about. Great craic for your guests.
Capture all the fun of the day in the easiest way imaginable.
User-friendly touch-screen prompts.
No pushy cameraman - guests leave messages in their own time.
High quality video capture. PAL DVD quality - not a webcam.
All messages are downloaded on to a DVD for you to cherish forever.
Makes the perfect wedding gift.
We Do Promotion: Extra Copy of DVD for all We Do card holders.
Testimonials
Dear Vincent,
Thank You so much for our DVD which we received a few days ago. It is absolutley hilarious, The Videobooth is a great idea and I would have no problem recommending it to someone. It is a great keepsake to have in years to come.
Thanks for everything,


Hi Vincent,
Just wanted to send you a quick e-mail thanking you for the wonderful dvd that we recieved after returning from our honeymoon. It was great to be able to show all our family and friends the messages they left for us!! We absolutely loved it, and still haven't stopped laughing watching it! Everyone at the wedding thought it was such a brilliant idea, and we would highly recommend it to anyone having a special occasion!
What a treasure to look back on!


Hi Vincent & Gary,
We got the DVD yesterday and laughed for an hour watching it! Absolutely brilliant - the perfect souvenir for our day! The combination of nice messages from people plus increasingly funny ones from others during the night was excellent! The positioning of the unit worked well with the amount of people passing it, and hearing the music from the room in the background was actually nice as it reminded us so well of the day. We would recommend the idea to anyone !
Thanks again, 


Dear Vincent and Gary,

We received our bestwishes wedding DVD yesterday and I just have to say thanks !! We sat down last night to watch it and I have to say it was better than any ordinary wedding video I have ever seen.!!! It was fantastic. It captured a side to the wedding that no one could ever see or even remember !!! We laughed from start to finish. I would definitely recommend the Bestwishes video booth to anyone. As far as I am concerned video booth is the way forward. It was the best thing ( apart from getting married !) we had on the day. Just brilliant.

Thanks again,

Hi Vincent & Gary

We got the video booth as a wedding gift for my sister and her new husband, on 14th August 2009 in Finnstown House Hotel, as we wanted them to have something that would last a lifetime.

What a result!! The finished product is fantastic and they are delighted with it. The quality of the dvd is brilliant. The guests are still talking about it and what a novel idea it was. It was a pleasure dealing with you and I'll be recommending Bestwishes Video Booths, any chance I get.

Thanks for everything,

Hi Bestwishes Video Booths

Absolutely brilliant idea, so happy we got this for our wedding. Received the dvd a few days ago & have watched it at least 20times already. People who we didnt get to talk to on the day were leaving us messages. Definitely gets funnier as the night goes on, Im laughing to myself again just thinking about it. Thank you to all at Best Wishes Video Booths, there was no problem organising the booth & it was there before our guests arrived & everyone commented that they would definitely consider it for their future parties & weddings!!

Thanks again for everything,