Farrell & Chase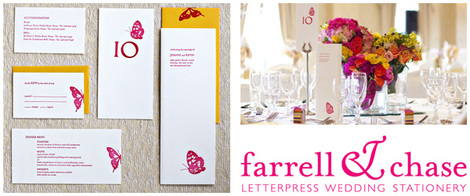 Supplier Details
LETTERPRESS  WEDDING STATIONERY
Fresh and creative. Lovely and luxurious. For the couple who wants to stand out from the crowd! 
Merging old world printing techniques with original creative designs, at Farrell & Chase we hand feed luxurious 100% cotton paper through our vintage letterpress impressing the artwork into the soft, pillowy paper, one colour at a time. The result is stationery of incredible tactile beauty.
We would be delighted to help you to make the perfect first impression for your wedding. Whatever your wedding style, we will bring it to life with wonderful details, dramatic and whimsical, making your wedding stationery truly personal.
To view our full collection, estimate prices or to order samples please visit our website 
We-Do Promotion: 10% discount to WeddingsOnline.ie brides.
Testimonials
Pamela in Farrell & Chase is one of the best layout/printers I have ever dealt with. She is so professional and so quick and responsive. It was a real pleasure working with her. I would recommend her range to any bride trying to decide on something unique for their big day. Couldn't have been happier.

Hello,
I received my invites and I really love them. The quality is amazing and the design is so unique. Pamela is a pleaaure to deal with. Everything arrived on time. Farrell & Chase made the whole experience a joy and I would recommend them to any bride & groom.
Great Design, Great quality and best of all a Great business to deal with !!!!
Thank you so much x x x

I can highly recommend pamela everyone commented on how they were the most beautiful invitations they had ever received she has great ideas and the quality of the invitations are second to none,we also got our written with her calligrapher and it truly was amazing a fantastic touch to this beautiful stationery..thank you so much pamleaxx

After trawling through lots of stationary websites, Pamela was recommended to us by my sister in law. When we saw the Iceflake Suite we knew that it was exactly what we wanted for our winter wedding and placed our order that day.
It was a pleasure to deal with Pamela and her work is of the highest quality. The invitations were ready early which worked out perfectly for us and we have had lots of compliments on how elegant they are. We would have no hesitation in recommending Pamela and the Farrell & Chase Stationary and we intend to come back to Pamela for our thank you cards when the "big day" has come and gone!

We have recently had our wedding stationary printed by Farrell & Chase, and we could not be happier with the personal service that Pamela offered from the start of the process right to the very end. We are delighted with our wedding stationary and would highly recommend Ferrell & Chase.

It has been a complete pleasure to deal with Pamela in creating our wedding invitations. Pamela was so professional and attention to detail is exceptational. Our invitations were so different and unique and every guest complimented on the beauitful invitations. I highly recommend Farrell and Chase for your wedding invitations. Excellence does not justify their work.

My wedding stationary from Farrell & Chase exceeded all my expectations. The invitations were of the highest quality and the designs were so unique. I have received so many positive comments on my invitations from all my guests.
Pamela was an absolute pleasure to work with. She is so professional and helpful and her attention to detail was excellent.
I would have no hesitation in recommending Farrell & Chase to anyone.

Emma and Jonathan

I would recommend this supplier to anyone. Pamela is fantastic to work with and is so patient (particularly as my draft invitations changed daily). The invitations, when they arrive were more beautiful than I thought they could be. We were really pleased with the whole experience.


Pamela has been an absolute pleasure to deal with and was great for advice and ideas. I was thrilled with the final result. The invites are top quality, extremely elegant & different to the norm. I would highly recommend Farrell & Chase!


Definitely the most unique and beautiful stationery out there. Everyone commented on the quality and the elegance and Pamela was a pleasure to deal with throughout! Highly recommend Farrell&Chase!


We just received our wedding stationery from Farrell & Chase. We are delighted with the design and the colour. Pamela was a pleasure to deal with and I would highly recommend Farrell & Chase to anyone.


I can't recommend Farrell & Chase highly enough. I had spent 4 months trawling through the hundreds of websites trying to find invites which were elegant, excellent quality and really reflected what our guests should expect on the day. From viewing Pamelas collection I immediately knew the search was over, not only are the invites stunning but Pamela is so flexible to work with you to ensure that your invites are exactly what you had envisioned.
We have only sent them in the past month and the feedback we have had is fantastic, everyone is amazed by them and some have asked for a second one as a keep sake!!


Pamela managed to create a truly original design that ensured our invitations set the most beautiful tone for our wedding. We received countless compliments and so taken was our wedding photographer that the centre-fold of our wedding album features the invitations and mass booklet in all their sophisticated glory. Thanks again Pamela.


Pamela was an absolute pleasure to deal with. The invitations were top quality and supplied in a friendly and professional manner. We would have no hesitation recommending Farrell abd Chase.


We recently recieved our rose wedding suite invites from Farrell and Chase. They are simple and elegant with a high quality finish and we have had lots of comments from guests on how beautiful they are. Pamela was a pleasure to deal with, very professional and helpful. She replied promptly to all my e-mails and queries and as a result the whole prosess from our initial enquiry to the delivery of the invites was very easy and stress free. Farrell and Chase provide a great sevice and I would highly recommend them to anyone. Thanks again Farrell and Chase for our stunning invites!


We used Farrell & Chase for our wedding invites, thank you notes and mass booklets. We were so delighted with the out come of these. They were so professional yet personable and looked fabulous. The quality, precision and style was top class. The service was easy going, personable and professional throughout the process. They are a great company to work with, always wanting the best outcome for us the customer and very creative in helping to get the best results. I have recommended them to all my friends and would recommend them to anyone reading this to use this company for an easy going, stress free process in getting this side of the wedding preparations complete. Thank you Farrell & Chase for everything. :-)


We just received our invites from Farrell and Chase and are really delighted with them! We found the whole process in dealing with Farrell and Chase really great and I would be very confident in recommending them to anyone looking for a high quality finish and service at an affordable cost. The service was easy and professional all the way - amazing quick response to every query and the ability to be flexible in tailoring the invites exactly how we wanted. The overall finish of the invites is a lovely high quality print, no unwanted fuss just simple, stylish and very beautiful.