Diamond Photography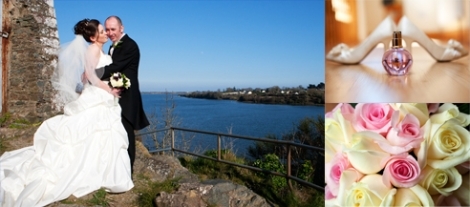 Associations
Supplier Details
Fergul McClean, although based in Wexford, has worked on assignments throughout the country. He is a professional photographer in Ireland with a good sense of humour and with good communication skills. He can get the best out of people as naturally as possible and by listening to his clients, he can tailor each job specifically for you. His experience and low-key, unobtrusive approach will capture your Wedding Day forever!
As your Wedding Photographer I will bring a relaxed and fun style of professional photography to your special day. With spontaneity, creativity and attention to detail, he can make your wedding album one of a kind. Our wedding albums are Irish made and are of the highest quality. Remember a wedding album is not just a collection of photographs of the day, but a story book that will be handed down from generation to generation, bringing back the memories of a very special day!

I've been doing photography for a number of years now, most of which has been in Co. Wexford, and I am, continually updating my skills and knowledge. Over time I have developed a style and method that brings out the best in people. A style that relaxes you and your guests and is not intrusive, one that inspires me, and hopefully you as well. My style is unopposed and spontaneous which tells the story of the day. Yes I will still take the posed and formal shots but I will also bring those unexpected and unique images to your album, moments that I will capture forever.
Testimonials
We would highly recommend Fergul as a photographer. We were absolutely delighted with his friendly and relaxed but professionalism manner from the moment we met him, on the day and with all our dealings afterwards. He was fantastic to deal with and had such a fast turnaround. The photos and album were absolutely amazing and everyone commented on his approach on the day and the photos. He captured the day perfectly for us, paying attention to every detail, and accommodated all our requests. He took every step to make the day special for us and make things as stress free as possible. He also came up with some fantastic ideas. We tried his 'First Look' idea and absolutely loved it! The best idea ever, calmed the nerves and got us so excited too! We couldn't have asked for a better photographer – so brilliant.

I would recommend using Diamond Photography to all brides and grooms out there as Fergul made the whole experience very easy and stress free for us all! the photos are just beautiful and the album very well put together! even guests and the bridal party commented on how professional and unobtrusive Fergul was throughout which is exactly what you want on the day with so much going on!

We are so grateful to Fergul for the fantastic job he did on our wedding photos. When hiring a Wedding photographer, we wanted someone who was unobtrusive and did not take us away from our guests for too long. Fergul absolutely delivered on the day and did so with such politeness throughout the day, we barely noticed he was there. Then to top it all off, Fergul produced a fantastic wedding album. It is absolutely amazing, the quality of the images and how he presented them, it is so evident that he takes such pride in his work and also thoroughly enjoys it. You put so much time and effort into organising your big day and to have it all captured by Fergul creating such fantastic memories is absolutely priceless.

Fergul McClean was excellent through out the whole process from meeting up with him on day one, he really makes you feel at ease with his level of professionalism. On our special day he was superb, we did not notice that he was there but he still managed to capture all the photographs that we wanted. And the real icing on the cake was the level of detail/work he put into the wedding album. This is by far the best I have every seen and its not just because it is our wedding album. The album really brings you back to your special day. Thanks again Fergul!

I can honestly say that Fergul McClean was the most professional of ALL of our wedding suppliers. This is the only supplier testimonial I have submitted purely because his skill & professionalism impressed us so much.We were both delighted with the service we received and the end product was of the highest quality. I was particularly impressed by the attention to detail that left no ambiguities with regard to our expectations on the day. For example, Fergul met us at our reception venue a week before the wedding and walked us through the photography end of things. This was very calming for my bride and meant that we knew exactly where we were going from the minute we arrived. The post wedding liaison was great, despite my late email replies. The final album is amazing and has been shown to most of the family at this stage.

If you want a photographer who is a true professional, invisible on the day, competitive and knows how to capture the moment then I highly recommend Fergul McClean and Diamond Photography for your big day.

To anyone looking to book a photographer, I would highly recommend Fergal! He was just amazing from the minute we met him right up to receiving our album. Fergal is a true professional and you definitely will not be disappointed in any way what so ever with him. The quality of our album is just unbelievable, he captured our day perfectly, nothing was any trouble to him, thanks again Fergal for being part of our special day!

We wanted to thank you Fergul so much for your amazing ability to capture the essence of our wedding day in such an enchanting way. We absolutely love the photos you took and are so happy with the selection you have provided us. You were able to include a variety of everything that made up our day and we cannot wait to share the photos with our friends and family. With the wedding now over a photo is the only way to preserve the special moments. Your photos will absolutely succeed in doing that for us. We would recommend your services to anyone who is looking for a talented, professional photographer who is a joy to work with and has the ability to put everybody at ease. Thank you Fergul again for everything!
And who would have thought as AughnaGappal Bridge as a Wedding Shot location, fantastic, all the years playing around there as a child!!

Fergul was amazing to deal with, very professional and inspired confidence from our very first meeting with him. We are both a little camera shy and were a little apprehensive at thought of having photographs taken ( I normally run as soon as I see a camera coming!) but Fergul was so unobtrusive and blended into the background so much so we barely even knew he was there at times!He took some really amazing shots, he has a great sense of creativity and style and managed to capture our wedding perfectly. His pictures really tell the story of the whole day something we cant thank him enough for.
From the very start Fergul was great to keep in touch with us and he was always so quick to respond to any of our queries or questions. He also turned around the photographs really quickly and had set up a gallery of photographs for us to view when we came back from honeymoon which was great!
All in all a fantastic supplier and someone I would have no trouble recommending to anyone.

We couldn't have been happier with Fergul, both in the run up to the wedding and on the day itself. He explained everything very clearly so we knew exactly what way he was going to work on the day. From the moment he arrived in my house that morning, we all felt at ease. Alot of people have commented to me since that they thought he had a lovely manner and got everything done without a problem. During the day anything extra that we asked for was no problem at all. Having seen the images now we couldn't be happier and we can't wait to see the album! Thanks again Fergul!

I am so happy that we chose Fergul McClean of Diamond Photography as our wedding photgrapher! From my first contact with Fergul, he was very professional and very quick to answer any queries I had. Upon meeting him the month before the wedding, he totally put my mind at ease about how he would work on the day. On the day of the wedding, Fergul was absolutely wonderful! He didn't interfere in our day at all...he just captured it beautifully! I didn't notice that he was even there during the ceremony, and yet the results of the amazing photos he took during the ceremony look like he was in three places at once! He was really quick at the group photos, and made people feel comfortable so that people were relaxed and smiling in all our photos! He was very polite, considerate and worked hard all day to capture our special day! And the resulting photos are wonderful! I would recommend Fergul to all my friends!

Fergul was absolutely fantastic ..we were so happy with out choice of photographer. Fergul put us at complete ease from day one...On the day, he was so helpful and didnt intrude at all...he let us decide when and what we wanted done but at the same time, was able point out spots to us for fab pics...we are abslutely thrilled with the photos!! So many people commented on how nice and professional Fergul is...My bridesmaid booked him on the day and all for her wedding next year and a few more friends have booked him after they seen my pics...

Fergul from Diaaamond Photography shot my wedding day. He made the day simply perfect. He managed to capture every single magic moment throughout the day. He was so descrete that several of my guests asked me if I had hired a photographer, not knowing that Furgul had been capturing the day all along. Nobody experienced that 'uncomfortable camera moment'that inevitably happens during group and posed photos, because Fergul had a fantastic way of making everyone feel relaxed and comfortable whilst being remarkably quick with his camera.
The professionalism and quality of work from Diamond Photography is second to none. Myself and my husband could not have been happier with the photos we received, and everyone that has seen the photos have commented on the sheere quantity of them and their perfect quality. Amazing split-second moments that we had forgotten about are right there in print to cherish forever. It is an added bonus that Diamond photography offer very resonable wedding packages which do not comprimise on quality. Budget was a important issue for me, (as Im sure it is for any bride!) but Diamond Photography did a package which fitted into our spending limits comfortably.Fergul was more than happy to talk through all of the different package options with me and help me to make a choice which I was happy with. I can say, without a shadow of doubt, that when I need a photographer for any important events in the future, I will be contacting Diamond Photography.
From start to finish it was a pleasure to deal with Fergul. I always received very prompt replys to emails, I was fully informed and involved with every aspect of the plan for the day, professionalism and discretion was paramount, friendliness and comfort was paramount and above all every perfect moment of our day was captured flawlessly forever.
Thank you to diamond photography for a ten out of ten service!

As a bride the photography was probably one of the most important things for me to 'get right'. After looking at alot of other photographers I came across Diamond Photography on the internet. I liked what I saw. And after meeting Fergul was 100% sure that he was the photographer for me. He lives and breathes photography. I had found a photographer that was passionate about his work, this wasn't a job for him, he's living his dream. Our story book album is truly amazing and is far and beyond what we had hoped for! Everyone who we have shown it to has been so impressed with the quality and creativity of the photos which perfectly captured everything about our wedding day. Your exceptional service before, during and after our wedding coupled with a friendly and helpful manner helped to create such an impressive album so unobtrusively. Thank you so so much!

Diamond Photogaphy. I would highly recommend Fergul to everyone. On my wedding day he was fantastic, most of the time we didn't know he was there capturing all the moments, he was great to talk to, open to suggestions and great fun. My husband and I, wedding party and all the family thought he was great. When we seen the result of his hard work we couldn't be happier. If your looking for a photographer for your big day look no further than Fergul at Diamond Photography.

Fergul was absolutely brilliant!! We were so delighted with all the preparations, the day and most importantly the finished result!! I spoke with other brides on WOL and all of them were raving about how great Fergul had been so I had high expectations but he definitely exceeded them AND was extremely reasonable priced for all that he did. Fergul responded to every email within a matter of minutes which is such a great advantage for brides that are juggling lots of organising at once � he was the one person I knew I only had to click a mouse and would have a response back shortly (and I start work at 7am so that�s some achievement!). I have recommended Fergul to friends and will continue to do so because he did such a great job. He was unobtrusive and a real pro for the entire day � anyone would be lucky to have him to capture their special day!!


Fergul was a brilliant photographer. He was so relaxed and professional. He didn't intrude at all, all our guests commented on how good he was. He offered some great suggestions and he was very patient with our young flower girls and page boys. Our photos and album are fabulious. I would highly recomend him.


We are absolutely delighted with our wedding photos. Fergul was a pleasure to deal with from the start. He always promptly replied to our queries and is very efficient and friendly. On the big day, he fitted right in and was unobtrusive and easygoing. He captured our special day beautifully and we would highly recommend him!


Delighted with our wedding album, Fergul did a great job.. he captured some special moments, in a very relaxed manner. Fergul was extremely reliable, flexible and helpful leding up to the day and on the day.. even our priest applauded him for his non intrusive manner of photography after the ceremony.. barely notice he was there. We are very happy with the album and would definitely recommend Fergul to anyone, we already have! Thanks Fergul!


We are so happy with all the pictures Fergal took on our wedding day.All of our family and friends are constantly commenting on how amazing the photos are and how great he was on the day.Fergal is very professinal,efficient and attentive.He made us feel very relaxed on the day and wasnt intrusive at all.He really puts so much effort into your day and into ensuring that you get perfect shots with very little intrusion.
We would highly reccommend Fergal to anyone who wants professional and fabulous photos to remember their special day by.


I don't even know where to start in describing how fantastic Fergul was. He took the best photo's and didn't intrude on our day at all. He put us all at ease and was extremely obliging and professional and always reminded us it was our day and not his. I would HIGHLY recommend him to anyone who is looking for a photographer for any occasion as you will find it hard to find someone who ticks all the boxes the way Fergul does. Thank you so so much Fergul in helping make our day that bit more special and capturing all our memories so wonderfully.


Fergul is fabulous. He is professional, helpful, non-instrusive and creative. We loved all the photographs that he took for our wedding and the ones that he suggested were so original and creative. The photographs of the two of us are natural and romantic. We did not notice him during the wedding ceremony and the photos he took were magical. We are recommending him to all family and friends and would higly recommend him for any occasion.


Fergul comes highly recommended. He did our wedding photographs and we definately made the right choice of photographer! All our photos are fantastic "creative, romantic, fun & fabulous shots", he ensured he captured each special moment of our wedding day. We love the special effects & elegance that Fegul addded to our photos. All our family and friends commented on the quality of work & talent. We had such a hard time trying to decide what photos to include in our wedding album as they are all fabulous.


Everytime I look at my wedding album I relive my wedding day! Fergul planned our album with every fine detail. He captured every special moment with little or no intrusion.
My only comment on fergul about his photograghy is that he is a true professinal of the highest standard.I dont think he realises how good he is!
Willie and i would highly reccommend fergal to anyone who appreciates excellant quality, reliability and efficiency!!!
Thanks Fergul


We were delighted with the pictures that Fergul took for our wedding. He captured the most precious moments of the day with minimal intrusion. We got to choose from a wide variety of both formal and informal shots for the final album. We would recommend him to anyone who wants a job well done to a high professional standard. All our friends and family have commented on the excellent quality of our album.