Dingle Skellig Hotel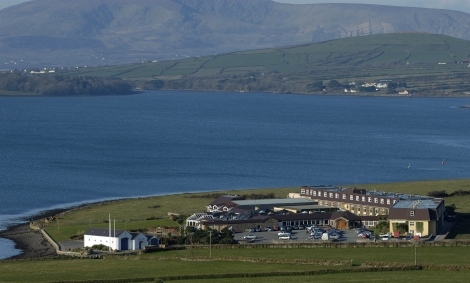 Supplier Details
The 4 Star Dingle Skellig Hotel & Peninsula Spa is located on the shores of Dingle Harbour and Bay. The delightful contrast of the peninsula's mountains, sandy beaches and Atlantic waters combine to form some of the most magnificent scenery in Ireland.At the Dingle Skellig Hotel we specialise in Wedding Receptions where we aim to take care of all plans concerning your Reception arrangements. It is our intention that you relax and enjoy yourselves, knowing that everything will run smoothly on the day.
The Skellig Suite, with panoramic views of Dingle Bay, can accommodate up to 230 guests, making it one of the most stunning and unique wedding locations. With elegant style, the Skellig Suite opens onto the Sun Terrace with manicured gardens leading down to the shores of Dingle Harbour - picture perfect!
At the Dingle Skellig Hotel, we understand that each couple has individual needs and wishes which we will accommodate as best we can, so please do not hesitate to ask should you have any particular queries or require any assistance or advice at any time during your wedding preparations. A member of our Banqueting Management Team is always on hand and we cater for just one wedding per day, thus ensuring our undivided attention for you and your guests.
Renowned for our dedication to looking after you on your most memorable day, our team provides the very best in personal service, friendliness, professionalism and of course, a superb Wedding Reception. The hotel is also licenced for Civil Ceremonies.
The Dingle Skellig Hotel is delighted to introduce their newly created "Skellig Signature Wedding Package" offering everything for the perfect day at a fantastic price. Please call for details.