Frilly Frocks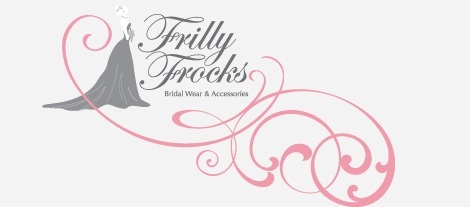 Supplier Details
At Frilly Frocks "We will offer the bride- to- be a level of service which will take the stress out of one of the areas of her big day, we have been working hard to secure some of the leading bridal wear labels as well as new names which we believe are the rising stars in bridal". Going that extra mile in terms of the sourcing of the gowns is very important to us as we really want to "bring it on" a bit from what is already available and this involves us doing lots of research and travelling but the end result is worth it when you can match the bride with her dream Frock!!
We stock and supply wedding dresses and bridal wear from some of the best designers in the world. Popular brand names like Luci Dibella, Pronovias, Sarah Houston, Geisha Design, Mikaella & Alessandra R coupled with the unrivalled care and attention experienced in our Drogheda store will ensure that your special day is both perfect & memorable.

Designers Stocked at Frilly Frocks: Pronovias, Lizzie Agnew, Tobi Hannah and Paloma Blanca and Two by Rosa Clara, we are exclusive stockist in Ireland for Johanna Hehir, Claire Mischevani, Timeless by Sasso, Heirloom Couture and Kate Sherford.
We also stock Twobirds Bridesmaids, Occasions and Alvina Valenta, shoes from Rachel Simpson and Belle,
furs and feathers from Sasso and handknits from Makepiece.
We have an in house alteration service and also offer a cleaning and storage service as aftercare on your frock.
Testimonials
Like most Brides I couldn't wait to start my search for my Wedding Dress. I had seen a particular Wedding Dress that I adored in a Bridal Magazine several months before I was even engaged. I knew Frilly's stocked the designer so myself, my Mam and Bridesmaids headed for Frilly's. From the moment we entered the fabulous shop I was treated like a Princess! I could not believe my eyes when I found the dress I had seen in the Magazine! From then on I was totally in Love with the dress and Frilly Frocks! Every visit and fitting was such a pleasure and nothing was rushed and Dara made sure I was 100% happy with the alterations before she went ahead with them.
Dara truely in amazing and you can see how much she loves her job. She puts her heart and soul into every Bride and makes you feel like you are the only one!
Ladies if you are starting your search for your dress definitely start in Frilly's and you will look no further the dresses are truly amazing!

I began my hunt for a dress in February and soon found that Ryanair's "no frills" policy for air travel, like so many other services, is now creeping into the world of bridal shops and I think its a shame. Too many shops are now "buy the dress and my responsibility ends here, you want frills? go elsewhere". Not so in Frilly Frocks, Dara and her team offer a complete service of style advice, fitting, alterations and follow up on all aspects of your bridal look. They have struck the fine balance of listening and providing good advice without being patronising or intimidating. They have a knack of getting to know the bride and what she feels comfortable with and never come across as pushy. I have had a wonderful experience with Frilly Frocks, they inspired total confidence from the first time I visited and I know that my dress alterations are now in safe and experience hands. I look forward to my fittings, I have no need to worry about my dress, I feel happy with my choice and feel that the girls really brought out the best in me. I would recommend Frilly Frocks to anyone.