Cake Toppers Ireland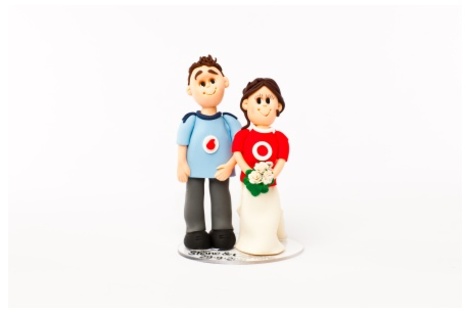 Supplier Details
Our Award Winning Toppers are the true originals (as seen on RTE!) - personalised exactly according to your requirements, they can be as traditional or quirky as you wish.
The Perfect Wedding Keepsake - made from polymer clays, to last a lifetime.
Mail order throughout the country - visit our website at www.caketoppersireland.com to place your order
Ideally we require about 12 weeks notice, but will always try to accommodate late bookings!
Testimonials
It is absolutely brilliant better than i expected cant wait to get a cake to put it on now, i will be singing your praises to all who will listen.

Just collected my cake topper & have to say I love it. It's amazing!!!
You've captured everything wonderfully, even down to our three furry kids!!!
I love it, love it, love it!!!

Oh my God it is fantastic I was totally gobsmacked. We just can't stop looking at it ,the detail is so unreal,my daughter was delighted when she saw it . So thank you very much ,it will be something that they will have to remind them of their big day forever

It was so special to have a representation of my husband and I, being that he is from Ireland, and I, from the US..
I can't tell you enough how much I treasure the cake topper and love having it be apart of our home now as decor. Thank you from the bottom of my heart!

We received a cake topper as a present from my bridesmaid, it was amazing. You made it so like us - my dress, flowers, etc. Thank you for adding a special piece of color and character to our day.