The Gospel Project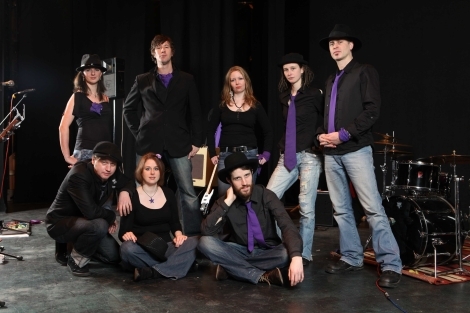 Supplier Details
www.thegospelprojectireland.com
The Gospel Project, one of this country's finest vocal harmony groups, have over 8 years experience of  providing superb gospel music for weddings, and a friendly & helpful service to each and every one of our clients. Uniquely in Ireland, we are a stand-alone 6-piece ensemble, rather than a subset of a larger choir. We guarantee we will delight you & your guests. Call today for a quote & availability!
Testimonials
Just a quick note to thank you for making our day so special - the music and singing in the church was unreal!! Everyone was raving about it and it set the tone for our lovely day. I can't recommend The Gospel Project highly enough, many thanks again!!

Just wanted to say a big Thank You to you all for making our ceremony so special. You were amazing i couldn't have been happier with the whole ceremony. Our guests loved all the songs & couldn't stop talking about you. Some of our guest even got carried away & were dancing in their seats!! Do not hestiate to book this choir for your ceremoney you won't be disappointed & it'll be a great start to you wedding day. Many Thanks Again

I just wanted to drop you an email to thank you so much for making the start of our wedding day so special. Everyone at the chapel could not believe the wonderful music. . Your professionalism towards us made me relax and know that we were in safe hands. Even the priest complemented us on our choice of music. All I wanted to do was dance up the aisle when I heard 'Going to the Chapel' my nerves just melted away and I couldn't wait to get the wedding started.
Many thanks again

Hi guys,
Just to say a very big Thank you for
helping us to start our wedding day , with such wonderful music and songs.
Everyone was talking about how fantastic you were .
You really helped to set the tone for the rest of our day.
you guys are just brilliant ,
thanks again

We had the Gospel Project play at our wedding ceremony this past month and they were truly AMAZING! They really made our wedding! The guests really really loved them and were talking about them all day. The lively and beautiful music really got them all going. If its the only thing you splash out on I would pay for these guys! Trim off chair covers and other unnecessaries to have them...thats what I would say. Cathy is so helpful with the layout of the mass booklet and has endless patience with any questions. My favourite song was our communion choice of Bruce Springsteens version of When the Saints go Marching..I was speechless! I would not hesitate in recommending them.


Oh my God,what a performance! We had the Gospel Project perform at our wedding ceremony last month and along with all the guests were blown away by them.From the the very start with dealing with them they were amazing and very helpful to us in picking our song choices.We would also reccomend to have them sing any psalms during the ceremony as it made even more special.We would have no hesitation in reccomending the Gospel Project to anyboby and believe us when we say that you will not be dissappointed!


We had the gospel project for our wedding last month and we would DEFINELTY recommend them. Our guests absolutly loved the songs and the atmosphere that the gospel project created in the church. Cathy is really great to deal with - she will help you with the song choices and layout. I highly recommend AnnMarie for "on eagles wings". Breathtaking. They were something different to the normal wedding - the music really adds another layer of excitment onto the day! PM me if you have any questions!