Dubrovnik Luxury Weddings Ltd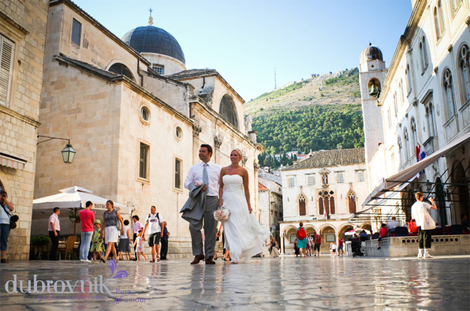 Supplier Details
Dubrovnik, fairytale location for wedding of your dreams…
Dubrovnik Luxury Weddings is a different wedding planning agency; a team of enthusiastic, young, hip, experienced wedding planners, photographers, wedding coordinators will give 150% to make your day unforgettable!   
Weddings in Dubrovnik are weddings to remember; light-hearted, interesting, completely original and above all special, in a city which is known as one of the most romantic in the world. Whatever you had in mind, large or small, formal or informal, we can assist you with all aspects of your wedding from start to finish.
Weddings in Dubrovnik are a dream; allow us to make your dream come true...... 
Testimonials
We chose Dubrovnik Luxury Weddings as our wedding planners based on the reviews we read on the internet plus reviewing the responses we received to initial enquiries sent select number of wedding planners. It was clear Kristina and the team were up to the job through the promptness and warmth of their reply.
We can honestly say that we would not change a single thing about our wedding. That is really down to the fabulous suggestions from Kristina and the team as to Church types and locations, luxury hotels for the reception and some small touches during the day to make it an extra special event for us and our guests. Kristina suggested a boat ride into Dubrovnik, champagne and canapes after the ceremony to stop people getting hungry, and a delightful private terrace with drinks to keep our guests occupied whilst we were having photos in Dubrovnik Old Town. Our guests were just as impressed as we were!
During the organisation leading up to the day Kristina and the team helped with all our legal and church paperwork (and managed a few scares on our side with the church paperwork very calmly!) We really couldn't have done it without them. We both wanted a really small, initmate, informal wedding and that is exactly what the team delivered. We are both very laid back so having the wedding planning team was superb for us as undoubtedly we would have forgotten something if it hadn't of been for Kristina!On the day itself all Dan and I had to do was to enjoy ourselves. Kristina and the team were on hand every step of the day, we didn't have to worry about anything at all. It made the day fabulous and we all had so much fun.A brilliant day and a brilliant wedding - we wouldn't hesitate to recommend DLW to anyone!

We had a fantastic wedding day split between Dubrovnik and Cavtat in September just gone. I can easily say that we would not have been able to organise anything without Kristina's valuable insight, industry knowledge and professionalism. Once I met Kristina and her team I relaxed completely about the wedding as it was clear the details were in safe hands. I would not hesitate to recommend her and her team to anyone thinking of having their wedding in Dubrovnik. We have fabulous memories of the day, all the little aspects were looked after, we literally did not have to think of anything on the day other than enjoying our time with our guests. I am still noticing small touches when I look back on our photos, the table decor was faithfully matched to sample photos I had emailed before the wedding, extra decorations we carried over were tastfully added, I had asked for very specific colours in my bouquet; it was glorious,my table plan and seating arrangements were set up perfectly despite having only decided last-minute that I wanted guests to sit in a certain order at the tables. We recently received our photo album, I can't stop looking at the photos. Tomi's photography speaks for itself. We can honestly say that if we were to do it all over again there is nothing we would change and that is largely due to the stellar work and professionalism of Kristina and her team. Best wishes to anyone planning a dubrovnik wedding for 2012 :)

Our wedding day was the most incredible day of our lives and we got to enjoy every second of it thanks to Kristina. From our first email to the last minute of the day itself she was outstanding in her efforts to make our day special and perfect. Every question we asked was answered immediately, every detail was taken care of, it was so stress free I wondered what all the fuss was about! Kristina is excellent at what she does from the major details down to the simlpe things for example, on the day one of my guests happened to mention to another that she had a slight headache, within minutes Kristina was handing her a glass of water and a tablet for her headache. We both agree that without Kristina our wedding would not have been so perfect, drama free and stress free, it meens a lot when you spend so much time, money and effort making this day the best it can be, to have Kristina on your side. She has experience, contacts and the know how to get the job done so I cannot thank her enough for making our day so wonderful for us. Kristina was professional throughout but at the same time so personable and friendly. I felt like my friend was planning my big day, it felt as though she cared about us and wanted the day to be just right - which it was.


When we first began planing our wedding in Dubrovnik we felt we didnt require any assistance, however it was soon apparent that this was not the case!!!! Kristina was recommended to us and we immediately enlisted her help in planning and organising our wedding. Her ideas and contacts were invaluable to us and it seemed there was so much we had not even considered. Her friendly approach and sense of humour meant that we always enjoyed our meetings before the wedding and i never felt the need to stress as she had everything under control. Unfortunately on the day we woke to the worst weather imaginable for a wedding! What threatened to be a total disaster Kristina turned into a triumph. Her non stop phone calls throughout the day ensured that even though the weather disrupted our plans the day was a total success and in many ways even more memorable, they truly did save the day!


We recently got married in Dubrovnik and we really had a wonderful day - it was a dream come through for us. Kristina and Paula were so helpful and I cannot recommmended them highly enough. They went out of their way to ensure we had a truly perfect wedding day and one we will never forget.
They came up with wonderful suggestions (from the flowers to the cake, hairdresser, beautician etc) and ensured that all our guests were looked after well and that all went according to plan. They suggested a boat trip for us and all our guests were delighted with it as it gave everyone a chance to see some more of beautiful Dubrovnik and provided a great opportunity to take some great pictures.
I really would not change a thing about our day and am so pleased with the service provided by the wedding planning team - they were excellent and a pleasure to deal with.I was delighted with Tommy the photographer he was terrific and we have a wonderful album to remind us of our Special day.

Contact Details
Dubrovnik , Croatia
International
Contact name: Paula or Kristina
Phone 1: 00385 (0)20 311 959
Phone 2: Cell: Paula 00385 (0)99 23 11 00
Fax: 00385 (0)20 311 959
Mobile: Kristina 00385 (0)99 23 11 004
[email protected]
www.dubrovnikluxuryweddings.com

Interact