Ultrasound Dimensions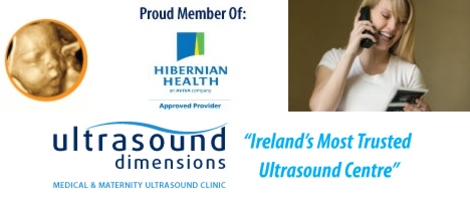 Supplier Details
Waiting for your hospital ultrasound scan? Want to make sure your pregnancy is progressing as it should? Can't wait to see your baby in live 4D motion?
We are here to help...
Ultrasound Dimensions - Ireland's Most Trusted Ultrasound Clinic:
Early Pregnancy ( 6 - 14 weeks)
Detailed Anomaly (18 - 22 weeks)
3D/4D ( ideally 24 - 32 weeks)
Gender Determination (18 - 40 weeks)
Well baby / Reassurance scan (anytime)
Nuchal Translucency (11.2 - 13.6 weeks)
Follicular tracking
All Other Medical Ultrasounds
To speak with one of our professionals, get a brochure or make an appointment call today or visit us on the web!
Tel:01 210 0232
Web: www.ultrasound.ie
Email: [email protected]
Open 7 Days a week 9:00am - 9:00pm
Still unsure about our service?
"Many thanks for your patience with our little one! She was very shy and you still spent all of the time that you could getting us the best footage possible (including re-scheduling us for a new appointment)! We thoroughly enjoyed our experience and are still in awe every time we watch our dvd. I have already recommended Ultrasound Dimensions to any pregnant women I know and wish you every success for the future. Best Wishes" Michelle and Aaron
"Thank you, we were with you for an early preg scan and it really was an amazing experience. The most unique thing we found was being able to take home the video clips as well as the photographs. The video makes it all seem more real and really put our minds at ease. We have been on a high ever since!" Frances N
"Many thanks for the service. We all absolutely loved it. The new grandmothers were absolutely thrilled to see their new grandson and my husband is still walking around in a daze! I would like to say a special thank you to you for being so patient as our little fella decided to sleep for the entire duration limiting our viewing of his face, despite various attempts to wake him. You really made our day extra special by taking the extra time to get some good pictures. Thank you so much. I will recommend you to everyone!" Gennie
Click here to see more of our ultrasound service reviews.
P.S. Print this page off and receive €5.00 off your next appointment!