AbfabVideo Productions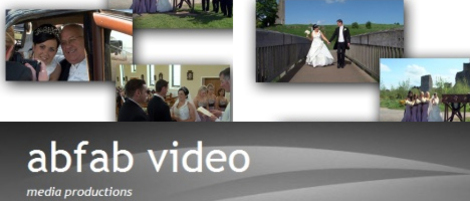 Supplier Details
Hi I'm Brian. Abfab Video was set up by myself in 2000 based in Navan Co. Meath and since then I've filmed my fair share of weddings. Experience is particularly important when filming a wedding, everything happens in real time, no re-takes, no scripts, you have to be in the right place at the right time and also not be in the way. I remember my first wedding, it went ok but I underestimated what was required and trust me, if you get a "friend" to do it they won't have the skill and equipment to capture your big day.
Your guests, and maybe yourselves, are nervous of video cameras. I understand this so my approach is very discrete, you won't even know I'm there.
I will deliver to you a modern wedding film you can be proud of, romantic but not cheesy, funny but not silly, classic but not old fashioned.
This is one of the most important days of your life. Not just for you but for all your family and friends, that's a lot of people in one place, when will you have the opportunity for this gathering again. Have it filmed. My parents were married in 1962, I would give anything to have seen that, so at least do it for your children (give them a laugh in 20 yrs time).
Your day will fly, on reflection it will seem like a blur, so much will have happened so many people, laughter, tears, drink. And as a bride you won't get to see guests or groom arrive at the church, the hellos, the kisses the condolences (joking). There is so much to be missed.
Let me be there for you, as Del Boy says "you know it makes sense".
Basically I'm at your service. I welcome input and any ideas you may have and I encourage people to be adventurous. It's your day, your way.
Filming is done on professional High Definition full widescreen cameras and edited on powerful dedicated edit suites.
Your wedding can be delivered on DVD or Blu-Ray discs and other formats.
Please feel free to contact me.
My website is under construction at the moment samples can be viewed but for pricing and all enquires please ring or e mail.
Thank you.
tel: 086 882 4703 / 046 907 1232
email: [email protected]
web: www.abfabvideo.ie
Testimonials
No-one realises just how little of their wedding day they'll remember until it has passed by in a blur. That's why people like Brian who have fantastic attention to detail, are completely unobtrusive on the day, record every detail perfectly and are a pleasure to deal with are so important.
We hired one of the top gospel choirs to sing at our mass and wanted someone who could capture them fully and we weren't disappointed. Everything about our DVD is perfect so it'll be watched over and over again. Thank you Brian!
Contact Details
Beech Tree Cottage,
Ardbraccan, Navan,
Meath
Contact name: Brian Matthews
Phone: 046 907 1232
Mobile: 086 882 4703
[email protected]
www.abfabvideo.ie

Interact