Drangan Video - Nationwide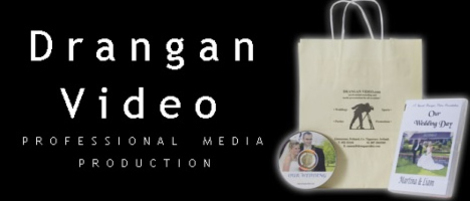 Supplier Details
All Ireland 2010 Senior Hurling Captain, Tipperary's Eoin Kelly Meets His Match. Eoin and Sarah married in Ballingarry Co. Tipperary. Reception in Dundrum House Co. Tipperary.
The wedding of Cinda & Conor. The wedding took place in Gougane Barra, Co. Cork.
Eamon Anglim (Videographer)
Drangan Video is a highly acclaimed Irish wedding video and DVD production company based in Munster, with very satisfied customers throughout Ireland, particularly in Tipperary, Cork, Waterford, Limerick, Clare, Kilkenny, Carlow, Wexford,Offaly, Kildare, Laois, Dublin and Galway.
Over the years we have earned a reputation for producing beautifully presented, emotion filled and entertaining wedding DVD's and Videos. The full day is captured on camera in a completely unobtrusive, professional and friendly manner.
All post-production work is carried out in our fully equipped studio on a computer based editing suite. Software is continually updated to provide the most modern graphics, effects and titles. We cannot state strongly enough the importance of time spent editing. A typical wedding will take 12 hours to produce. We like to think of this as being "the final polish". We also design and print our own DVD and media cases for a totally professional presentation.
Working with Official Photographer
Great care is taken not to get in the photographer's way. They are usually working against time and certainly need their space. We adapt "a fly on the wall" approach to capturing the photo call, resulting in no distraction for the wedding groups being photographed.
Click to view some samples of our wedding videos.
Or here to see the different wedding packages.
Check out our Facebook page.