The Wedding Swinger - Pre dinner entertainment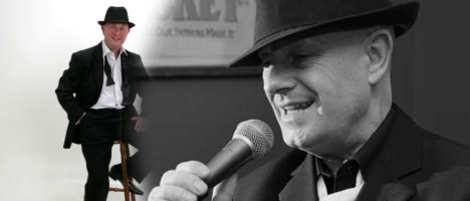 Supplier Details
Derek Keyes, a.k.a.The WeddingSwinger, performs solo at arrival / champagne drinks receptions / corporate functions etc. 
Singing Swing to full professional backing tracks, Derek will evoke an era of Rat Pack nostalgia. In his own inimitable style Derek will have young and old alike unconsciously singing along to the foot-tapping finger-clicking sounds of Frank Sinatra, Dean Martin, Matt Munro, Louis Armstrong, Andy Williams, Nat King Cole, newcomer Michael Buble, and many many more. All this without intruding on your guests conversation.
Derek is a polished performer, always impeccably dressed for the occasion, and with many years experience, countless weddings, TV and Radio performances behind him, Derek has what it takes to keep your guests entertained as they await your entrance. (Let Derek know if you have a special song for him to sing as you and your new spouse make your entrance).
Two hours is the norm for a performance, but, as many of Dereks' clients will testify, he keeps on going until the bell is rung for dinner, no matter how long, at no extra charge. (Three hours 18 mins is the record)!! 
 Derek is also a Neil Diamond impersonator upon request.
 Based in Dublin Derek will travel to anywhere in Ireland.
Testimonials
Hi Derek,
I just wanted to drop you line to Thank you so so much for singing at our wedding reception. From the moment our guests arrived right up until everyone was called for dinner you really blew our guests away! I have to say I had booked you from looking at your website and the other great reviews, and although they were all fantastic I did not hear about you from word of mouth so I was was a teeny tiny bit apprehensive, but I'm so glad that i had nothing to worry about. Every single person at the wedding commented on how great your singing was and also the style of music you sing is just perfect for a wedding reception as there is such a wide range of age groups so it really pleases all tastes!! I have to say it really set the tone for the rest of the day so thank you so much. I would have no hesitation reccomending you to anyone I know for their wedding or for any other special event.
Thanks Again,

Hi Derek, Many Thanks again for your great entertainment on 12th August. It made such a difference to have you singing at the pre dinner reception and you certainly had everyone in the party mood by the time you finished. I cannot recommend you enough.
Thanks again & Best of luck for future.

Hiya Derek,
I hope you are well. A very big thank you for playing at our wedding. You were really super and we've had geat feedback from all our guests about you. Once again many thanks.
Regards

Dear Derek,
Thank you so much for performing at our wedding (30/04/11). So many people complimented what a lovely touch it was and how great you were! We would definitely recommend you again!

Derek,
Thank you for your contribution to a perfect day. Everyone complimented us on the choice of singer and music - we knew from the first time we heard you that you were perfect for us. Thanks again - you are a true gent and a great professional and we'll definitely be calling you for future events. We would have no hesitation recommending you - you're one class act.

Hi Derek,
Gavin and I are just back from honeymoon and we both wanted to say a massive thank you for providing such a great atmosphere to our pre dinner reception. So many people have complimented us for booking you and have only great things to say about the music and entertainment you provided. You really created a great atmosphere that continued on for the rest of the night.
Thanks again and we will be passing on your name to anyone who is in need of a great entertainer at their event!
PS I love the photos on your website!

Hi Derek,
Throughout all the wedding preparations we knew we had made the right choice with you and you certainly didn't disappoint on the day. You were a pleasure to deal with and are great value for money. We were so lucky to be able to get married at home and you fitted in perfectly with the day and you made everyone relaxed and thoroughly entertained! Everyone, including my 94 yr old gran loved your performance and I have your number saved for future events! For anyone who is doubtful whether to go with The Wedding Swinger, don't be, as it will be the best decision you can make for your memorable day. Pass on my details to anyone who wishes to get a personal opinion. Thanks again Derek and in the words of Andy Williams "You're just too good to be true"!!

Hi Derek,
It's Lisa & Gerard here. You sang at our wedding 2 weeks ago in the Crowne Plaza. We're just back from our honeymoon and my guests are still talking about you. I just want to thank you for stepping in at short notice. You were fab.Ta!

Hi Derek,
Well what can we say. I had read on your website all the good reports before we booked you but had no idea how big an impact you would have on our special day. When we arrived back at the hotel after our photos the party was well and truly started thanks to your great performance and everyone was in brilliant mood. The atmosphere in the garden was unreal and everyone was coming up to us raving about you and wanted to know where we found you, I told them weddings online! 7 weeks after our wedding and you are still the talk of the wedding. We never got a chance to talk on the day as we were being pulled everywhere for photos but thank you very much for creating the amazing atmosphere on the day which continued right till the end of the night and we hope that we get to hear you again soon at another wedding.
Many Thanks.

Hi Derek,
I want to thank you for providing such brilliant entertainment on the day. Having you perform at our wedding reception added something very special to our day. Our guests were all very impressed and said they felt like they were in Marbella... not Maynooth! Many thanks again Derek, I would have no hesitation in recommending you to anyone that was considering making a booking.

Hi Derek,
Just want to say thanks a million again, you did a great job last week, everybody said so!!
Will definately be in contact for the next big event!
Thanks again,

Dear Derek,
On behalf of my husband Jason and I, we would just like to thank you so much for contributing so magically to our special day. You truly made the champagne reception an extremely memorable occasion. We still log onto your website just to listen to you and remind us of our perfect day. Our guests have continually commented not only about how talented you are, but about your presence; you are such an amazing entertainer. I look forward to passing on your details to my friends and family who are getting married or in fact just throwing a big bash!
Thank you once again!

Hi Derek,
Hope all is well. Myself and Ann want to thank you for the wonderful performance you put on for our guests in Cabra Castle. I can honestly say that you made the evening reception. Your voice and music made everyone so relaxed and created an atmosphere I have never experienced at a wedding reception before. You even kept playing even though we were nearly 40mins late so many thanks for that.
I received many compliments all the next day and I would be very surprised if you didn't hear from any of our guests in the future for weddings or corporate events. People felt that it was new and something they have never seen before.
We have absolutely no hesitation in recommending Derek for any events you might be thinking of having. Derek, please feel free to pass my details on to any one who would like a personal testimonial.
All the best and hope to see you again in the future.

Hi Derek
Myself and Andrew were extremely happy with your contribution to our wedding day. To be very honest it was between you and a chocolate fountain! And I have to say we definately made the right decision!
On arriving at the hotel, we were greeted with your wonderful music and could feel the happy relaxed atmosphere eminating from our guests. It really made our champagne reception, and added so much to the feel of the day. It put everyone in great spirits and even today I still get people complimenting both you and your music. Everybody was in such a happy uplifting mood thanks to your great personality and fantastic voice. I can't thank you enough!
I have to say it was money well spent and I would highly recommend you to anyone looking for entertainment for any function. The style of music was perfect for the occasion and again we both want to thank you for your contribution to a truly memorable day.
All the best,


Hi Derek,
Hope your keeping well, just want to thank you for
a wonderful afternoon, you put everyone in the party mood,our guests
are still talking about you, I think its the only wedding where I've ever seen the
Bride and Groom and guests dance before dinner. Your choice of music was perfect,
and we are so delighted that we had you there.
Thanks again,
ps. See you for our next big party!!!!!!!!


Hi Derek
Oh my god what can i say?? What an amazing way to kick off our wedding celebrations. Thank you so much for a super performance and getting our day off to a great start. You were truly outstanding! Everyone was raving about you on the day and were still talking about you into the early hours. Only downside for myself and Stephen was we missed the first hour due to the photos being taken for our album! Guests were coming up to us saying you were fab and what a great idea to provide entertainment before the meal. Honestly you were the best phonecall i have made in relation to our wedding entertainment! You certainly brought the wow factor to our day and i couldnt believe the atmosphere you created for us with a small guest list. Again, thanks a million...you were just the business and i cannot recommend you highly enough to any future brides reading this (or anyone looking for a great entertainer for that matter!)....please please dont change a thing EVER about your act.....everyone was saying how unique and spot on you were with everything...(including the outfit).
Please feel free to pass my contact details to any future brides wanting to chat personally about your act. I will certainly be sending people your way any chance i get!... Thanks again for making our special day even more magical.


Hi Derek
I just want to take this opportunity to thank you for Friday night. You were absolutely amazing and everybody complimented us on our choice of musician - I know a good few friends who took your card and will be contacting you about their upcoming weddings. You truly did us proud on the night, so professional and so talented - we cannot thank you enough!. I wish you all the best for the future and have a great Christmas and New Year.


Hi Derek
Joe and I are just back from honeymoon and we both wanted to thank you so much for your role in our wedding. We got so many compliments about you and your music. I only wish I were a guest who could have sat back and enjoyed you instead of being upstairs having photos! You really created a relaxed and upbeat atmosphere. We just looked at your website and saw the photo. It is lovely. Is there any chance you could email me a copy. We'd love to add it to our collection as we have none taken with you. We will also add a testimonial to your site if that is ok.
Thanks once again , you were great!


Hi Derek
I just want to say thank you so much for the brilliant performance you gave at our wedding in Moyvalley last month, we loved every bit of it and as for the guests their still talking about it. It was definitely one of the highlights of the day and it got the reception off to a great start. Thanks again and we'll keep an eye out for any gigs your doing in the future.


I booked Derek for my brother's wedding last week, the biggest compliment I can pay to Derek - The Wedding Swinger - is that the Bride, Groom, myself and others all agreed it was the highlight of the day, icing on the cake was the fab weather we were blessed with. I would have absolutely no hesitation in recommending Derek, he went above and beyond what was expected of him. Thank you so much.