Wedding Duo - Soprano and Pianist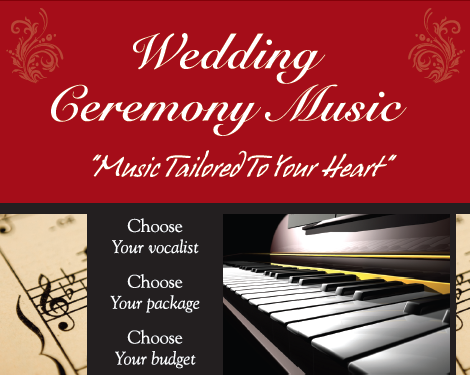 Supplier Details
Excellent Wedding Music is a must, Wedding Duo would be delighted to help you plan your ceremony and be part of your special day.
Our goal is to complement and enhance your day by creating a ceremony to suit you as a couple, ranging from the traditional to classical to something very special. Our promise is to create an atmosphere that will simply add to the spirituality and romance of the day.
Wedding Duo has a selection of singers and instrumentalists for you to choose from. Yvonne (pianist) can advise you on what singer and musicians would suit you best and help to create a tailor-made package to work with your budget.
Please click here 
www.weddingmusicduo.com
 to hear a sample from each singer and musician and to give you ideas about the extensive choice of music for both the ceremony and the pre-dinner reception. Our service to you includes an email consultation that allows you to choose your music with ease and together with all the advice you need, ensure that the music chosen is suited to your style and taste for your special day.
Yvonne has established herself as one of Ireland's finest young pianists and has performed across Ireland and the UK and has given performances on both television and radio. Her accolades include soloist of the Grieg Piano concerto at the Proms in Cork and winner of the Birmingham International Piano Academy Concerto Competition in the UK. She has also studied with some of the world's finest pianists. She has been performing at weddings for all of her career and is very grateful to be working with such fine singers and musicians as are featured on the website.
Singers include Denise Brennan who is currently part of the successful tour - Women of Ireland, Regina Hanley, one of Ireland's finest sopranos, Roisin O'Grady who has performed for President Obama at the White House on St Patrick's Day 2011, Nicola Mahony whose jazz and contemporary voice has given her great success and Caroline Reid O'Brien who is in constant demand as soloist with many groups in Ireland as well as her native Waterford.
Please feel free to contact Yvonne at any stage if you would like any advice or a quote.
Testimonials
Wedding duo played at our wedding ceremony and pre-dinner reception in September 2010. They are amazing performers and created a wonderful atmosphere for all our guests to relax and enjoy. There style is unique and they made our wedding extrememly personalised to us and our guests. The service provided before the wedding to pick all our song was fantastic and made us at ease and excited to hear more.

We cannot say enough great things about the Wedding Duo. They were both so helpful to us from the first moment we contacted them. They are professional, such lovely people and a pleasure to work with. When we went to meet them and hear them play/sing we were taken aback and knew straight away that our search had ended. They played at the church and also at the drinks reception after. We got nothing but positive feedback from our guests. Thanks again to Bridget & Yvonne.

Wedding Duo were great! So many of the guests commmented on the music. The girls kept the guests entertained in the church before the ceremony started and that was much appreciated. They were willing to perform any songs that we suggested but also suggested suitable music themselves.Thanks a lot!


Wedding Duo are absolutely fantastic. They were so easy to work with. I loved their list of songs to choose from and their recommendations were really welcome. They also were willing to do any songs I suggested too. So many people commented on how beautiful the music and singing was and how it really added to the ceremony. From beginning to end we were absolutely taken away as were the people at the ceremony. Thanks for everything.