Glamour by Dawn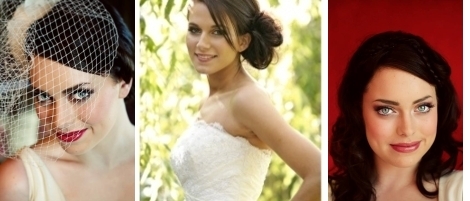 Supplier Details
Dawn is one of the leading Make Up Artists for Munster and the South East. Working principally with MAC cosmetics, Dawn has painted the faces of brides the length and breath of Munster and the South East, which has earned her invaluable experience. With a strong attention to detail and years of experience Dawn is guaranteed to send you down the aisle with flawless makeup that will have you glowing for the entire day!
Dawn is a keen follower of MAC Cosmetics and is also a registered Pro MAC member and the basis of her kit is based on MAC.  Each product is carefully chosen to suit each client as she believes quality and longevity is essential for Bridal Make up. Her attention to detail and bubbly personality makes her high in demand for bridal work with many brides booking a year in advance.
Based in Munster, covering Cork and Kerry Dawn also covers the South East and surrounding areas including Tipperary, Carlow, Waterford, Portlaois, Laois, Wexford and Kilkenny. 
Testimonials
Dawn, Thanks sooo much!We had a fantastic day, and looked fantastic all day (even if I do say so myself!)You are awesome.

Dawn is FAB!!!!! i cannot reccommend her highly enough. She is such a sweetheart and a pleasure to deal with. From the moment i enquired to after the wedding she has been so proffessional. The makeup was really beautiful. Im embarressed to admit that i never took my makeup off the night of my wedding and it was still 100% perfect when i woke up so i even went down to meet all my guests at breakfast before they left with my makeup still on from the day before! Just shows how long it lasts! But we'll keep that part a secret :) Thank you Dawn so much for everything! i wish you the best of luck in your future x

I just wanted to say thank you so much again for your amazing work on my wedding day! I can't recommend you highly enough to anybody looking for the perfect makeup artist - your warmth and friendliness helped make the big day perfect and the makeup was flawless! You are the rare makeup artist that listens to your client and your makeup is a work of art - it was perfect and didn't budge the entire day. My mother and bridesmaids absolutely loved their makeup (and my mother and sister don't generally like having theirs done at all, so they were hugely impressed) and even all of our guests were raving about it afterward. I can't wait to have an event to attend so I have an excuse to book you again - I wish I could have you doing my makeup any day! I will happily recommend you to anybody who asks and thank you so very much again!

I can not thank Dawn enough for the incredible make up she did for our wedding day - I have never and nor will I ever I think feel as glamorous as I did on that day. Even after nearly 12 hours including four very sweaty hours on the dance floor my make-up looked perfect, I nearly didn't want to go to bed!! Thank you so so much - I have told all my friends who are getting married in Ireland that they simply HAVE to book you!! I am going to send you a Wetransfer link now with some images that you can download if you like - some lovely ones of us getting ready and then a lovely photo of us and the bridesmaid all dolled up!

Just wanted to thank Dawn so much for doing our make up on my wedding day in June 2011. Dawn was nothing but a pleasure to have around and she was so friendly, helpful and calming on the day. She is so professional and great at what she does and you definetely wont be disappointed. Myself and all the bridesmaids loved our make up and i would have no hesitation in recommending her to others. She is a joy to have around."

Hi Dawn,
Just back from honeymoon. Thanks a mill for sending on those pics and I just wanted to say a huge thank you to you for doing such a brilliant job on the day, the amount of people that commented on your work was amazing, they all thought you did such a wonderful job. You were absolutely fab.
Thanks a mill again :)


 

Dawn, I just wanted to say a massive THANK YOU to you , really and truly for helping make my wedding day perfect. The make up was fantastic and I dont think I needed to touch it up once during the day, my mum and Nikki were thrilled with theirs, especially my mum.
You were brill on the day and so relaxed that it put everyone at ease, it was really lovely and I couldnt have wished for better people to be doing my hair and make up than yourself and Amanda, the banter really helped make the morning relaxed and lovely.
Thanks so much again, I'll be recommending you to anyone who needs their make up done, everyone commented on how professional you were and how great we all looked! :-)

Thanks so much! Had a wonderful day. You were fantastic in the morning, us girls all said the morning with u was great fun, very relaxing and our make up was just fantastic. Lots of ladies at the wedding asked who did our make up so I was very fast to recommend you!
Enjoy the run up to your own big day, it really is worth all the hard work in the end!
It was great having you a part of my wedding day and you deserve a wonderful day yourself.

Thanks so much, Dawn. We were all so delighted with our make-up on the day. My sister, who was married in July, was so disappointed she hadn't known about you before her wedding as she'd most definitely have asked you to do our make-up for her wedding had she known how fantastic you were. I can't thank you enough. When I arrived home from the hair dressers and saw my hair I was beginning to panic, but as soon as I sat in the chair and you started doing my make-up I completely relaxed and knew it would all be fine. .Thanks so much again for being so good to us all on the day and for putting all of our minds at ease and for doing such an amazing job. I only wish I had you to do my make-up every morning!
Thanks so much, Dawn.

Hi Dawn, Greetings from Koh Samui ;) Thank you so much for all the help and preparation last Friday-had an amazing day-it just flew by but twas fantastic and was so happy with the makeup-as was mam and the 3 bridesmaids :)

Thank you so much for all the help and preparation last Friday-had an amazing day-it just flew by but twas fantastic and was so happy with the makeup-as was mam and the 3 bridesmaids :) Best of luck with your wedding plans also
Thanks again

The day was amazing and thank you so much for all our make up. It was brilliant. All the girls were delighted with it too.Best of luck with your planning and hope you have the most amazing day too.

Thanks for doing such a brilliant job on the makeup. You made us look and feel amazing! I will be singing your praises to all brides to be.

Dawn did my makeup in May and she was superb. She was so good to have around when we were getting ready. She had a challenge with my skin as I had just finished chemo but it didn't even phase her. I looked flawless and felt gorgeous. Couldn't recommend her enough. She also did 2BMs, 1 Jr BM and my mam. She even corseted me into my dress not a bother to her!! Dawn was so helpful on the day. Fantastic Make up Artist. Brilliant personality. Great to have around on the wedding morning!!


Thanks Dawn for doing such an amazing job with us before my wedding in June. Everyone at home was mad about you and I absolutely loved my makeup! I just wish I could get it done like that every day lol. Thanks for everything and keep the fab blogging going.


Hi Dawn. Dawn thank you for making Amy & I so 'perfect' on the day. You are a great artist and I would highly recommend you to any bride to be. The highest compliment to you from people at the wedding was 'You got it so right' & how perfect & natural our make looked'. I was anxious been an older bride that the make up would be too heavy or aging but Dawn it was perfect and natural, most importantly you made me feel gorgeous!! THANK YOU! And you deserve all the success that should come your way been such a natural and gifted artist.


Hi Dawn,
Thanks again for doing our make-up the morning of the wedding we were all delighted with how it turned out, you managed to know instinctively what suited everyone and I loved the lashes! The make up lasted all evening and I don't know how many people commented on how well we all looked.


Hi Dawn,
hope your well and the weather is still fab down in Kerry, not like here in rainy Dublin! I just wanted to say thank you sooo much for doing such a fantastic job on us all especially my make up on my big day. It was beautiful and i am only seeing all the detail and hard work you put into from all the photos, and it lasted even through all my tears and dance-offs.
Everyone keep commenting on beautiful and natural it was - alot of the brides to be wish they could fly yourself and Tricia up to Dublin. as we explained to them how fantastic and accommodating you both were to myself and my crazy family.
Thanks again and hope to see you again in future.


Hi Dawn
Just to say a big 'Thank You' for making myself, my bridesmaids & my mother looking beautiful on my wedding day 14th June. The moment you came in you had a warm, bubbly & relaxed manner that put us all to ease & therefore made our morning more relaxing & enjoyable. The make-up was flawless and it lasted all day & into the night.
I was especially loving Mum's make-up as she doesn't normally wear any & her skin looked bright with a warm glow. I think she'll be wearing tinted moisturiser in future.
We've seen some of our photographers photos & others and the make-up looks really fresh. Also people on the day commented on how well our make-up was.
We were so impressed that my bridesmaid Suzanne may book you for her wedding day next year pending on availability! I saw our picture on your twitter page & it's really lovely.
Our wedding day was amazing & went without a hitch & your vibrant character & professionalism started the day with smiles on our faces


Hi there Dawn
This is just to say thank you soooooo much for doing my make up for my wedding. I loved the way you brightened up my face and made it look natural. I felt really good on my big day. And not to mention the craic up in the room with yourself, amanda and eric. It was good fun having you guys there and I was so relaxed, in fact so much so that I completely lost track of the time. And thank you for recommending Amanda. You were right, she is brilliant, and what a lovely girl. I will make sure to recommend you and Amanda to every bride that I meet from now on.
I wish you all the best with your wedding plans. Im sure your wedding will be absolutely beautiful and you will make a stunning bride. And I wish you all the success with your career. There is no doubt that you will be one of the top makeup artists in Ireland soon!
Thank you once again Dawn. You're brilliant!!!!!!!
Take care


Dawn is such a gifted make-up artist. She did an amazing job for my wedding and I was absolutely thrilled with the results! On top of all this, she was a pleasure to have around on the wedding day itself and such an easy-going person with great funny stories!
I would have no problem recommending Dawn to any future brides for great make-up and for the added bonus of a good giggle too!