The Flower Den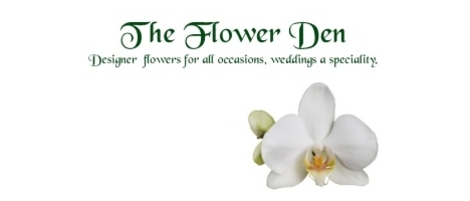 Supplier Details
Flowers of distinction
We specialise in weddings and our aim is to make your wedding flowers truly unforgettable, working at all times to the highest standard with the best quality flowers.
Flowers are one of the most important elements of your wedding day captured by both photographer and videographer, and will be remembered long after the blooms have faded.
We cannot stress enough how important it is to have a professional florist on board for your wedding day, taking the stress and pressure away from you at this very important time. As always our brides and bridegrooms want quality flowers and displays, we ensure this by delivering and setting up the relevant arrangements direct to the church and wedding venue.
For the budget conscious quality designs and quality flowers rule over low grade flowers organised by the well intentioned.
We have invested in a large volume of trees, glassware, candle abras, hurricane stands for pew ends and classic cream lanterns for you to hire. We also cater for room dιcor supplying you with superior quality chair covers and sashs, fairylight backdrops, mood lighting, table center pieces
A huge selection of candle abras and red carpet. Find examples on Facebook and www.theflowerden.com
Our services
1 .Providing flowers of the highest standard.
2 .Personalising floral desings to your desire.
3. Setting up your church and venue with flair.
4. Delivery of your bridal bouquets, buttonholes and corsages
5. All services carried out with a smile.
1 parklands, Ballyallia, Ennis, Co. Clare
Tel. 065 6842342
Mobile 087 2935763
Find us on Facebook

Prop: Anne Mahon "I have over 20 years experience in the business and started up The Flower Den in 1998 it has grown from strength to strength and I attribute this to the time that goes into my consultations equally as much as my work. I take great pride in the personal service we offer and believe in high quality and standards and this is proven by the many comments and thank you cards from our clients."
ANNE MAHON