A Beautiful Ceremony Ltd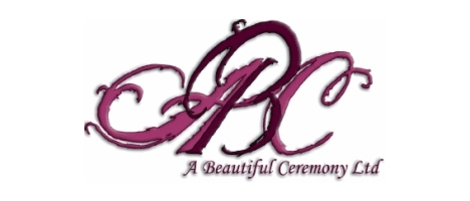 Supplier Details
Every great relationship needs to start somewhere.
We at A Beautiful Ceremony would like to officiate your Wedding Ceremony, Commitment Ceremony, Re-Affirmation or Naming Ceremony.
As your ceremony officiant, our hope is to meet your wishes by creating a ceremony which will not only be meaningful to you, but also to all those who attend your very special day.
From a small intimate occasion, to a large memorable celebration; we work with you to write a ceremony which will echo your love, commitment and feelings towards each other. Escorting you to create a ceremony which you, your family and friends will remember forever.

If you would like a ceremony which is more personal and unique - this exceptional day can be yours: your style, personalities and theme from start to finish. Bringing together your ideas, beliefs and way of life to make this event one of a kind.

Our ceremonies are reflections of what we believe loving people aspire to share with their family and friends. To show and reveal their love with each other and those who mean so much to them.
A Beautiful Ceremony Ltd - Creating a Unique, Meaningful and Unforgettable ceremony.
We offer a non-denominational, non-legal ceremony, please contact us for more information.
Testimonials
A Beautiful Cermony " Romy " made our day so very special. From our first meeting we knew we had made the right choice to have Romy as our wedding officiant. The sky was the limit regarding our options and this was so fantastic.
No matter how often I mailed Romy, she always replied with positive feedback, new ideas and suggestions.
Most of all was her calmness and direction on our big day. We didn't have to worry about a thing because she had everything organised and under control, even the readings with the BIG print:-)
Every part of the cermony was us and thats what we loved.
Romy is extremely professional and will make your cermony unforgettable.
Thank You Romy

I cant thank Romy enough for all that she helped us with in the weeks and days coming up to our wedding, she was fantastic. On the day itself, she was so incredibly positive, supportive and calm. When we first decided to have a non-denominational wedding, we were totally at sea and quite anxious about how it would all work - we were in safe hands, the ceremony was wonderful. Thanks Romy, you were instrumental in making our day so special