Craddóg Irish Music Events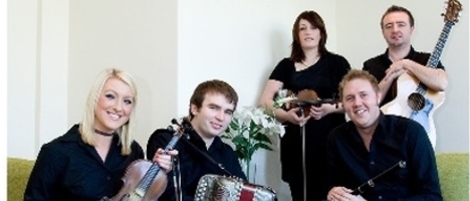 Supplier Details
Craddóg Irish Music Events will make that special day last the rest of your life! Craddóg is available throughout the whole experience - from morning until evening, providing music for your ceremony, reception and evening band should you so wish. Craddóg will entertain guests of all ages with an interactive ceili dance coordinated by experienced dancers or a riverdance style show. You can join in the Irish ballads or sit back and enjoy some of Irelands leading musicians entertain with their contemporary traditional tunes and song. you will certainly not be dissappointed!! Craddog can provide some or all of the days entertainment.
Craddóg will set the atmosphere for each guests arriving, with the haunting sound of a slow air on the uileann pipes. Guests, once seated will be entertained until the bride arrives by a range of pieces by composers such as Turlough O'Carolan and Séan O'Riada. Craddóg can provide music for the full ceremony or as part of the ceremony at your request. The bride and groom will be sent on ther way to the sound of an upbeat jig
Drinks reception usually consists of backround music while your guests relax and unwind to a nice glass of champagne. This can consist of traditional music or ballad singers, per your request.
Craddóg will provide the bride and groom with music for that very special dance. This can be played by the band or from a recording. Our most popular requests to date for this part of the evening is an Irish Ceilí dance. This is interactive and can be enjoyed by all ages. Our caller will give you a helping hand and ensure that enjoyment is had by all.Dancing will be accompanied by a mixture of Live traditiona music, Ballads and even an old time waltz.
Craddóg has access to a wide list of DJs and can organise this as part of the package to ease the stress of your day. The DJ will be set up and ready to play at the end of the ceili. This provides for a seamless nights entertainment.
Testimonials
We just had our civil partnership event at Fallon and Byrne and Craddog arranged the entertainment. They were fantastic to work with. They replied to every query promptly. They set up early so everything was ready to go when we got to the venue. And the whole room hopped from start to finish. We even had a train of people linked around the room at one point. They provided background music when needed, and got the dance floor full. Everyone remarked on how good they were. They also organized an excellent DJ to finish the night who worked with me on a setlist. Best I can say is that I would hire them again. And they may be finding a new market in same sex civil partnerships.
Thanks guys...

On paper Craddog were exactly what we were looking for, without seeing them perform or knowing anything about them apart from what I read on their website I took a gamble and booked them, as the day got closer I was getting nervous over my booking and decided to meet the band a couple of weeks before the wedding, the guys were very reassuring and asked us exactly what we wanted and promised to deliver on the day, the day arrived and so did Craddog, from start to finish Craddog were with us all the way and pulled off a first class performance, I cant fault anything, 2 things that really stood out which were 2 things that I was most nervous off were the church music and the crowd interaction, both of which were talked about for days afterwards by our guests as being something they had never seen before and were the best they had seen at any wedding, the guys also played at our drinks reception which also wowed the crowd as did their DJ who played when the band finished, our big day was a huge success and part of this was down to Craddog, I highly recommend them, they may come across as a traditional Irish group only but the guys play a bit of everything to cater for everyone, from Irish, pop and rock, there crowd interaction was brilliant, they had everyone on the dance floor taking part in all sorts from games to a ceili, I had a fussy Bride with high standards to impress on the day and Craddog saved my life, thanks guys.

We booked Craddog for our wedding on 19th August. They kept the guests well entertained during the arrival drinks reception and for the evening entertainment, the dance floor was full all night, which is always the sign of a good wedding band! They had all of the guests up trying out their Irish dancing skills, which is quite an achievement when you consider that we had guests from Japan, Spain and America, as well as Ireland! And as a special treat, the bride got to perform on the bodhran, which came as a big surprise to everyone, especially the groom! Craddog were also able to learn off a Japanese tune, which they performed very well at the end of the night. An excellent performance from an excellent band!

I had always wanted a ceili band at my wedding reception so I emailed any that I could find online. Ciaran replied me to me quickly and in every email he was very professional. I wanted a mixture of waltzes and ceili dances and he was more than happy to accommodate my requests. They were absolutely FANTASTIC on the night and I was never off the dance floor. They knew how to get the crowd going and taught the dances really well - everyone was talking about them the next day and saying how great the band were and how much fun the ceili was. They even got me on the stage playing the bodhran which was great fun!! I would highly recommend them as evening entertainment at a wedding. :) Thanks again! :)

A big thank you to Ciaran and the guys for playing at our civil partnership on july 23rd.Booked Craddog when i spotted them on the net and hearing a few samples on youtube all our guests loved them at the ceremoney and then after outside the hotel in the beer garden on a summers day kept all the guests entertained before the dinner.Thanks again guys

We cannot recommend Craddog Irish Music Events highly enough to add that special atmosphere to your wedding day...We held our wedding in Finnstown Country House Hotel in June. As we were having a civil ceremony on site at the hotel, we wanted to put a real effort into choosing our ceremony music to "warm it up" as sometimes civil ceremonies can be quite quick and it's nice to personalize them. As we wanted to have traditional music, I found Craddog on this website and got in touch with Ciaran who invited us along to see them in action in O' Neills on Suffolk Street. Craddog are absolutely brilliant musicians and singers and have an amazing range of music from traditional Irish to modern. They were complete professionals to deal with and we had no doubt that we were in great hands. We chose our specific songs for the ceremony itself and to be honest for the drinks reception we just asked them to play what they thought would work, which saved us a lot of hassle in preparation -they told us they always adapt their set to suit the crowd and they did an amazing job. One of my best memories of the day was waiting on the red carpet to go up the aisle and taking in the warm, special atmosphere from the crowd and the music. While we were having our photos taken after the ceremony, our friends and family thoroughly enjoyed Craddog's performance and so many people asked us where we found such a brilliant band. If you're thinking of trad music for your wedding ceremony, drinks reception or full evening reception, make sure you get in touch with Craddog to see where they might be playing so you can go along to see them for yourself!

A massive thanks for playing at our wedding reception in Adare Manor on 5th Feb 2011. Craddog were all that we expected and much more. An extremely lively and versatile band, who catered to the many requests from guests with a good mix of traditional and contemporary music. A fantastic band to get the party started. They were very professional and friendly to deal with, and we would not hesitate in recommending them to others.

I booked Craddog over the internet, taking a chance after only just reading through their website. I had no personal references to go on. I have to say that they lived up to the hopes and expectations I had going into my 40th birthday party. They were absolutely brilliant and when I received comments on how good the band were, I knew I made the right choice. Afterall, if your guests are not happy with the music, then something has gone wrong. Some guests even asked if there were CD's available. Once the CD comes out in a couple of months, there will be some willing purchasers.
I can not fault Craddog in anyway. Not only are they very musically talented, but the manner in which they go about their business is top notch. A very professional outfit and they made the organisation of the entertainment for my birthday so much easier and enjoyable. Even their DJ who played out the night after the band got the mood of the evening very quickly.
And if you think they are a good traditional ceili band, think again. The contemporary set they played, ion addition to the traditional, was fantastic.
I couldn't recommend these guys more. They are brilliant.
Thanks again.

We would recommend this band. They were very professional - easy to deal with and they went out of their way to facilitate us. Great, lively musicians and the caller was excellent, she was fantastic with the children. Our guests loved them and we are really glad we chose them for our wedding as they really added to the occasion.

Having contacted the band back in May to book for my sisters hen in our home, I was greeted by Ciaran who was pleasant, helpful and witty. Unfortunately at the very last minute I had to cancel due to unforeseen circumstances and regretfully I had to contact Ciaran who came back promptly and positively, acknowledging these things happen. Having not even heard their music live or meeting any of the band face to face, I would based on first impressions recommend them on their ability to interact and understand their audience. I hope I will get the opportunity in not so distant future to hear them.


A massive thank you for doing such a great job at our wedding in July. The music was fantastic, there was a great mix between freestyle and interactive dancing. We had an international wedding and all our guests commented on how much they loved the music and dancing, the whole evening was really excellent. Thanks for making sure that I won against my husband in the singing competition! Just to echo other comments, everyone in the band where so pleasant to deal with from the run up on the our wedding and on the evening itself. I would not hesitate to recommend Craddog, and even the hotel manager asked us who they band where the following day and said he thought they were really great!


Cannot speak too highly of Craddog. The guys were so helpful prior to the big day and arranged everything we needed for the church music and drinks reception.
The music in the church was absolutely fantastic with so many people commenting on it afterwards. The music in the venue was brilliant too and really put everyone in a great mood.Book these guys, you won't disappointed.


There is not enough space on this site to say enough wonderful things about Craddog! We planned a wedding in Dublin long distance, from Canada, so until the big night we had only had contact with Ciaran through email. He went above and beyond to answer all our questions, send us sample tracks, work on a play list with us, and arrange setup for the big night.
When the day finally came, we were amazed at how professional the band was and how amazing their sound was. The equipment was top quality and we had compliments from everyone on their amazing sound! All the band members did a wonderful job of involving the crowd at all ages, teaching us dance steps, and even having a sing off between the bride and groom. As the bride I even got a chance to play the bodhran with them!
We cannot recommend Craddog highly enough and hope to have the chance to catch one of their gigs when we return to Ireland again.
Thank you a million times over for a wonderful evening!


Planning your wedding comes with a bit of pressure as many of us know and it can be difficult to find someone in among all the advertising and 'business' who fits your idea for your day. I contacted Ciaran from Craddog as I had really been through the mill trying to find a really good band. I have been in touch with many people and seen many bands during planning and I can safely say, without any hesitation, that Ciaran from Craddog was easily the most pleasant, helpful, down to earth, friendliest person I came across. He couldn't do enough to help me and for that I am very grateful. He's also the only person I felt like I could really trust to make sure everything would go brilliantly. A bonus- fantastic musicians and great correspondence - Highly recommended (and that's from a very tough and fussy bride to be!!)


I want to thank you for an excellent start to our wedding reception. All of our guests thoroughly enjoyed your music. You were very professional to deal with and i will definetly be recommending you.


I just wanted to thank you for a great night and great music. The group was great and kept all the troops highly entertained with many commenting how much they enjoyed the music - with many dancing along to show their appreciation. You were highly professional and easy to deal with all along the way and I wouldn't hesitate in recommending you to others.I wish you all the best for the future and every success.


Craddog were great. Set up early, good crowd interaction, fantastic musicians altogether. To be recommended.