Kinnitty Castle Hotel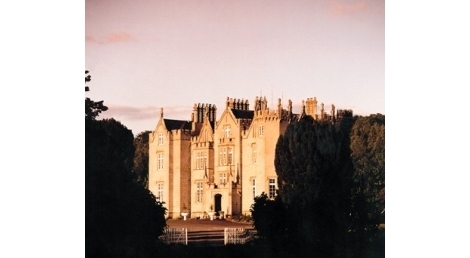 Supplier Details
This Gothic revival castle which dates back to the 13th Century, is situated close to the picture perfect village of Kinnitty, Co Offaly.
There are 37 distinctively styled bedrooms within the castle, each retaining an original & cultivated decor in keeping with the period of the property.
Feel like you have stepped back in time as you celebrate your wedding in our medieval styled banquet suite, the "Great Hall of the O'Carroll's".
Let our chefs prepare a tailor made menu for you and your guests, each designed with you in mind.
Our experienced wedding Co-Ordinator, Cavan Dunne will be on hand to guide you through every step of your wedding preparation, to make sure your day runs seamlessly and that no stone is left unturned, giving you the fairytale wedding of your dreams.
We are also an approved venue for civil ceremonies & civil partnerships, allowing you to plan your entire wedding at Kinnitty Castle Hotel.
Kinnitty Castle Hotel offers not only the most Special Castle in Ireland for you to celebrate your occasion but also provides all appropriate amenities to make your Wedding truly a "Dream Come True".
All inclusive packages start from €65 per person at weekends and €57.70 mid week packages available - selected dates still available for 2013 and special discounts available to dates chosen in 2012
Click here to view our wedding packages
Testimonials
I can't believe it's already a month since our wedding day! I just wanted to send a little note of thanks for all you did to make it the most memorable, beautiful and the happiest day of our lives. Immediately after, and ever since, our big day, we have received numerous compliments on our choice of venue. Our guests were so impressed with the beauty of the venue, the excellent quality of the food and the friendliness and accomodating nature of all staff. I sincerely hope you pass on our thanks and compliments to Anthony for the meal (it was divine!) and all staff in the castle for their efficiency and, particularly, for being so good with the children that we had present on the day (their parents were extremely impressed and grateful).

On a personal note to Cavan and Andrew, we simply couldn't have had such a fantastic day without you. From the first day we met, you both made organising our wedding day not only easy, but thoroughly enjoyable. Despite the fact that you do this sort of thing a number of times a week, we never once felt as if we were just another day's work for you. We genuinely felt like we were dealing with friends, and that is a testament to how good you are at what you do. It was an absolute pleasure to deal with you both and, although it doesn't seem nearly enough, Anthony and I thank you from the bottom of our hearts for everything.

If ever needed, we would be glad to provide references or testimonies for websites, magazines, anything at all! We wish you and all the staff of Kinnitty the very best for the future, knowing you will continue to do a marvelous job there. We look forward to visiting you all again and for every anniversary with which we are blessed.

With fond regards,

Hi Cavan, Andrew and all the Kinnitty Castle Staff, I just wanted to touch base with you guys now that we are back to reality and all the wedding hype is well and truly over. Myself and Seán would just like to express our gratitude for all the effort that was put into making our wedding day so special. We really had the most perfect day from start to finish and the majority of that was down to you guys, several people said that it was the best wedding they had ever attended!
From the moment we saw Kinnitty Castle, we knew that it was the only place we wanted to get married and we could not have been happier with the level of service we received from every member of staff.
We got so many compliments from our guests on the food in particular, (The fish and chips in particular were a big hit!) but also the atmosphere, the rooms and the service from the staff.
We wanted to say a particular thank you Andrew and Cavan, who were amazing in the run up to the day, going over every little detail, but also to Una and Simon, who looked after us so well on the top table and even brought Seán out a fresh dinner after his went cold when he was speaking to some of the guests! We would not hesitate to recommend Kinnitty for any event, and we will definitely be making many a return visit. Thank you so much and we hope to be in touch again soon

To all the team at Kinnitty Castle, We would like to say a huge thank you for everything that was done on the 26th May 2012 for our wedding. We had an amazing day made all the better by having it in Kinnitty Castle. The whole team; Cavan, Andrew and all the staff really made it a memorable day and everything went like clockwork. All of our guests were extremely impressed by the food, beautiful grounds and service. Having an unusually hot summer's day for Ireland (26°) meant that we could have our prosecco reception outside and Cavan coordinated everything perfectly. We could not recommend Kinnitty Castle highly enough and are delighted that we spent the most important day of our lives with our friends and family around us at Kinnitty Castle. Thanks again,

Dear Andrew, Amazing, astounding, awe-inspiring, breath-taking, extraordinary, hair-raising, heart-stirring, magnificent, marvellous, and miraculous, moving, overwhelming spectacular, spine-tingling, and striking, stunning, stupefying, stupendous, wonderful..............This is but a few words to describe how incredible you made our wedding!! We can never thank you enough. From the day we arrived to the moment we left you and all your wonderful staff made us feel at home!! Kinnitty Castle will always hold a special place in my heart and I can't wait to return!! Warmest Thanks