Clonabreany House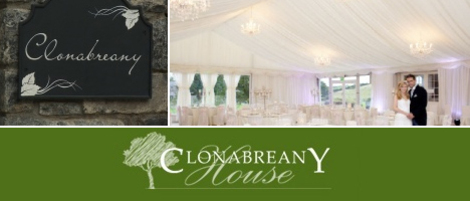 Supplier Details
Clonabreany House and Courtyard lie at the gateway to the Boyne Valley in Clonabreany near Crossakiel Co. Meath. The area has a rich cultural and political heritage from mesolithic times through to the present day. It has been the seat successively of the O'Reilly clan, the Anglo Norman Plunketts of St. Oliver Plunkett fame and the Wade family in the wake of the Cromwellian Settlement.
Clonabreany House and Courtyard is a magnificent new wedding destination located in the heart of County Meath just 10 minutes from Kells. The historic property is surrounded by breathtaking countryside and consists of a beautifully restored courtyard containing 10 self contained houses which can sleep over 90 people, a cosy sibín bar, two magnificently restored georgian houses, a luxurious private honeymoon suite and a grand marquee with bar, dancing and dining facilities catering for up to 220 guests.
The Clonabreany Wedding Package
Beautiful reception rooms and bridal suite in authentic Georgian lodge, including grand en-suite bedroom with view looking towards Loughcrew hills and surroundings
Ten individually styled and substantial four-star Georgian houses in a beautiful courtyard setting. The houses are fully furnished with fitted kitchens, bathrooms and an eclectic mixture of period and modern furnishings
The Clonabreany Marquee adjoining the Reception Area accommodates approximately one hundred and sixty people with a full dance floor and staging area
The Butler Síbín Bar is a cosy yet spacious bar with an old-time country feel
Landscaped grounds provide picture perfect wedding photographs
Beautiful Country Churches available locally by arrangement
On-site events co-ordinator

Warm, attentive, relaxed service by professional staff
The house and courtyard were reputedly designed by the celebrated architect Charles Robert Cockerell RA PRIBA (1788-1863), though no conclusive evidence of this can be found. The house and courtyard buildings were commissioned and constructed in the late 1700's and early 1800's by the Wade family. The Wade family were heavily involved in the politics of Meath for nearly three centuries.
Clonabreany House and Courtyard exude character and romance and have been lovingly restored and decorated to the very highest standard. The property is unique and must be visited to be appreciated. The venue offers the bride and groom complete exclusivity and privacy for their special day.
Clonabreany is located less than 2km from Crossakiel and less than 6 km from Oldcastle. Oldcastle is located off the N3, 90 minutes drive north west of Dublin airport and ferry ports and is 2 hours drive from Belfast.
Cottages at Clonabreany
Residents Lounge