White Orchid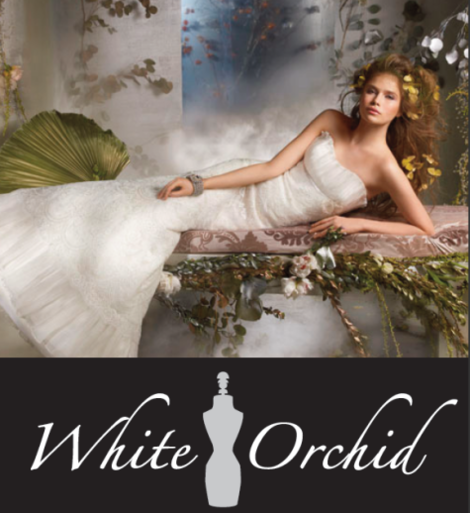 Supplier Details
White Orchid ~ Award Winning Bridal Boutique

Proud winner of the Best Bridal Boutique 2011,  Best Bridal Boutique  and Best Overall Bridal Supplier in the WeddingOnline.ie Awards 2010.

White Orchid's ethos is to provide stunning,fashion forward bridal and bridesmaid's gowns that suit every bride's personal style, ceremony and bridal budget. While always offering our brides the utmost in customer care, from your very first visit to your final fit.

Our love of bridal fashion has driven us to collect exquisite designer labels that epitomise beauty, sophistication and innovation. Whether you are having a 'wonderful white wedding' or an intimate 'affair to remember' we believe that White Orchid has a wedding gown that will suit your individual taste and style.

Our designer bridal labels include Mikaella, Tara Keely, Blush , Linea Raffaelli, WODA by Jesus Peiro, Ugo Zaldi, Art Couture, and Bellice.
We haven't forgotten your faithful bridesmaids and flowergirls, who will look fabulous in a gown from Alvina Valenta, and Forever Yours.
To finish your bridal look to perfection, we have gathered an inspiring collection of bridal veils, fascinators and accessories, ensuring that you will not only look, but feel breathtaking your very special wedding day.

To create a wonderful memory and to book an appointment, contact us today.

White Orchid works on an appointment basis opening hours are Monday to Saturday 9.00am to 6.00pm, Thursday 9.00am to 9.00pm. During the months of October - April White Orchid Bridal is open on Sundays from 11.00am to 4.00pm
Address: White Orchid, 75 North Street, 2nd Floor, Swords, Co. Dublin.
Phone: 01 8971494
Email: [email protected]
Website: www.whiteorchid.ie
Join Us On FACEBOOK
We-Do Promotion: 10% Discount on all accessories. 10% off your bridesmaids gowns when you purchase your bridal gown with us.
Testimonials
My first visit to White Orchid was on a recommendation from a friend. I was in search of a simple, elegant but yet glamorous dress (I wasn't asking for much!) and I wasn't disappointed. Their shop is every brides dream, full with gorgeous gowns and accessories at reasonable prices. Although I was self-conscious at first and slightly reluctant to try on dresses, I ended up probably trying on at least a dozen! I chose my dress on the first visit, a gorgeous Tara Keely gown; I now couldn't imagine getting married in anything else.
Besides their beautiful collections, it was the excellent service that won me over. The girls in the shop were amazing; they instantly knew what I was looking for but also suggested some other styles that would suit my shape. They went out of their way to make me feel completely at ease, a hard task when you are being measured and pinned! Their seamstress was superb and they were extremely accommodating when arranging appointments around my hectic work schedule.
As the big day approached it was finally time to pick up my gown. I was so sad to no longer have an excuse to go back to White Orchid. It was such a lovely experience, not only for me, but also for my Mum and my sister. I would highly recommend White Orchid if you are looking for that perfect dress but also a little something extra special! I can't thank the girls enough and wish them every success for the future, they undoubtedly deserve it.

I found the service at White Orchid to be very customer focused, they seemed to have a genuine interest in my needs and I never felt rushed. The girls offer a level of customer service that is rarely experienced these days. Added to this their selection of dresses and accessories is excellent. I hope that they continue to go from strength to strength.

I just wanted to tell you about the beautiful dresses and excellent service I received from White Orchid. I found my dress on my first visit, where I was encouraged to try on as many dresses as I liked. I narrowed it down to 2 dresses very quickly and with the expert advice of the girls I decided on a dress that was so me. The selection of dresses is amazing and the styles are so different to what I had seen in other shops. I chose a beautiful Linea Raffaelli dress which was topped off with Linea accessories. On the wedding day the only thing that was commented upon as much as my dress were my bridesmaids dresses. I chose the one shouldered Alvina Valenta dresses. Again the White Orchid girls were so helpful with my bridesmaids as they were from 3 different countries and helped me massively with very accomodating appointments, helping with meauring and alterations.
I would recommend White Orchid to all my friends and only hope that an occasion will come up when I can wear my stunning wedding dress again. Thank you all so much.

To all the girlies at White Orchid,
Its Gemma here I bought my dream dress at the weekend. I just wanted to come on and tell you how happy I am with my dress - it really is the one! You had so mnay lovely dresses it was nearly hard to choose! But I knew by the gangs reaction on Saturday that I had gone for the best dress!!!
I also just wanted to say that on both times that I was in the shop the service was so excellent. You are all really lovely and made me and my gang feel really special.
I am gonna tell everyone about ya -
can't wait to come in and try on my dress again.
thanks so much
Contact Details
75 North Street, 2nd Floor,
Side Entrance, Swords,
Dublin
Contact name: Alex Reilly & Anne Kinsella
Phone: 01 8971494
[email protected]
www.whiteorchid.ie

Interact