Roly Smyth - Piano and Singer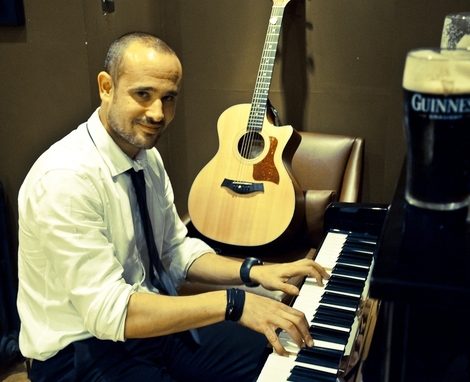 Supplier Details
Supplier Details
In perfect harmony with your Wedding day...
Roly Smyth is an experienced Wedding pianist, providing a subtle ambiance for pre-reception and dining in addition to Church and Civil Ceremonies.

Roly is a talented pianist, vocalist and resident musician for many well known Dublin bars & hotels. He is just as happy performing classic songs in an upbeat setting as providing background music over dinner. An accomplished guitarist also, which he uses when an energetic set is required. Plays with popular acoustic guitar duo Roly & Roman.

"Roly takes unforgettable songs from the past and present, arranges them for piano, and performs them with passion." Please see testimonials below
For wedding ceremonies, both church and civil, he has the fantastic vocals of singer Lynn Hilary to enhance the music and make each song special. He enjoys tailoring the set to suit each individual wedding.

Roly also has Ireland's only boutique 3 piece acoustic Wedding band perfect for upbeat receptions and also dinner music with piano and classical guitar options!
Please see : www.thehitmentrio.com

About Lynn Hilary...
Lynn has been singing at weddings for many years, but for the last 6 has been touring the world extensively as a soloist with the shows Riverdance and Celtic Woman and despite her young years, has performed Worldwide, even for President Obama! A long time member of Anuna she also features as a soloist on many of their CDs. She studied in the Conservatory of Music in Dublin and holds a Bachelor of Music Degree. Although a classically trained soprano, she now prefers the less "operatic" vocal techniques and likes to encompass a variety of different styles. Lynn and Roly team up to provide a professional service, a great unique sound to make your wedding music special.
About Laura- Marie Spillane..
Laura is a Cork native, a talented and versatile singer and has a beautiful tone, please check her page on Weddings Online for more details.
Taking bookings now for 2011 and 2012. To make an enquiry, please contact Roly at 0868058777 or [email protected]
Fridays and Saturdays- Shelbourne Hotel, St Stephens Green, D2 & Buck Whaleys, Leeson St, D2.
Testimonials
Thanks so much for all the work you put into the wedding Roly, it was genuinely fantastic, loved November Rain walking up and aisle and You'll never walk alone was the highlight of the day I think... So many people commented on how much they loved the music at the church and thought the piano during the meal was lovely and not forgetting the band after the meal, our DJ commented that it was the best band he has heard at any wedding he has played at and I would have to agree.. We had an amazing day and a lot of that is down to you.
Wishing you all the very best of luck both with your wedding and work wise.. Mick see you again in Bucks some night !! Massive thanks again

Hi Ladies,Roly did the music for our wedding recently and we were delighted. All of the guests commented that he really set the tone for the day. His music is cool, jazzy and contemporary. We even asked him to continue throughout the meal! All the girls agreed he's rather easy on the eye! An absolute pleasure to deal with so don't hesitate.

Hi Roly,
We cant thank you and Lynn enough for your beautiful music on the day of our wedding, it was commented on by many of our guests. You made it extra special and i will always remember hearing 'river flows in you' as i stumbled up the aisle! For the many phone calls and emails, thank you for your patience. We didnt had to worry about the music or timing on the day, you were just there when you were needed and so professional. We cannot recommend you enough or sing your praises!
Hopefully we will get to work with you again some day soon!

Hi Roly and Laura
I just wanted to say a massive thank you for your marvelous performances during both our wedding ceremony and the drinks reception that followed. From the outset, you were both a pleasure to deal with and were instrumental in helping me choose the perfect music for the day.
Everyone has been raving about the amazing sound you produced on the day. You are both truly talented. Your rendition of Etta James' "At Last" was my personal favourite. I know I wasn't the only one in the hall who had goosebumps when you performed– you could have heard a pin drop the atmosphere was so charged.
I would recommend you without hesitation. Best of luck in the future. I have no doubt that you will be kept very busy.
Kind Regards

Roly was great. he had no problem with the wide range and style of songs we wanted to hear at our wedding. in fact he even sent us a demo of one we hadn't heard him play before but had practiced especially for our event. He was fully contactable in advance of the big day and arrived, set up and got on with things without any fuss. between the ceremony and reception he kept the guests entertained with a repetoire partly based on our play list and partly based on his excellent judgement of the mood of the crowd. whether it's piano or guitar, past or present, upbeat or laid back Roly won't disappoint.

We wanted live music during dinner as we felt that piped music wouldn't have the WOW factor that we wanted. We are totally delighted with our choice in Roly, he definately has the WOW factor - now a month after the wedding everyone is still asking about him!
He started with a nice relaxing set working up to the party atmosphere that we wanted as dessert was being enjoyed by our guests.
He took requests much to our guests delight and learned a speacial song that delighted 5 country girls.
Not alone is he an accompilished piano player he is also a fantastic guitarist and singer and a really friendly person -definately someone you would want around you on your special day.
I would recommend him 100% ten times over!

We got married on 2nd Sept 2010 and we wanted something a little different as the stereotypical band has been done so many times - Roly was our choice of entertainment and the best choice ever!!! He was a pleasure to deal with in the run up to the day and is both highly reliable and punctual. On the night he played a fab mix of music and blew everyone away, all our guests were up dancing and he created such a cool atmosphere. He brought a guitar for our first dance which added another unique element. I highly recommend Roly for all types of events and in particular weddings as he made our night exceptional!! Thanks a mil Roly :0)

It was an absolute pleasure booking Roly to perform at our humanist wedding ceremony and drinks reception. We wanted music that reflected our more Indie taste and he was so thoughtful in helping us make our selection and happily accommodated adding new songs to his repertoire. We were delighted to have music we liked played and sung so beautifully and we received many compliments from our guests. I would not hesitate to recommend Roly.

Thanks Roly and Gillian. Gillian was a beautiful singer and Roly played the piano and guitar for us and did all the songs we wanted really well. Really enjoyed our day and you helped make it. Would gladly recommend you to anyone. Thanks again and Good Luck