THE SEW ZONE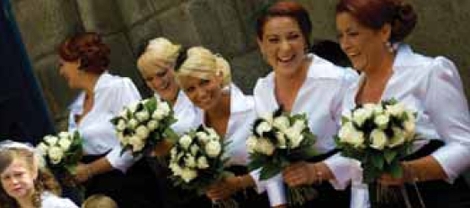 Supplier Details
THE SEW ZONE
26 Annamoe Terrace, Cabra
T: 087 954 2697 E: [email protected]

Susan specialises in altering Bridalwear. Whether you just need to
have some slight adjustments to your dress or have it totally modified.
She also offers a full dressmaking service, working with the bride to
create her dream Wedding dress and bridesmaids/flowergirls dress-
es. Mother of the Bride/Groom also catered for. For appointment
contact Susan.
ONCE WORN WEDDING GOWNS

Due to increasing demand, The Sew Zone now stocks a range of once worn Wedding Gowns.The Bride can select her Dream Gown in the comfort of our spacious showroom, and any alterations or modifications are completed by Susan herself, so you can be confident that the finished gown will be absolutely perfect. Whether you are buying or selling a once worn Wedding Gown, please contact Susan at The Sew Zone for appointment.

Testimonials
I can't say enough about the good job Susan did on my wedding dress. I bought a sample dress. Susan did a brilliant job with the alterations, and made a beautiful silk bolero to match the dress.
Very reasonable, very efficient, and I would recommend very highly.

Dear All,
I tried on so many dresses and although there were loads of lovely ones I never found one to justify the cost. So I took a chance and went online... Susan did a wonderful job on making my dress look and feel like it was made for me. I was really happy with the result and throughout the process it was evident that she had a great eye for detail and offered helpful suggestions. She made a beautiful veil for me also. I would recommend her to anyone as she is extremely talented friendly, a pleasure to work with and a good laugh too!! Thanks Susan.. Best of luck. Mary

Hi Susan,

Thanks a million for selling my wedding dress. I'm delighted someone else is getting use from it. I'll definately be recommending you!

Hi Susan,
Just wanted to say a huge thank you for selling my wedding dress. To have it in your shop for only a week and sell it is great work!! I have recommended you to all my friends so hopefully you will be getting more business coming your way. Thanks again.

Hi Susan, Just want to thank you for the amazing job you did with my bridesmaid dresses ,mini bridesmaid dress and my jacket for my wedding everything was what I wanted and more . Can t thank you enough as you know planning a wedding can be so stressful and you helped a lot and made it so much easier as the dresses are so important and you did everything I wanted and more .....thanks a million would 110% recommend you.Best wishes

hi susan,
I just wanted to say a big thank you for transforming my dress for me in the little time you were given.Nothing was a problem to you and the finished product was perfect exactly what I wanted. I couldn't recommend Susan enough and she was a pleasure to deal with.
Best wishes

I'd recommend Susan 100% too. She is brilliant - she listens and finds out exactly what you want, makes great suggestions, her ideas and attention to detail are terrific and the final outfit is always so beautifully made and finished. She's made formal wear for me as well as more casual skirts and dresses and they have all been just great, even better than I imagined. She's so lovely and warm to deal with too. I wouldn't hesitate to recommend her.

Recently a bridesmaid. This lady was fabulous. Really made us feel special, knew exactly what she was about, filled us with confidence. The dresses were made from scratch and she advised us every step of the way. The bride was absolutely blown away when she saw the finished outfits. Even better than she imagined. Shes highly recommended. Thanks again Susan.