Carl Pocus Wedding Magician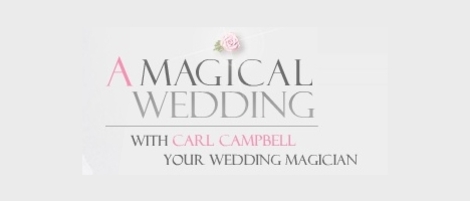 Supplier Details
Testimonials
Carl, How can we describe what you gave our guests... It was a truly special show that you performed and everyone enjoyed itthoroughly, even our parents! We would recommend you to anyone. Dan & Claire. Galway.

Carl, Thanks a million for helping making our Wedding day something to remember. You had all of our guests joining in on the fun andtruly made everyone's day ssomething special. Thank You! Tom and Sarah. Dublin
Why should you book a wedding magician? Make your spectacular wedding day memorable, successful and the ultimate envy of all your friends and family. Your wedding day is one of the most important moments in your life.
Planning the wedding entertainment for your wedding can be an immense task,but help is at hand. Carl Campbell your wedding magician can help make your wedding day fun,memorable and magicial. Everyone seems to want something different for their wedding these days and why not. Its your special day after all.
Giving the gift of magical entertainment to your guests,will give them a wonderful and unforgetable memory of your wedding day.Wedding magician Carl Campbell has performed at hundreds of weddings around Ireland.
He has performed on tv and on the corporate sector for companies`such as Google, Microsoft and Bank Of Ireland. Now he brings his magical talents to your wedding day. Your guests will gasp and laugh in amazement at the unbelievable magic that they witness. Your day will be pure magic and thats the best trick of all.
Keywords: Carl Pocus Wedding Magician, Wedding Magician Dublin
Testimonials
Carl, Thanks so much for helping to make our big day so memorable, you did a great job both entertaining and amazing our guests, there were quite a few jaws dropping, how do you do it??? You really were "MAGIC", All the best in the future,

Just wanted to say a big thank you for such a fantastic afternoon of magic at our wedding. Some of your magic was captured on our wedding dvd so its great to look back on & to see the surprised faces on our guests as you carried out your magic. We are delighted that we had you at our wedding & would highly recommend any couple thinking of a magician at their wedding to book with you. It was great that you also came to our house pre our booking with you to demonstrate your magic. Best of luck & thanks.

We had Carl perform at our wedding on " New Years Eve" and he was fantastic. He entertained our guests in the hotel while we were having our photographs taken.Everyone loved him, i would highly recommend Carl and you will not be disappointed. He is " Pure Magic" .Thanks a million Carl for giing us such happy memories of our special day. kind regards


Hi,
I want to thank you for performing at our wedding in the waterside on the 4th of July.The guests were amazed by your magic.All we could hear while we were getting our photographs taken was laughter from our guests,as you went around the tables and I was delighted we got to see a few tricks too.Everyone was very impressed.thank you for helping to make our day special,


hi carl,

lisa and eddie blanc here.

just wanted to say thanks for entertaining us and all our guests at our wedding aug 09.

you were a big hit with everyone and would highly recommend you to anyone and have done to

2 future weddings we will be attending.5 and a half months after our big day and your still talked about!!

thanks for making our special day that bit more special...

Hi Carl.

Myself and Veronica would like to thank you for entertaining everyone at our wedding at the silversprings Hotel in Cork, July 12th.

Everyone, even 2 months later still goes on about some of the tricks you did and they will probably always go on about it, it was amazing entertainment and we are so glad we booked you and we also thankyou for making the effort and coming all the ways to Cork to perform at our wedding..

It was extremely impressive and your presence certainly helped to make our wedding look the part, which we are gratefull for and will never forget.

A thankyou card is in the post to you also, and good luck to you in the future.

Take care & Regards

Daniel.

p.s…..i can keep a secret…how did you do the kiwi trick ???? (joking)

We booked carl for our wedding in sep 2009, initially we were hasty about booking as we thought it may be an unnecessary cost, how wrong we were! carl entertained our guests superbly from the time they arrived at the hotel until the start of our meal, all our guests commented on how it was a great idea to book carl as he filled those normally dull hours at a wedding with laughter and amazement, we would highly recommend carl for your big day too.


Thank you so much Carl for an absolutely fabulous job of entertaining my guests at my 40th birthday party. The way you worked the tables ensuring that everyone got to see the magic was not only professional but meant that everyone got to share in the amazement of magic itself. I have to say that is was the best thing about the party, everyone was talking about it for hours afterwards and I am still getting texts today telling me how amazing you were. Many thanks for making it a real party to remember, my friends will never top this one! seriously though I was thrilled, many many thanks.


Hi Carl,

Just a quick note to thank you for your show at our Christmas party last week. I can safely say it has been the best entertainment we have had at any of our functions and proof of this is the fact that many in the office are still talking about your stunning tricks.

You certainly filled our requirement of looking for something different by way of entertainment on the night and you did not disappoint. You really helped to get the crowd relaxed and the constant laughter and startled reactions of both myself and my colleagues is a testament to this.

I would have no hesitation in recommending you for future events both in and out of work and I have already passed on your web address to a few others.

Great night had by all and hopefully not the last we'll see of you,

Regards,

Stephen Fee,
Business Change Unit,
Allied Irish Banks, p.l.c,
Bankcentre,
Ballsbridge,
Dublin 4 .


Carl Pocus Magician Brilliant!! Just want to recommend Carl Pocus, magician for weddings, he entertained our guests at the drinks reception before the meal, and everybody ...