Amanda Boland Makeup Artist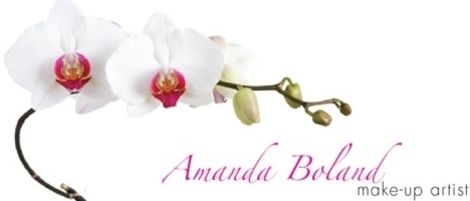 Supplier Details
Bridal Make up should be Special
Amanda Boland began her career in Make Up Artistry training with one of Ireland's leading Make Up Artists, Zoe Clark. She then went on to work with Bobbi Brown. Here Amanda gained invaluable experience in all aspects of Fashion and Bridal make up. She had the opportunity to work and train with some of Bobbi's Top International Make Up Artists. Her Freelance career has led her to specialise in Bridal Make Up and is fast becoming one of Ireland's premiere Bridal Make Up Artists.
We-Do Promotion: 10% discount for all We-do card holders
Testimonials
When I first met Amanda for the make up trial I felt totally relaxed with her. I told her exactly what I wanted and with her expert advice we all looked fantastic on the big day. She went above and beyond the call of duty and gave me some really valuable advice that helped the morning of the wedding run really smoothly. Apart from doing the make up and helping with the last minute rush she felt like one of the girls that morning and was so easy to talk to. She was only too keen to give us all make up advice when we asked and we are following now!! The make up lasted for the whole day and still looked great the following morning!! Amanda thank you so much, I really appreciate the effort you went to and will be in touch in the future xxx

To all future brides, if you're looking for a superb make up artist to help you and your wedding party look your very best on the big day then I cannot recommend Amanda Boland highly enough! I found Amanda Boland by chance by doing a search on this website so there are probably a few of you out there who do things on a wing and a prayer too! Amanda immediately put me at ease and I knew straight away that I was in the hands of a true professional - although most brides only plan their wedding make up once, Amanda is a total pro (has worked with Zoe Clark & Bobbi Brown) and was really helpful in giving me tips on how to plan my wedding morning. Amanda came to my house to do a trial and also came to my hotel (Finnstown) as I was staying there on the morning of my wedding. Amanda did an amazing job and tailored our make up based on our feedback from the trial and made 100% sure each of us were comfortable with the final look and feel - perfect if some of your wedding party are more used to wearing a lot of make up and others prefer a more natural look - Amanda covers it all. I can honestly say that Amanda brought out the very best in us all on my wedding day and we all felt great & couldn't wait to get up that aisle to start enjoying our day. Amanda was also lovely and warm and added to the fun in getting ready. My advice - if you want to knock one thing off the list early, get in touch with Amanda that way you can have great peace of mind knowing you are going to look great the morning of your wedding!!!

Amanda did my makeup for my wedding and did an absolutely amazing job!!! My trial went really well, so I knew I was ok on the day. I was more concerned about my mother and 3 bridesmaids as they are really fussy about their makeup, but they were all delighted, nobody felt like they needed to 'fix' anything themselves, Amanda had it perfect. The individual lashes were the finishing touch.
The other thing is, Amanda is so nice and makes you feel so relaxed. She told us when to time things so that it all ran smoothly, really helpful to have around. She's been to enough weddings to know the pitfalls. I would definitely recommend Amanda!!

Amanda did my make-up (and provided various incredibly helpful other recommendations!) as well as both mums, bridesmaids and friends - 7 in all. She was utterly charming and professional and did a BRILLIANT job on the lot of us. From the 17 year old to the 77 year old, we all looked and felt georgeous. She listened to our concerns and thoughts and just transformed us without making us feel overdone and false. We organised our wedding from the UK and Amanda was so flexible with the trial session and everything. She really helped set us all up for what was an exquisitely beautiful day. A definite recommendation.


Dear Amanda,

Just wanted to drop you a line to thank you so much for the wonderful job you did on our make-up for my wedding. From the trial we had with you, I knew immediately that I was going to book you for the wedding day. You were so easy to get on with and made us feel so comfortable throughout. It was almost like having a best friend or sister doing us up! We had such a laugh! Your advice was really sound and you were open to any suggestions we made.

The false eyelashes were a particular winner. I lost count of the amount of people who commented on my eyes! My bridesmaids and both Mums were also really impressed and felt gorgeous on the day. I think the really important thing is that although we had lots of make-up on to last the entire day, we looked really natural and looked like ourselves! We all felt really beautiful.

I've already recommended you on WOL and will pass on your details to any friends getting married. Top job!!

Thanks so much again,

Amanda was my make up artist for my wedding in June, along with my 3 bridesmaids. She was amazing! Not only was she so professional but she worked wonders on us. From the time of my first trial she listened to everything that I wanted and advised me on what she thought was best (never forced her opinion on me). She put my mind at ease the morning of the wedding when the nerves kicked in and she even helped me with my dress which I thought was a lovely touch.



I can not recommend Amanda highly enough and wish her all the best in her career.

Amanda Boland did my wedding makeup and my three bridesmaids. We all had trials done a few weeks before the wedding to see which colours were best for us and what we preferred ourselves.



On the morning of the wedding Amanda arrived early and made us feel very relaxed. I have to say the make up and colours she used on us all were fantastic and very natural looking. The make up lasted and looked fantastic all day and night long, I only needed to touch up my lipstick. I loved the colours she used for the eyes, not just on me, but for the girls also, it really complimented the colour of their dresses. But the overal make up coverage she gave us all, and again especially me, was just fantastic and many commented on it throughout the day.



We were all so pleased with the result and the photos just speak for themselves. We were all beauty queens for one day and would recommend her to all my friends not just for weddings but for that special ocassion, as the overall end result is definitely worth it!



Fantastic

I couldn't recommend Amanda Boland highly enough. From my first trial to the morning of my wedding she was a delight to work with and made everything so easy. Nothing was ever too much trouble and it was like having your make up done by a friend, she was so easy to get along with. I was so delighted with my make up on the day as were my bridesmaids, Amanda is the ultimate professional. She arrived at half eight that morning and didn't leave until I was almost ready to leave for the church even helping me into my dress and shoes!!! If you chose Amanda you won't be disappointed.