Darren Kirwan Photography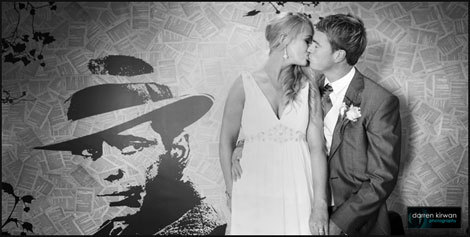 Supplier Details
For me, your wedding day is a blend of "taking" and "making" photographs, as I couple a contemporary, documentary style with the traditional.  Being as unobtrusive as possible, I am there to capture the fun, natural and spontaneous moments of the day.  At the same time, I embrace the artistic and creative style of wedding photography to create beautifully natural and stunning images to last a lifetime.
With every wedding photography package, the disc of high resolution photographs from your special day is included.
A large variety of wedding albums are available to choose from, from the modern storybook albums to the classic leather-bound albums, and others in-between.  All albums are of the finest quality.
For a fully detailed Wedding Packages Brochure, feel free to get in touch.
Testimonials
Darren Kirwan was our photographer for our wedding March 2012, from start to Finish he was a pillar of professionalism and offered us a massive amount of guidance through out the wedding planning process. I could not recommend him highly enough! He scouts out venue's before the big day so he is familiar with the surrounds & is very organised and a pleasure to deal with! On the day he gave out a very relaxed atmosphere & set the tone for the day. We had a slide show played on the day after the speeches & it wowed our guests as well as ourselves, it was a taster of what was to come. He has a natural talent for capturing those special moments that sometimes go unseen! We cant express enough how happy we are with our pictures and he service & the prompt timeline in which the pictures were delivered, we will treasure them forever and for that we are forever grateful.

I just received our wedding pictures and I am speechless! I knew
Darren would do a great job but he exceeded all my expectations and
then some. He was able to capture every special moment and tell our
wedding day story through photography. He got to know each member of our wedding party and incorporated everyone.We planned our wedding from the States and from the first conversation with Darren he was nothing but a supportive resource. He took time to send us vender recommendations, advice on travel, and
basically acted as our eyes in Ireland. Darren, we cannot thank you enough!

Darren Kirwan was more than a pleasant surprise as a wedding photographer. Darren captured the day perfectly. Darren was always around but very unobtrusive and captured not only the mood of the day, but also the spirit of our guests in his candid shots. Many of our guests requested reprints of photos he had taken of them and mentioned that they definitely would use him when they had an occasion for a photographer. We particularly liked the fact that Darren used both colour and black and white shots and presented the final work to us in a beautiful album for our keepsake. Darren's photos have a way of telling a story. I love to look back at our wedding pictures because it is like reliving the best day of my life all over again.
We would use Darren Kirwan again in a heartbeat are more than happy to let the world know how amazing Darren Kirwan is at photography!
Thanks, again, for your amazing talent!

Darren was an absolute pleasure to work with. We were expecting great things from him but we were just amazed with the exceptional quality of the photos he produced. Every one of the photos were stunning and perfect. From our first meeting Darren was extremely professional, friendly and easy to deal with. He put everyone's nerves at ease on the morning of the wedding and throughout the day. He was very accommodating to any requirements we had and he made the entire photo shoot thoroughly enjoyable and fun. Many of our guests commented on how good he was and how courteous he was towards everyone. We have already recommended Darren to several couples and will continue to do so.

Darren Kirwan was the photographer for our wedding in February '11. Darren's relaxed and unobtrusive approach on the day was perfect for us. He had our photos planned down to a tee, so even when the weather turned bad, there was no panic and we were still able to get some amazing photos. We were dreading having our photos taken, but Darren made it effortless and to say we were delighted with our photos is an understatement. All the guests commented on his manner, and I would highly recommend Darren to any bride and groom. Thank you so much.

We had Darren as our wedding photographer this September.I would have to say he was absolutely fantastic. Not only was his photography A1 he was very professional and a very calming influence when those nerves would kick in!The only advice I would give is if Darren suggest you try something different;jump at the chance!You will be glad after when you see the shots!

We had Darren Kirwan as our wedding photographer and we couldn't recommend him highly enough highly enough. The photos are absolutely amazing and we will treasure them forever. He visits all venues beforehand so he knows where to take the best shots. He is very calm and patient and puts everyone at ease. He takes such an amount of photos and the best thing is that you get them all on disc afterwards. Both my husband and I and our families thought he was excellent. Thank you Darren.

Darren,
Thank you so much for your help, time, patience and exceptional professional service before, during and after our wedding day. You put together an extremely impressive collection of beautiful pictures for us to enjoy forever, your unobtrusive manner on the day was worth its weight in gold and we consider ourselves very fortunate to have had you as our wedding photographer and will happily recommend you to friends and family.


We booked Darren for our wedding on May 21st 2010 and I cant speak highly enough about him.He worked with us on everything from start to finish and the end result has been magnificent.Even our guests have commented on how good he was on the day.. He was fantastic!I highly recommend Darren, he has a great eye for the perfect photo and made us feel so relaxed throughout the entire day.