Sharon Mc Cormack – Professional Freelance Makeup Artist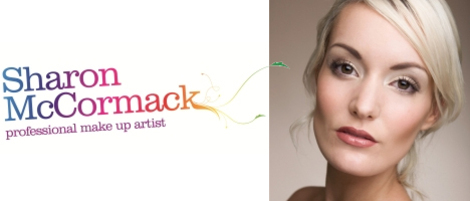 Supplier Details
Ladies, want to look fabulous on your wedding day? Well look no further. Sharon's professional experience enables her to create your desired look for your special day. Specialising in MAC Makeup Sharon will create a flawless look tailored to complement and enhance your features, ensuring that you, the bride will look and feel yourself at your most beautiful on your wedding day. Using her vast experience and professional training Sharon's relaxed and confident manner creates a comfortable and reassuring atmosphere in your home on the morning of your wedding.
Before the wedding, Sharon recommends a trial to provide a skin analysis and consultation i.e. skin tone and type, therefore enabling us to prepare a look to suit your skin type for your special day. She will discuss with you about the style you are looking for. She then carefully creates a unique look to ensure you will be confident and happy with the end result.
As we focus our attention on the bride to having her look her most striking on this important day, we also want the ladies in her bridal party to feel and look fabulous with her. It is important to the bride that her bridesmaids are looking stunning, and not forgetting another important lady of the day, her mum. Sharon will ensure an elegant mother of the bride!
Sharon's unique style has developed from extensive training from some of the best-known international Makeup artists. She loves to create different looks ranging from the natural to the dramatic and periodic looks from vintage to contemporary.
Sharon is a freelance makeup artist who will travel to the location on your Wedding Day.
For more information and to view Sharon's portfolio, log onto www.sharonmccormack.com
Testimonials
I cannot thank Sharon enough for the brilliant job she did getting us all ready on the morning of my wedding, she was so professional & had a great calming effect on what I expected to be a panic filled morning, but she arrived bright & early leaving more than enough time to make sure we all were looking fabulous with plenty of time for a glass of champagne & lots of pictures to be taken before leaving the house. All us ladies had different make up styles & needs, from more funky to classical as we ranged in age from being in our twenties, thirties, forties & fifties & everyone was so happy with their make-up. I myself was a bit worried as I have a touch of rosacea but my make-up lasted all day & I received so many compliments specifically about my make-up. I couldn't recommend Sharon enough, she is a very talented make-up artist & is such a warm lovely person too, it was a joy to have her in our home the morning of my wedding.

Sharon was recently the make up artist for my wedding. She managed to make seven of us look beautiful without even breaking a sweat! Our make up was beautifully applied and lasted the entire day. She was lovely to have in the house on the morning of the wedding, fun and extremely professional at the same time. I would highly recommend her and will be using her services again.

I got married in July, I spent the year previous researching every detail as all you brides to be would know. I had a very clear vision on how the day would be from Decor to flowers, bridesmaid dress to make up. I just needed to find the people who could see the vision as I did. When it came to the make up, this needed to be perfect (as I would be very handy with an eye shadow brush myself) Sharon came to my house for a trial, I explained my idea for me and my bridesmaids and away she went. The trial went brilliant, it was such a weight off my mind, as you can imagine there was so much more I needed to get off my list. The day of the wedding sharon came to the house and got straight into it, she really is a true professional very focused and detailed. I can say hand on heart the make up was perfect, not one touch up all day. I was extremely emotional on the day crying every other minute and the first thing I'd say to my chief was "fix my make up" and every
time she said it's perfect!!. When I cry there is no hiding it, my eyes, nose and cheeks go red. But looking at the pictures you would never know I shed a tear. I am so glad I found Sharon the tools the make up and the method was excellent. Thanks again Sharon, I know you'l be very busy for a very long time.

Sharon is an amazing make-up artist and i was so glad that she was available to do my make up for my wedding in June, i think i got one of her last available bookings for 2011. My make-up, my mums and my bridesmaids make-up was perfect and lasted well into the wee hours of the morning. (She also fitted in my Aunt who was not originally booked in with no problem at all). I was so happy to get my wedding photos back and see how well we all looked. Sharon is a fab and friendly person and made us all feel relaxed on the morning and stayed with us
until it was time for the church. I would highly recommend Sharon McCormack make-up for your special day.

Sharon is a truly professional, creative make up artist. She listened to exactly what I wanted on my trial and it turned out as amazing on the day. She was great on the morning of the wedding while all hell broke loose around her. The make up lasted as she promised for the whole day with only lip gloss touch up required! The bridesmaids were delighted with their make up too. Big ten out of ten for the makeup and I would have no hesitation in recommending her

Thank you so much for doing such a great job at our wedding - my own makeup, as well as the girls and Mum - we were all delighted with it and it was great not to have to touch up during the day. You were brilliant at knowing what colours suited each of us and I would definitely (and have!!) recommend anybody to use you as their makeup artist! For such a big day, it was great to have someone who knew what they were doing and made us all look like princesses!! Thanks a million x