The Decades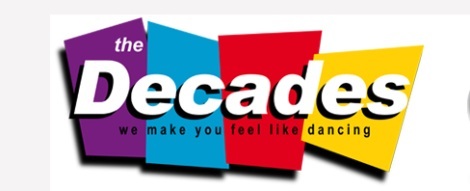 Supplier Details
******FREE DRINKS RECEPTION MUSIC**********
The Decades are a five piece Dance Band. The mission of "The Decades" Dance Band is to make you feel like dancing. The band plays classic songs from every decade as follows: 

The Swinging Sixties
The Sensational Seventies
The Electric Eighties
The Naughty Nineties
The Sizzling Zeros
Mixed into this "The Decades" also play some classic Irish Country music, beautiful old time waltzes, swinging jazz and great classic all-time love songs. The Decades Dance Band invites you to join in, sing-along, dance and have fun with us on a wonderfully bright and colourful, fun packed journey through some of the greatest music from the last five decades.
The band can play for 3 hours. 

If you book the band, Vinny, from the band, will play a complimenatry, free of charge, 2 hours of easy listening background music on keyboard, saxophone and clarinet on the day if you wish. The music played can include some smooth jazz, classic love songs, beautiful Irish ballads or any requests that you may have. 

We can also supply a DJ if required, who will work with The Decades Dance Band at providing suitable music for your guests at any stage you want during your event.
Testimonials
Hi Vinny…just about recovered now though the knees are still complaning about all the dancing!!!! Gerry and I had a brilliant night and certainly one to remember for all sorts of reasons. The band were brilliant and everyone certainly enjoyed the music… I have had a lot of my guests asking me where did I find you and as I said I would have no hesitation in recommending you for any function. You certainly have the knack of being able to read the crowd and had them all up hopping about and enjoying the night. Thanks to you and all the team for making my night a very special memory.

Hello Vinny Just back from a lovely honeymoon! We were truly delighted with yourself and the band and would be happy to recommend you far and wide. In fact you were so good the poor DJ had a tough time trying to keep the crowd dancing when you finished – they were all danced out! Vinny you and The Decades did a fantastic job at our wedding. You have a very rich live sound with 2 great vocalists and music to suit all tastes. Our only problem was that the dance floor was too small, as the whole crowd was up dancing! Our guests just loved you too. The pre-dinner music provided by yourself Vinny was wonderful too – it added a real touch of class to our drinks reception. Best wishes and Thanks again for playing your part in helping make our wedding the fantastic day it was!

The Decades Dance Band provided the drinks reception and post meal musical entertainment for our wedding at Dromoland Castle on December 30th, 2010. From the outset they were professional and a pleasure to deal with. Their music was great, they read the crowd well and had even the most reticent of guests on their feet ! Having both female and male vocalists is a real bonus as is their broad repertoire. They are a talented bunch and obviously enjoy what they do. No hesitation in recommending them.

Hi, I had a birthday party recently in Hotel Keadeen, County Kildare and I hired The Decades Dance Band. From the start to the finish they had a repertoire that suited everybody full of life, fun and happiness for all. Everybody felt at the end of the night that they would like to book that band for their party! Thanks Vinny, take care and best wishes!

Hi Cyril Fox of video me productions here, filmed the wedding of Olivia & Hugh in Killashee on the 17th July and just to say the band were fantastic, so it made my job that bit easier. Look forward to working again with you soon.

Girls,
I went to a showcase for the Decades Dance Band last Monday night in Naas (they are one of the WOL suppliers) and I have to say they were fantastic. Every song they sang made me want to jump up and dance. I booked them for my wedding this July and lucky enough for me they were available. If any of you are looking for a band, I would definitely recommend going to see them. If you read this Vinny......thanks for last Monday, we really enjoyed it..........roll on July! (http://www.weddingsonline.ie/discussion/viewtopic.php?f=13&t=257886)


I have to say, the Decades band are FANTASTIC. We went to see them at a showcase recently (for my sister) and they were brilliant. We've seen other bands perform and they are by far the best. Only fairly new on the scene AFAIK but brilliant. There's great banter between them when they're on stage and their play list is huge. I'd recommend them to anyone and everyone.


Letitia&Brian here!
The day of our wedding was made even more special with the music Vinny Thorpe played.
Everybody at our wedding were so impressed with him and he even took the time to talk to them.
He even took requests. Thanks Vinny for a lovely day.