Anne Marie Doherty - Bridal Makeup Artist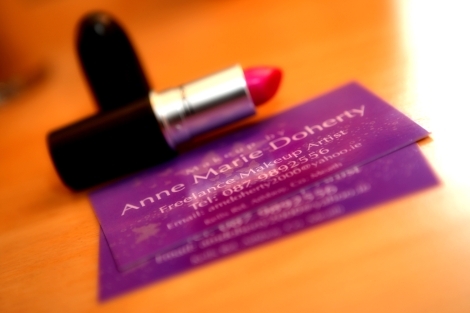 Supplier Details
Specializing in Weddings, Fashion & Photographic make up Anne Marie uses top quality brands such as Mac, Bobbi Brown, Estee Lauder to name but a few.
Anne Marie is a fully qualified and professional makeup artist based in Athboy, Co. Meath having trained with top beauty schools Makeup Forever and LA Makeup Academy.

Anne Marie works from her studio in Athboy and also provides a full mobile service covering all of Leinster.

She will also offer makeup lessons, if you are a bride wanting to do her own bridal make up or if you just want a makeup lesson from a professional artist. Anne Marie can also recommend a professional Hair stylist.
The traditional look is that of the "blushing bride" - dewy skin and flushed cheeks, and waterproof mascara is always a good idea! She works closely with brides on what she calls the "You on Your Best Day"
Testimonials
Hi AnneMarie,so sorry it has taken me so long to write this review.Just wanted to thank you for the fantastic job you did on my wedding day in October.When I look back on the photographs,my make up and the bridesmades and Mums looked fantastic!It was so relaxing that morning getting our make up done and it lasted the whole day and still looked good at 3am!! Thanks again AnneMarie - you are a first class beautician.

Anne Marie was the make up artist for my wedding in May and I would have no hesitation in recommending her to any bride to be. I didn't want the traditional bridal look so Anne Marie created one that was spot on - as she did for my two bridesmaids and my Mam. She was so friendly on the day and even helped us all to get into our dresses after the make up was finished. Her rates are also some of the best I found during my search for a make up artist and I will definitely be getting in touch to book a make up lesson in the coming months.

I highly recommend Anne marie as a make up artist. She did a fantastic job on mine and my bridesmaids make up. She is so friendly and put us all at ease on the day!

As a Wedding photographer a good make artist is a vitally important part on a hectic wedding day.When i walk into the brides house on the morning of her wedding day and see Anne Marie is there ahead of me doing the most natural make up, on time,no fuss and handing me a completely chilled out bridal party looking always fantastic i always think to myself, happy days!.
On seeing so many make up horror stories(first hand) i could not leave her site without writting a testimonial on her behalf.

Myself and my bridesmaids had our make up done by Anne Marie in July and without a doubt it was the best any of us had ever looked, even when the pictures were still been taken at 3am the make up was perfect! :) Some people are apprehensive about someone else doing their make up as they are so used to doing it themselves but Anne Marie made us look a prettier version of ourselves, putting everyone at ease and really finding out the look we wanted for ourselves. I really can't recommend Anne Marie highly enough and will be back for any occassions I have!

I was privileged to have Anne Marie as my Wedding Make Up artist in June and cannot rate her highly enough! Her passion for makeup is obvious and she is highly professional in her approach. Anne Marie is enthusiastic, highly organised and has a fantastic eye for detail and a great work ethic. She not only made my bridesmaids & I feel at ease, but she also made us look fantastic! She uses top quality, high end products, which last all day and night. I regularly use Anne Marie for special occasions and have no hesitation in recommending her to all my friends - she is abosultely fantastic!

Anne Marie is a fantastic make up artist. She is very professional and I would highly recommend her. Anne Marie has done my make up for all occasions and I wouldn't dream of going to anyone else as the results are spectacular. My make up lasts all day and all night and I always get complements on how good it looks. Anne Marie uses top quality products and the end result is always amazing no matter what the occasion.

AnnMarie is a fantastic makeup artist, who I have gone to many times for her perfessional touch. I chose AnnMarie as my makeup artist for my wedding as she had done a super job for my sisters big day. She is professional, friendly and very reliable (she travelled one very very icy roads for my wedding day last winter!). Highly recommendable professional.

Anne marie has done my makeup on several occassions to a very professional standard giving me a fawless natural finish, She has done my bridal makeup and recently my 40th birthday makeup I would have no hesitation in recommending Anne marie for any of your occasional makeup she truely is a professional.

I would highly recommend Ann-Maire. She did a fantastic job on all of us, so professional.I didn't have to even touch up my make-up on the day it was fab. She made all the girls relax and giggle before the big event. I would love to get her for every occasion.

Just a note to say I couldn't have been happier with the makeup that Anne Marie did for me & my Bridal party on the big day. She just slotted right into the hustle and bustle of us getting ready and had some calming and reassuring words while dolling us up in the process. Genuinely was so happy and will definitely be recommending Anne Marie to all future brides.

I would highly recommend Anne Marie. She is an amazing makeup artist and is very professional. I was delighted with the results on my wedding day as were my bridesmaids. She listens and creates the exact look that you ask for. She is also very good at giving you advice on applying and buying makeup. I have gone to Anne Marie many times since and i am always delighted with the results. Shes also a lovely person and makes you feel so comfortable.

I would highly recommend Anne Marie. She has such a lovely warm manner that immediatly puts you at ease. She was so accommodating of my requirements and suggestions and I couldn't believe how beautiful she made me look and feel on my wedding day. My bridemaids were also thrilled with the look she gave them and we were all very reluctant to wash off our makeup at the end of the night:-) Do not hesitate to contact Anne Marie, as she will make you look better than you ever thought possible.

Anne Marie did my make-up and my bridesmaids make-up for both my wedding and my hen night. She did an absolutely fantastic job for us all. She talked us through what she was doing step by step and made us all feel very comfortable. Would highly recommend Anne Marie for a wedding or any other occasion. Got lots of compliments on the day about the make-up and the photos look super!!!Thanks

I go to Anne Marie regularly to get my make up done & I am always thrilled with the result.I do leave her make-up studio looking flawless and feeling like a new woman!! You couldnt meet a nicer person too, really friendly and so down to earth. Anne Marie also did my bridal make up and I couldnt believe how amazing she made me look,I couldnt have been happier with it. It lasted ALL Day and I didnt even have to touch it up. I would highly recommend Anne Marie to anyone for every occasion and I have no doubt that she will perfect any look you have in mind. :-)